Whatever Happened To Michaela Conlin After Bones Ended?
Frazer Harrison/Getty Images
Michaela Conlin is famous for her role as Angela Montenegro, an artist who does forensic reconstruction for the police on Fox's cult-favorite series Bones. Her character first appeared in the pilot episode in 2007, and she remained on the show all the way until the season finale in 2017.
In one episode, Dr. Jack Hodgins (T.J. Thyne) calls Angela the "heart of the operation" at the fictional Jeffersonian Institute, and he's not wrong. Angie is dedicated to her job, but she's also the one member of the team who leads a somewhat normal life outside of work, and she's more of a free spirit than any of the other people on the team. 
The role might have made Michaela Conlin a household name to fans, but Conlin's post-Bones career has been just as compelling. Her more recent roles have been a little more on the serious side. Let's take a look.
Michaela Conlin wanted to branch out after Bones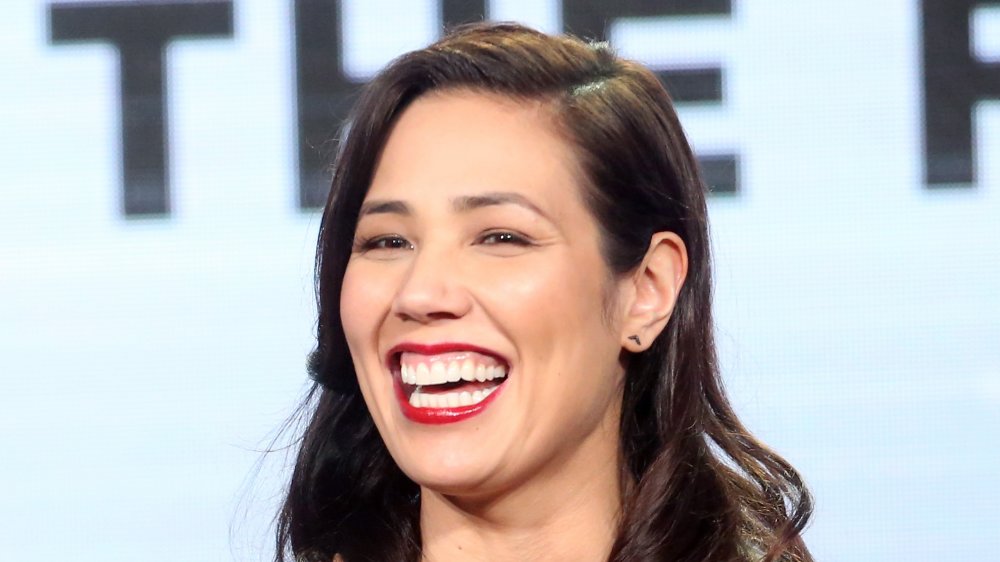 Frederick M. Brown/Getty Images
As Bones came to an end in 2017, Michaela Conlin told Assignment TX that she didn't have any immediate plans for her career, wanting to focus first on wrapping the series. 
"We just got through it," Conlin said. "So we got through it, it was the holidays, and now I'm back. Now I'm starting to think about that, for sure. I'd love to do something different." 
She added that while she was able to try out a range of things with her character Angela on the series, she wanted to branch out even more. "I'd love to do a story more about relationships, maybe less a procedural-style show, if I could pick," Conlin said. 
Even before Bones ended, Conlin dipped her toes into other gigs between filming episodes. She played Detective Sobel in the film The Lincoln Lawyer and also appeared on an episode of Hulu's Casual. She also executive produced the 2012 feature length film Sparrow's Dance (via IMDB).
 But it wasn't until Bones officially ended that Conlin really got down to business. 
Michaela Conlin is in another cult favorite TV show
Frazer Harrison/Getty Images
Fans who miss watching Michaela Conlin on the small screen are in luck. She's been on two other TV shows that fans of the Fox series might also enjoy, although the characters are very different than Angela Montenegro. 
In 2018, Conlin starred in the HBO drama Here and Now, which starred Tim Robbins and Holly Hunter. Conlin played a supporting character, businesswoman Sharon Chen, on three episodes: "Yes," "Dream Logic," and "It's Here." Sadly for the actress, the series was canceled after just one season, per Deadline.
Luckily, Conlin found a steady gig on Paramount Network's Yellowstone, where she plays a reporter digging into the fictional Dutton family, who own the largest contiguous ranching operation in the country. Conlin appears in the second season. The series, which stars Kevin Costner as John Dutton, has been renewed for a third season, so Conlin's character may come back again.
Conlin is making a return to the big screen, too. She appears in the 2020 film Bad Trip, a hidden camera comedy, alongside Eric André, Tiffany Haddish, and Lil Rel Howery (via Deadline).
In addition to her acting work, Conlin has also become a mother since Bones ended. Per her Instagram post, she had a baby boy named Charlie in February 2019. 
Michaela Conlin is definitely keeping busy these days. We can't wait to see where she ends up next!