Chris Noth Is Completely Unrecognizable In Isolation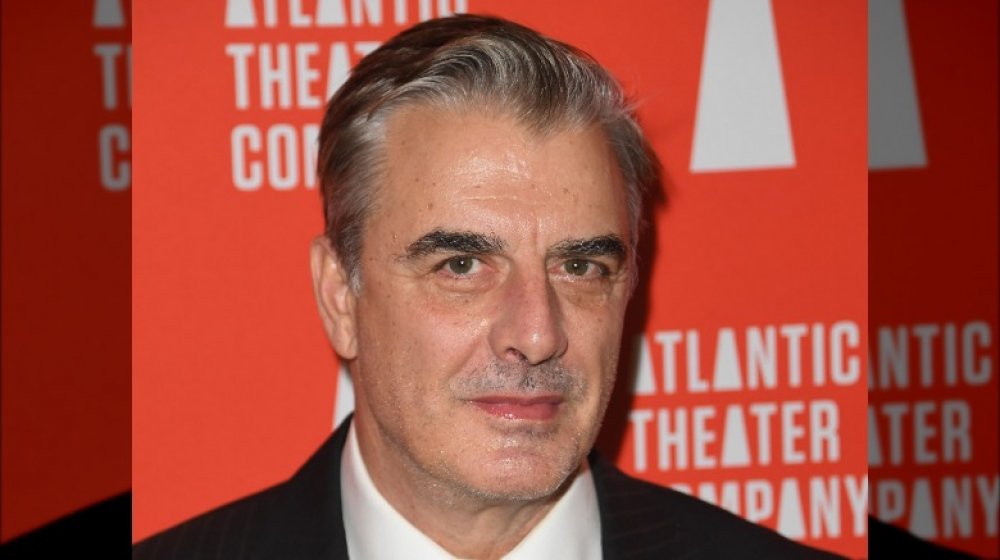 Nicholas Hunt/Getty Images
Chris Noth has countless adoring fans thanks to his role as Detective Mike Logan on Law & Order as well as his gig as Mr. Big, one of Carrie Bradshaw's boyfriends on Sex and the City, not to mention his time playing Illinois Governor Peter Florrick on The Good Wife. Audiences not only appreciated his stellar acting skills on all three shows, but they were also into his screen-worthy good looks.
With his smoldering expression, model-like visage, impressive mane of gradually greying hair, and body that he still keeps in shape, it's no wonder that those who adore him have been swooning over the "handsomely suave man" for years. That's, perhaps, also why they're apparently shaken up when the actor decides to change up his highly-recognizable image.
While Noth has altered his appearance before — embarking on a transformation in order to suit his work in front of the cameras — fans got a shock in April 2020 when the actor showed off a surprising new look.
Chris Noth shaved his head bald!
Chris Noth may sport some salt-and-pepper facial hair on occasion, however, that's all the hair that he had while in isolation during the coronavirus pandemic. That's right, he's bald! Well, there does seem to be a tiny bit of fuzz up top, but he's pretty much bald. "I decided dealing with hair was superfluous during these times of quarantine," he wrote alongside an Instagram photo of his shocking new look.
Fans had mixed reactions to the new 'do ... or rather, the lack of a 'do, which is something that the actor has apparently been contemplating for a while. "That suits you," one person wrote in the post's comments, while another added, "OMG!! Still gorgeous AF." However, others left comments along the lines of, "Please turn yourself upside down love you better with hair," and "Oh Mr Big what's happened here," referring to his Sex and the City character. 
While plenty of people agreed that the change made him look unlike himself, there were those who noticed a resemblance to other stars. "I thought this was Sean Connery," wrote one Instagram user, while another of Noth's followers pointed out that he "Looks like john [T]ravolta." As for Noth's former SATC costar, Sarah Jessica Parker, International Business Times notes that she chimed in to write, "Why did you wait so long????"
We wonder if the actor will be growing back his hair or whether he'll stick with the look that kind of makes him seem like a sophisticated super villain.