Weird Things About Joel Osteen's Marriage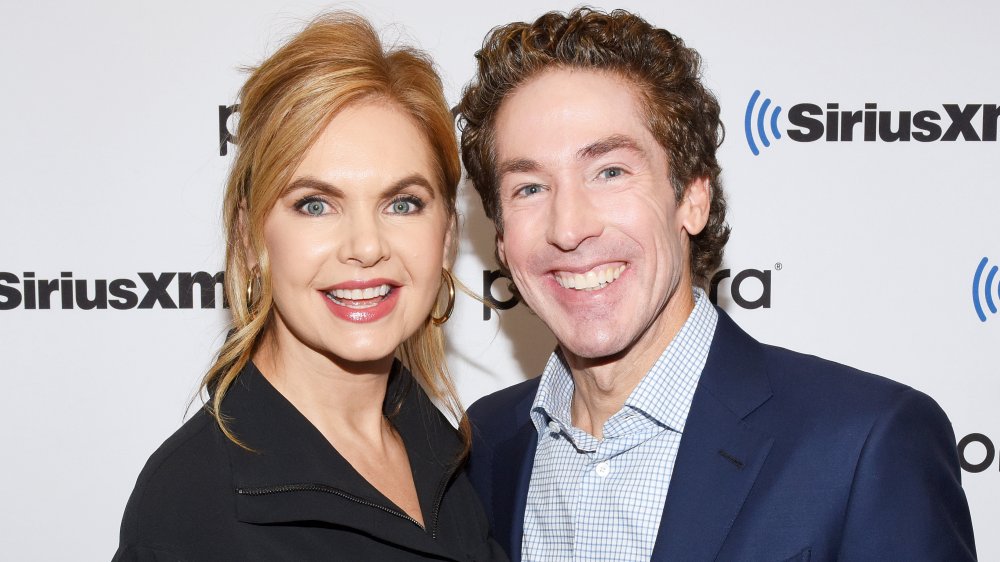 Bonnie Biess/Getty Images
Joel Osteen and his wife Victoria Osteen have accumulated an astounding estimated $100 million net worth through their various Christian-minded endeavors. As the senior pastor at the sprawling Lakewood megachurch in Houston, Texas, Joel's services are attended by more than 45,000 people every single week. Victoria, who is essentially the church's first lady, serves as co-pastor alongside her husband, but the couple's resume isn't just limited to church. They've penned numerous books and regularly rub elbows with celebrities like Kanye West. Not to mention, the pair also owns a Sirius XM channel. The Osteens appear to do all of these things in the name of spreading God's message. But, is everything as rosy as it seems on the surface?
Throughout the Osteens' 30-plus years of marriage, they've somehow avoided many of the scandals that took down their peers. That's not to say they don't have any shady secrets, but overall, the pair has remained completely unified throughout their most trying times. Despite the random divorce rumors, there doesn't seem to be a single crack in their relationship. That doesn't mean it isn't strange, though. These are some of the weirdest things about Joel Osteen's marriage.
You won't catch Joel Osteen alone with a woman who's not Victoria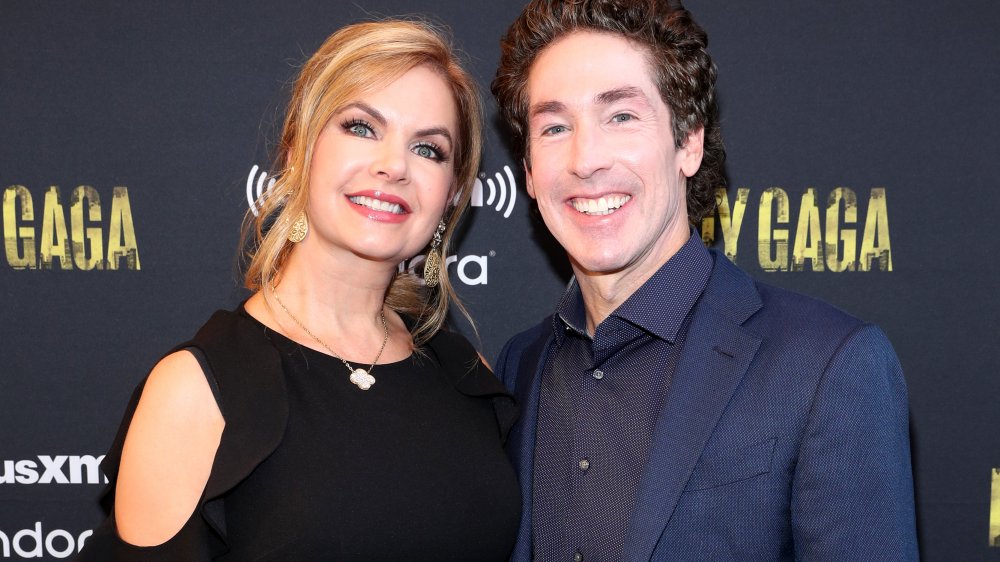 Cindy Ord/Getty Images
Joel Osteen has taken a page out of the Mike Pence playbook. Like the 48th vice president, The Christian Post explained that the pastor follows what's commonly known as the "Billy Graham Rule" (for those not tuned in, Graham was one of the most well-known Christian evangelists in America before his 2018 passing). In other words, Osteen avoids spending time alone with any woman who is not his wife, which reportedly helps him avoid some of the scandals that have plagued the Christian church.
"I do [follow the rule] and I always have, and my father did too," Joel revealed to The Christian Post. "I think the key for me on that is to start every day — I take the first half hour of every day to search my own heart to ask God, 'Am I on track and doing this for the right reasons? Am I following what you want me to do?'"
According to HuffPost, this is fairly common among conservatives. While it may work to avoid the appearance of infidelity in a marriage or whatever temptation would be just too much to possibly bare, Vox pointed out that the practice has been widely criticized because it could prevent women from advancing their careers. Beyond that, it violates workplace discrimination laws in some professional atmospheres where men get solo face time and women do not.
Joel Osteen believes wives should always look pretty for their husbands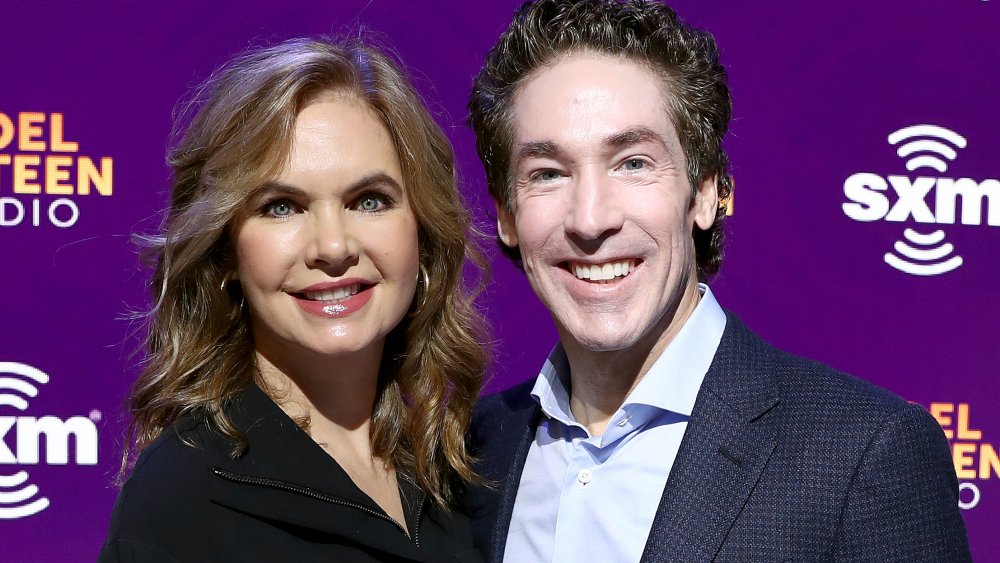 Cindy Ord/Getty Images
Joel Osteen has some very specific advice for married couples: Wives should go to Victoria's Secret and pick up something sexy (at least before the company goes totally bankrupt). Okay, then! The pastor made these comments earlier in his career, so he would've perhaps chosen different words today, but in an interview with CNN, he revealed the sentiment still stands.
"Wives, don't look good for everybody else. Look good for your husband, too," he told CNN. The pastor's wife Victoria chimed in and agreed, "Don't wear that same old bathrobe you've been wearing for the last 10 years. That's what he meant." She continued, saying, "We all needed to be reminded, you know, that, 'Hey, you know what? We do need to take that extra time." 
But, what if we like our old bathrobes? Nevertheless, Joel sure wasn't lying when he said "great marriages take work." Anyone who's ever tried to strap themselves into lingerie in a dressing room knows it's both a test in emotional and physical endurance.
Joel and Victoria Osteen didn't aim to become pastors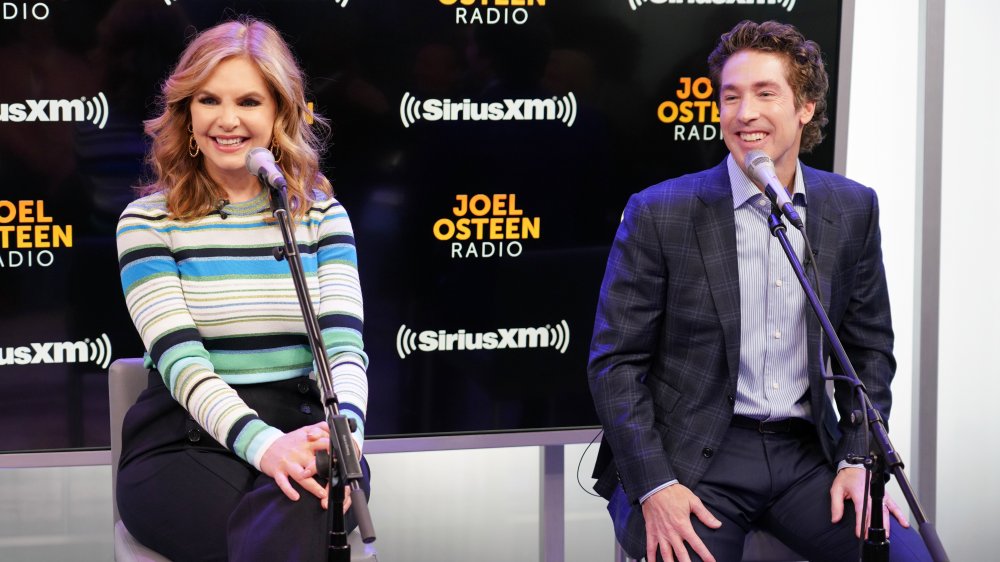 Cindy Ord/Getty Images
Joel and Victoria Osteen were together long before either of them became pastors. Joel worked "behind the scenes" for his father, who was also a pastor, and Victoria worked for her family's jewelry business. In an interview with HuffPost in 2013, Joel admitted that he felt like he "never had it in [him]" to go up in front of the church and preach. His father asked him "hundreds" of times throughout his life, but he only agreed to fill in once his dad was on dialysis. Less than a week after Joel ministered for the first time, his father passed away, leaving him with a lasting purpose.
"It was several days after he died — after the shock of that — I had that same desire to step up and address the church. It didn't really make sense," he told the publication. "I hadn't gone to seminary. I had only ministered one time. I never dreamed the ministry would grow but 14 years later, here we are today."
In a later interview with Get Up! Mornings with Erica Campbell, Victoria revealed that becoming a pastor was "a whole new ballgame" and "something [she] didn't expect when [she] got married," but it doesn't seem like the pair has ever looked back. "Nothing's a surprise to God, is it?" she quipped.
Joel and Victoria Osteen have a boomerang kid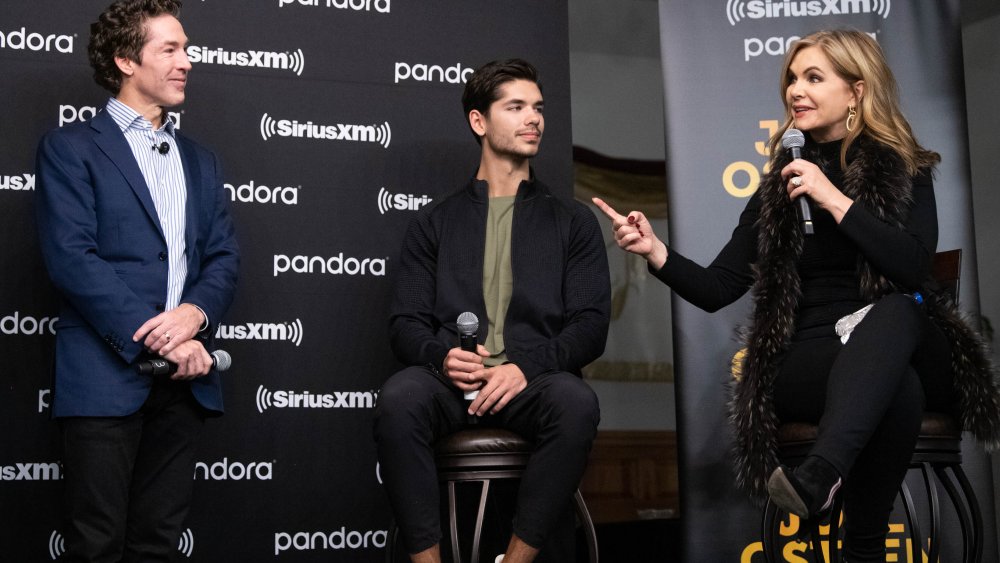 Emma Mcintyre/Getty Images
Like many parents across the nation, the Osteens have a boomerang kid. Joel and Victoria share two children, Jonathan and Alexandra. While it's unclear if Alexandra sprung from the nest, we know Jonathan gave it a shot and came crawling right back — but with a larger sense of purpose.
In an interview with Click 2 Houston, Victoria explained that Jonathan went to University of Texas, where he got a degree in screenwriting, but both children have always traveled with them and helped behind the scenes with their Night of Hope events. When Jonathan graduated, he hightailed it to Hollywood for a week and stayed with some family friends while deciding if he wanted to pursue a career in Tinsel Town. Instead, he realized his true purpose was at home.
"He did that, and he came back, and he just said, 'You know, I really feel like I'm supposed to be here at the church, working in the ministry, trying to do what I can do to help, you know, this message go out further.'" Jonathan ended up taking on a larger role at Lakewood Church, occasionally even singing and speaking.
Joel Osteen's wife Victoria is still "crazy" about him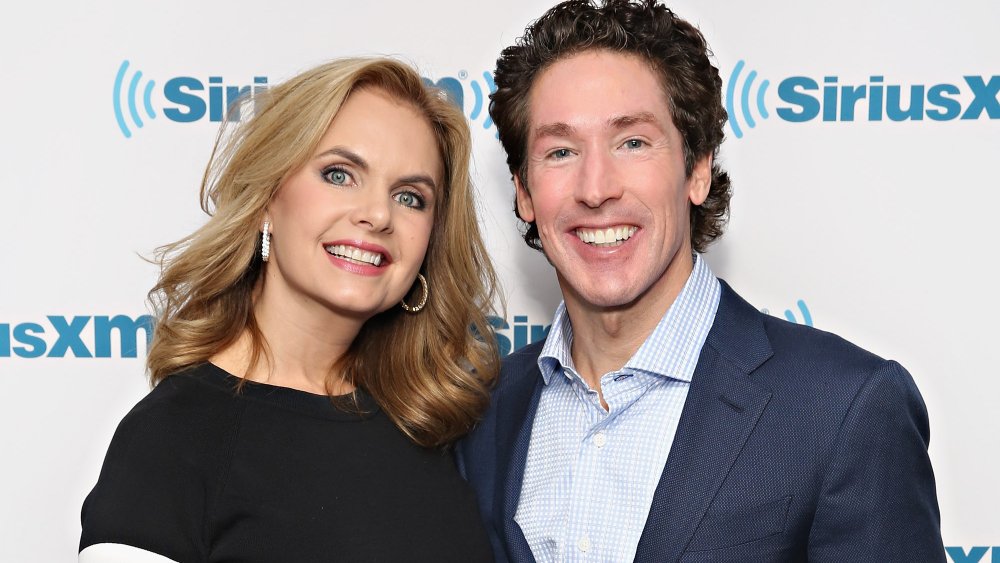 Cindy Ord/Getty Images
If Joel Osteen wasn't a pastor, he'd have a great run as a couple's therapist. The star certainly knows what makes a marriage work. He has, after all, been married for more than 30 years — 30 years. That's a long time, and in an interview with HuffPost, he explained that the secret is a sense of humor and respect.
"When you can laugh and you can have joy, that's very healthy," he revealed. "Victoria is easy going. She's very spontaneous and fun. I can hear her laughter all through the house. It sets the tone for the house." The pastor continued, saying, "We don't always agree with each other but we make the decision that we want to treat each other with respect."
Clearly, Osteen's approach has worked. Some three decades and two kids later, you'd expect some of the passion to die out, but Victoria told Get Up! Mornings with Erica Campbell that she's still "crazy" about her husband. "I respect him. I honor him. You know, I think that's what it takes," she said.
This scandal surrounding Joel Osteen's wife Victoria took flight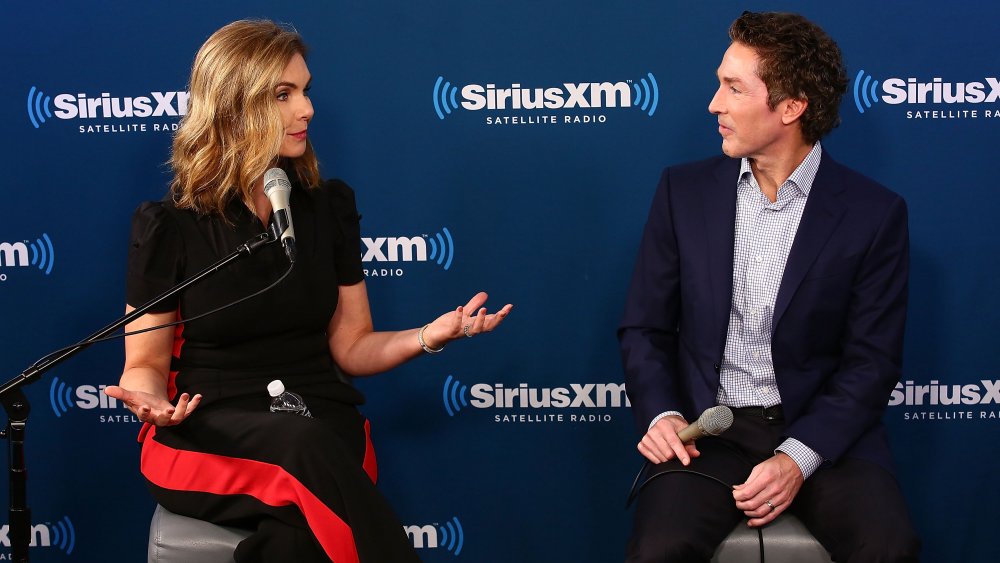 Astrid Stawiarz/Getty Images
Joel and Victoria Osteen have avoided having too many scandals, but that doesn't mean they've gotten off scot-free. In 2008, the pair made headlines when Victoria was accused of attacking a flight attendant.
According to NBC News, Continental Airlines' Sharon Brown sued the couple after the alleged incident took place on a 2005 flight from Texas to Colorado. Brown claimed Victoria, who was sitting in first class alongside her husband Joel, "verbally and physically" abused her and another flight attendant when they didn't clean up a spill on her arm rest fast enough. Brown, who claimed she remained courteous throughout the ordeal, alleged that Victoria "threw her against a bathroom door and elbowed her in the left breast" before possibly attempting to enter the cockpit. As such, Brown sought 10 percent of Victoria's estimated $100 million net worth as punitive damages.
But, what actually happened? According to The New York Times, it went to court. It seems an argument did indeed take place, as no one disputed the fact. The disagreement caused the flight to be delayed and the Osteens had to be escorted from the aircraft. One witness also suggested that Victoria was dismissive of the two flight attendants because they were black, but both Victoria and Joel testified that there was no physical attack. Victoria was found innocent after just two hours of deliberation, but was ordered to pay a $3,000 fine for "interfering with a crew member."
Joel and Victoria Osteen are both best-selling authors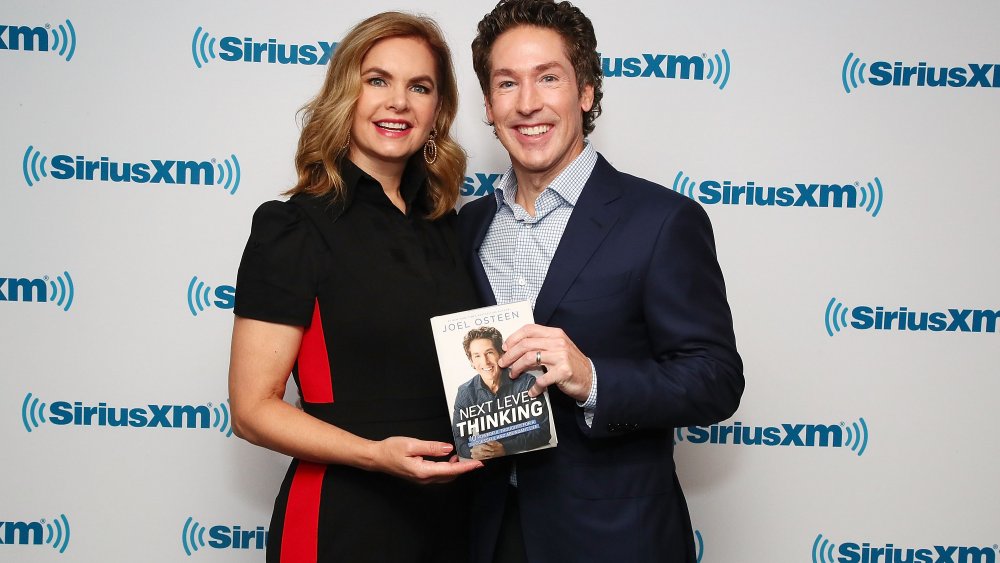 Astrid Stawiarz/Getty Images
It's a good thing the Osteens don't seem to have a competitive edge because that can be pretty hard on a marriage if you're both in the same industry. The co-pastors don't just minister together at Lakewood Church, they're also best-selling authors. Yes, both of them.
According to Simon & Schuster's website, Joel penned a whopping seven novels that managed to reach the top spot on the New York Times Best Sellers list. This includes Become a Better You and Your Best Life Now. Victoria is well on her way to doing the same. The co-pastor released her first book, Love Your Life, in 2008. It reached the number two spot on the New York Times Best Sellers list in a speedy two weeks. Beyond that, she's also a children's author and has released a box set of children's books called My Happy Heart, which serves as a resource for Christian parents. According to Joel's website, his wife launched a charity in 2010 called the Victoria Osteen Literacy Program, which helps give books to children who may not have access.
It's not completely surprising that the pair found success in publishing. They've got a lot of fans already. Simon & Schuster claims that Joel reaches more than 10 million people a week in a hundred different nations with his televised messages. 
Joel Osteen has Victoria's back, even in controversy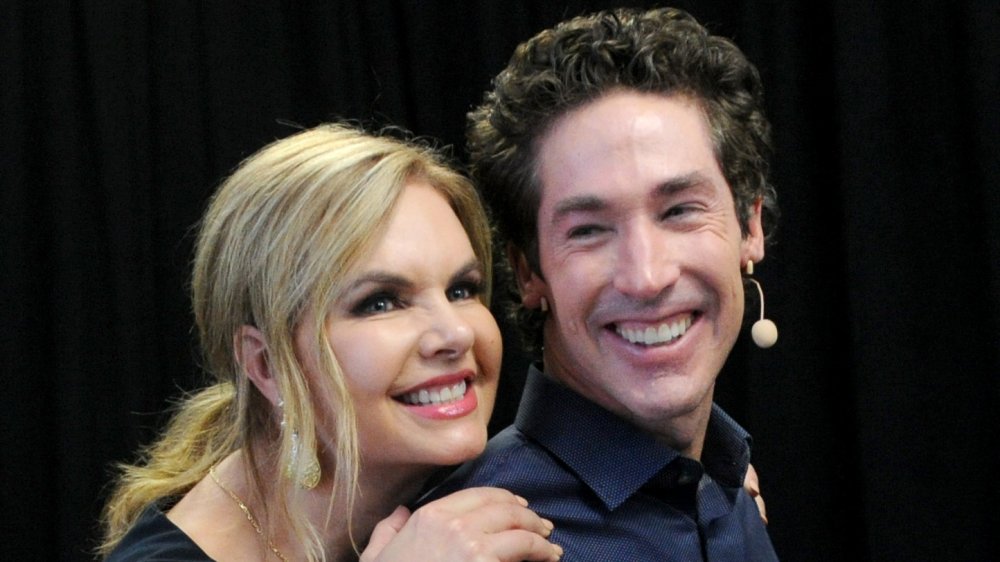 Brad Barket/Getty Images
Victoria Osteen seems to find herself in more controversies than her husband. In 2014, she made headlines in the Christian press after a 36-second clip of one of her sermons went viral on YouTube. According to The Christian Post, the co-pastor claimed that Christians don't "obey God" for the sake of God. Rather, it's for personal benefits. " ... We're not doing it for God — I mean, that's one way to look at it — we're doing it for ourselves, because God takes pleasure when we're happy," she said. "That's the thing that gives Him the greatest joy ..."
Victoria was subsequently ripped apart online. Per The Christian Post, RedState.com editor-in-chief Erick Erickson slammed her viewpoint by tweeting a clip from the 1995 Adam Sandler movie Billy Madison. "What you've just said one of the most insanely, idiotic things I've ever heard," it said. Another commenter claimed what Victoria's statement was "yet another reason I stopped going to church."
Though the press was unarguably awful, Joel Osteen did have his wife's back. According to Wave 3 News, the pastor claimed the remarks were taken out of context from a backstage interview. "Of course we believe in worshiping God to honor Him and respect Him, but sometimes people can take a little clip and make something out of it," he said.
Joel and Victoria Osteen caused a stir with this hand gesture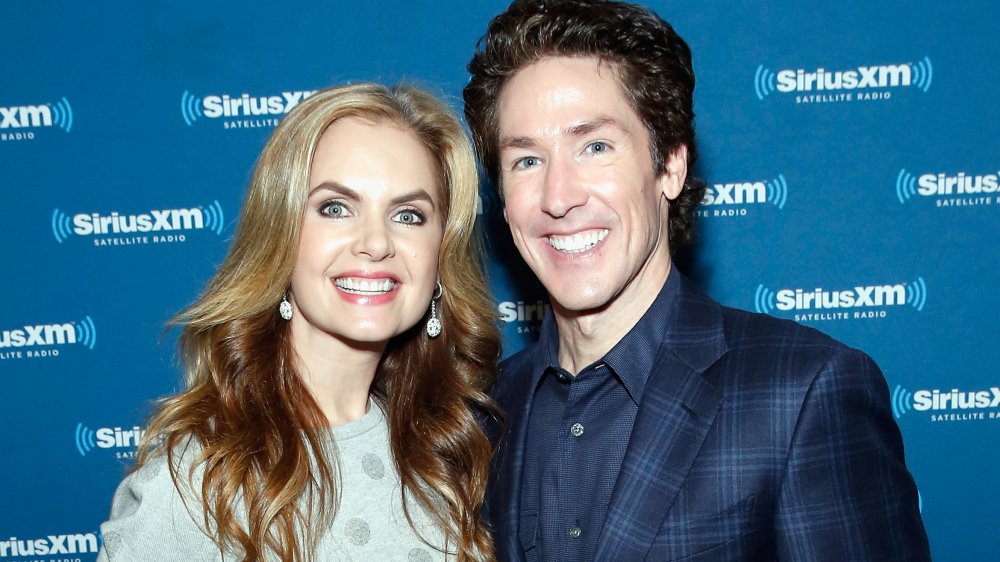 Cindy Ord/Getty Images
In 2017, Joel and Victoria Osteen finally had their controversies line up. Both of them were getting the heat for allegedly channeling the devil during their son's graduation ceremony. Right? Of course they would.
According to the Daily Mail, the pair were celebrating Jonathan's graduation from the University of Texas when they posed for some photos throwing up the "Hook 'em Horns." For some, this may signal the devil. For others, it's literally a hand gesture that's been used for ages representing the school's mascot Bevo, a Texas Longhorn steer. Apparently, the devil and bovines both have horns in common. If you're in a metal band, it may also be a signal that you're rocking out particularly hard.
Though the Daily Mail claims the Osteens received mostly positive comments about the graduation photos, other users did push back. One said, "I honor you but that hand gesture sent a very bad signal sir! Can't believe it's you." Another reportedly chimed in, writing, "Congratulations for belonging to the [devil emoji] or what? [Please] Victoria kindly explain." Now, it's impossible to tell if the hand sign has goaty Baphomet vibes or if the finger curvature is distinctly more cow, but the Satanic Temple didn't go ahead and sue the Osteens for intellectual property theft like they did with Netflix's Chilling Adventures of Sabrina, so it's probably okay.
Joel and Victoria Osteen have some super famous friends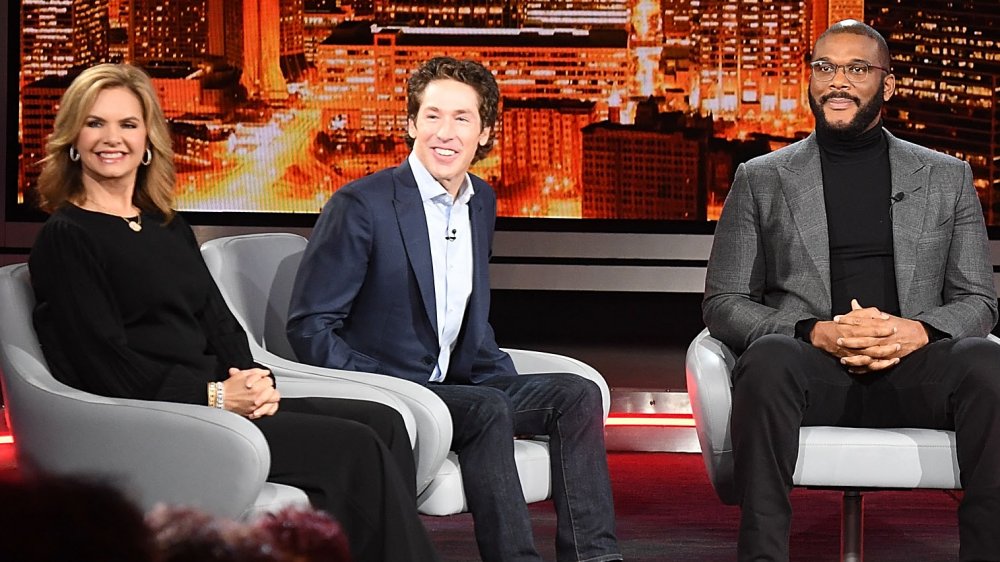 Paras Griffin/Getty Images
The Osteens aren't just your average pastors. If the pair were to throw a dinner party, you just don't know the kind of star power that will be saying grace. They've got a whole army of famous friends. In 2020, TMZ reported that Joel and Victoria even managed to get Mariah Carey, Tyler Perry, and Kanye West, to join them in a virtual Easter service.
Most notably, West went out of his way to form a closer bond with the Osteens. According to a source who spoke to People, Joel apparently made the first move and gave the rapper, who took a religious turn with his gospel album Jesus Is King, an open invitation to Lakewood Church. "It's true. [Kanye] is very interested in going and spending more time with Joel," the source said. "They are friends. They message each other a lot. They have deep conversations."
At the time, West had recently launched his Sunday Service, which was also part of Osteen's 2020 Easter service. He was hoping to spend time with Christian leaders and examine how different churches operate. All we really want to know is what the heck Joel and Kanye text about. Can you add us to the group chat?
Joel Osteen apparently never argues with his wife Victoria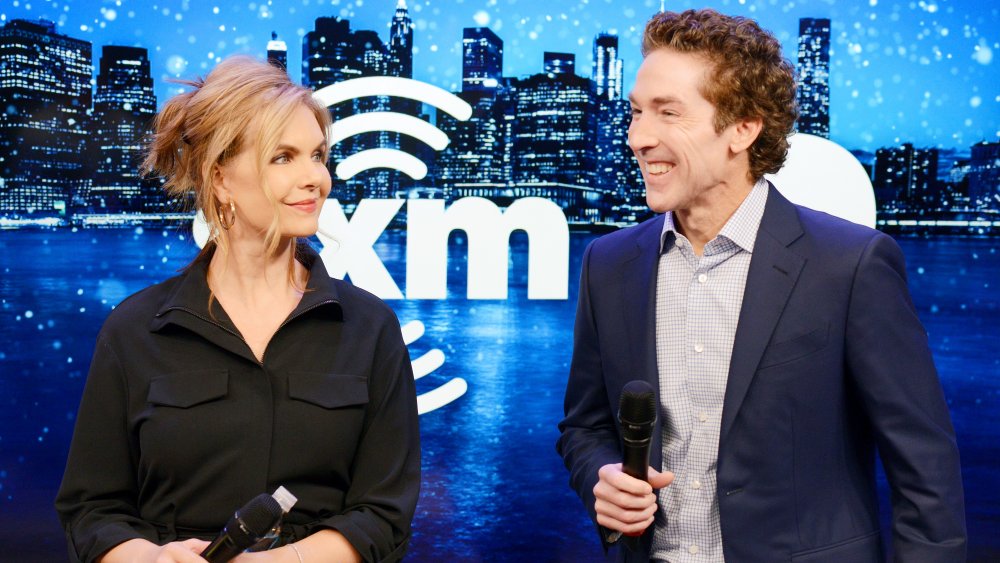 Bonnie Biess/Getty Images
Though the Osteens have been married for more than 30 years, it wasn't always smooth sailing. Married life is an adjustment for everyone, even those who seem like a perfect match. In a blog post for Joel Osteen Ministries site, Victoria revealed the struggles she first had in their marriage and credits God for saving their relationship early on.
Victoria was apparently very set in her own ways when she first tied the knot and wasn't happy when she didn't get her way (hello, the tiny piece of newlywed Victoria in all of us). Relationships, though, are all about compromise. Thankfully, the big guy upstairs stepped in, according Victoria. "God spoke clearly to me: Victoria, if you don't change the way you're acting, you're going to change the man you married," she wrote. "Well, that got my attention, because I didn't want to change Joel's personality. I love Joel. That's why I married him. I knew that I had to be willing to make some changes."
These days, Victoria and Joel sometimes disagree, but she revealed that they don't argue, per se, because Joel refuses to engage. Instead, they "walk in love" and "agree to disagree." Can she please teach us how to amicably agree to disagree about whose turn it is to take out the trash? That would be quite helpful.
Joel and Victoria Osteen aren't in favor of marriage equality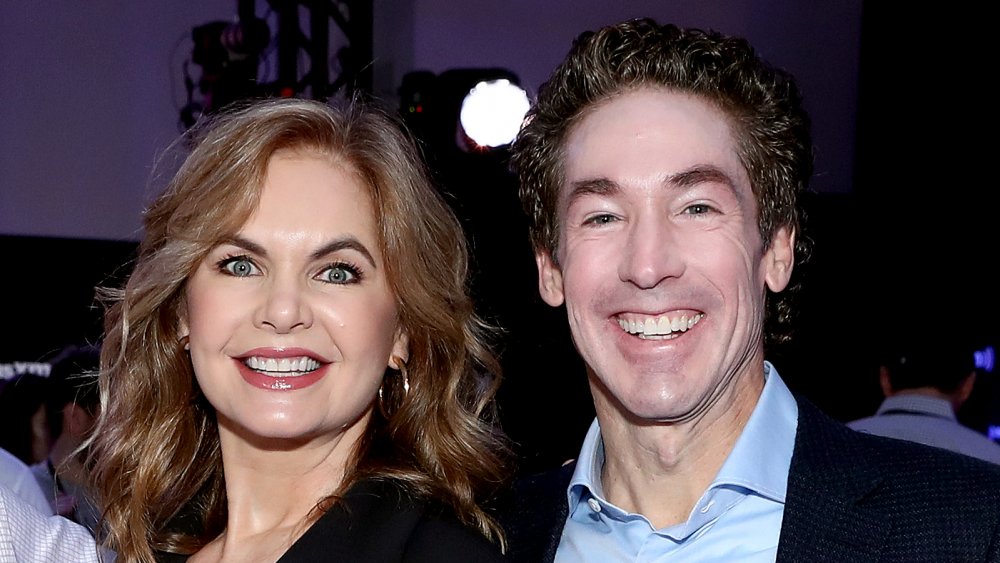 Cindy Ord/Getty Images
The reason Joel and Victoria Osteen's marriage works so well is because they share the same values — but these values aren't necessarily inclusive of everyone or even mandated by law. In a 2009 interview with Larry King Live, which was transcribed by CNN, the pair presented a united front against same-sex marriage. Joel claimed the sacrament should stay between a male and female, and that he wasn't "knocking anybody" with his beliefs.
Victoria doubled down, admitting, "There [are] going to be people who get together and have relationships and have what they call their families. But I just think marriage should be sanctified by the church. It should be between a man and a woman."
The Osteens continued on this path, claiming that same-sex couples weren't the ideal parents and even throwing single mothers and fathers under the bus. Joel revealed that he believes raising your child alone or even co-parenting in different households is somehow damaging to kids because it's not "God's best." Those with strong single parents across the globe (probably) scratched their heads. "It doesn't always happen. I know a lot of people raised by single parents," said Joel. "And you know what? We bless them and pray for them as well. But I think God's best is a male and female." Regardless of their strong beliefs, though, same-sex marriage was declared a right in the United States in 2015, per The New York Times.