Inside Jerry Stiller's Relationship With His Son Ben Stiller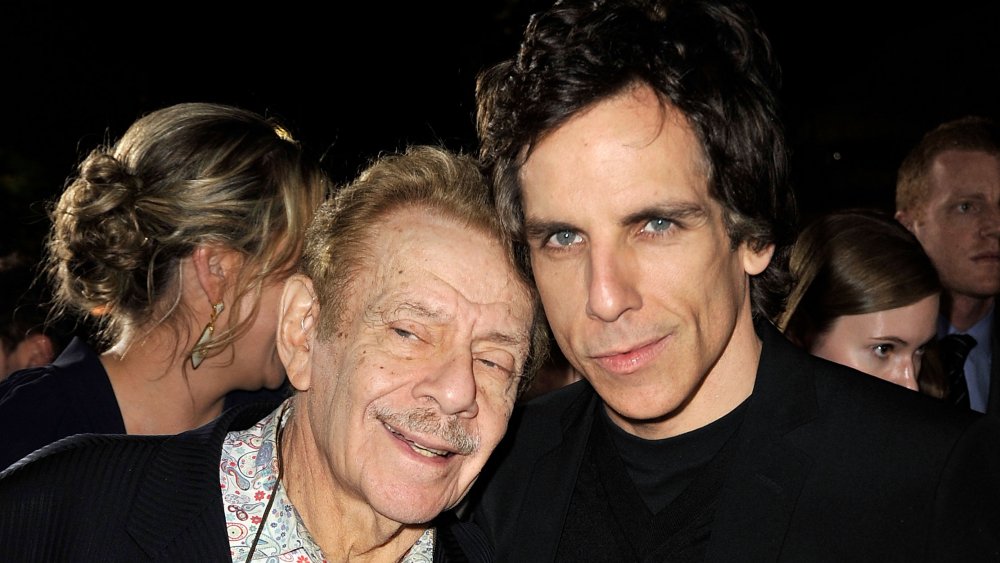 Kevin Winter/Getty Images
As the entertainment world continues to mourn the deaths of magician Roy Horn and rock 'n' roll legend Little Richard, another Hollywood great has passed away. Comedian Jerry Stiller died on May 11, 2020, at the age of 92 due to natural causes, per CNN. "I'm sad to say that my father, Jerry Stiller, passed away from natural causes," actor Ben Stiller confirmed via Twitter. "He was a great dad and grandfather, and the most dedicated husband to Anne for about 62 years. He will be greatly missed. Love you Dad."
While Jerry first rose to fame in the 1960s as part of a comedy duo alongside wife Anne Meara, the funny man found solo success when he joined the cast of Seinfeld in its fifth season. Although Jerry appeared in less than 30 episodes, per The New York Times, his turn as Frank Costanza, the short-tempered dad of Jason Alexander's George Costanza, earned him an Emmy nomination in 1997 and a permanent spot in sitcom history. In 1998, Jerry joined The King of Queens as Arthur Spooner — another crotchety father figure — for the show's nine-season run, according to The New York Times. 
In 2019, Ben announced that he was compiling footage of his parents, Jerry and Anne. "I'm actually right now putting [together] all footage of my parents [to] try and maybe make some sort of documentary," Ben told Stephen Colbert at the Montclair Film Festival (via Page Six). "It's crazy to watch it all. There's so much stuff." 
Although there have been no recent developments, fans might be especially interested in said footage now.
Jerry Stiller is partially responsible for Ben Stiller's 'dedication and passion'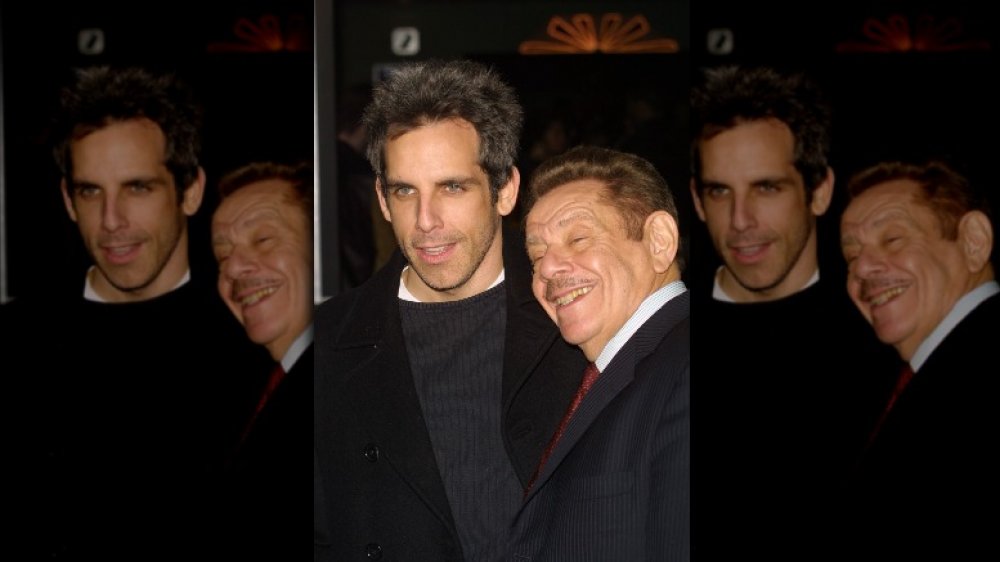 Jason Kirk/Getty Images
Growing up with Jerry Stiller and Anne Meara, Ben Stiller and his sister, Amy, always had a front row seat to their parents' antics, especially when it came to preparations for their appearances on The Ed Sullivan Show. "Our living room was their office," Ben told Stephen Colbert at the Montclair Film Festival (via Page Six). "I would hear them sort of working and improvising. Sometimes arguing. We didn't know if the argument was a sketch or real."
It's from his comedic childhood that Ben learned to embrace his true self. When asked what he learned from his parents, Ben revealed they are responsible for the "dedication and passion" he has for his work. He told Lufthansa that his mother, in particular,  taught him "how important it is not to take yourself too seriously." He continued, "You didn't stand a chance in our family if you did: My parents could smell self-important bulls**t a mile off. Another piece of advice they gave me was never to change who you are just to please other people."
"As a teenager, the idea of leaving home and striking out on my own made me uneasy," he added. "But I never tried to escape such experiences. That's what becoming an adult is all about. If you face your fears, you mature as a person. Difficulties can teach you a lot—also about yourself." It's clear that Ben's parents inspired him to achieve his own professional goals.
Ben Stiller has no desire to pursue stand-up success like father Jerry Stiller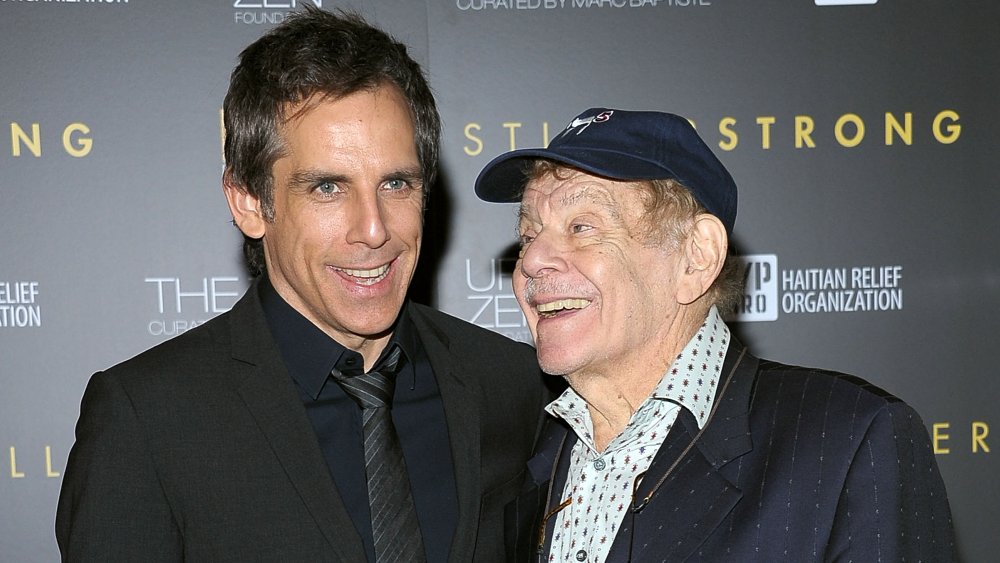 Michael Loccisano/Getty Images
Much like his parents' careers, actor Ben Stiller's résumé has been one filled with laughter. "I appreciate it when people tell me that I've made them laugh," Ben told Parade in 2006. "It's not a nuisance when somebody comes up to me on the street and says, 'Hey, I was having kind of a bad time, and I went to one of your movies, and it really took my mind off of it for a couple of hours.' It's a really great feeling."
Yet, while Jerry Stiller appeared alongside Ben in The Heartbreak Kid and Zoolander, Ben has no interest in becoming part of the stand-up scene. "I'd see them go out there, live, on TV, and it was like every performance was an audition," Ben explained. "I've done a few live performances myself, on awards shows and all, but that was pressure. That was a hard gig." In fact, Ben insists he "couldn't tell a joke if you paid [him]."
"I have this weird thing where I can't remember a joke," he said. "I can't even take the pressure of having somebody tell me a joke. I worry that I'll laugh at the wrong thing or miss the punch line. And if it's one of those jokes with a long setup, I'm afraid that I won't get it at all." Comedy might be "really hard," but Jerry's humor will surely continue to make audiences laugh for generations to come.