The Truth About Michael Jordan And Reggie Miller's Relationship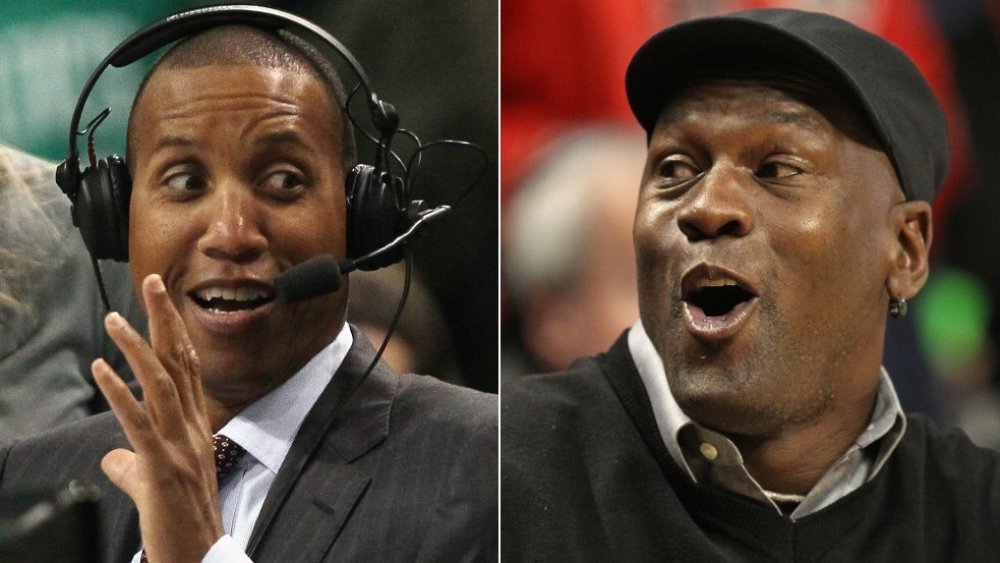 Elsa, Jonathan Daniel/Getty Images
NBA alum Reggie Miller, an 18-year member of the Indiana Pacers, is one of the athletes who was interviewed for ESPN's 10-part docuseries, The Last Dance. The series, which premiered on Netflix in April 2020, covers the career of Michael Jordan and the 97-98 Chicago Bulls season. Considering Miller has said a lot about his former opponent, it makes sense he made the cut.
Despite Miller's history with Jordan (they famously faced off at the 1998 Eastern Conference finals), he wasn't psyched about participating in the documentary. "I had everyone from the league office saying you need to be a part of this and everyone at Turner telling me I need to be a part of this and I was like 'no, no, no, go,'" he said on the Dan Patrick Show.
However, the NBA legend's opinion changed when he considered how his involvement could reshape a certain narrative about him and Jordan. "I don't want people to think it was some big rivalry, because a rivalry to me is we are on equal footing," he continued. "I was not on equal footing with MJ, okay? But I loved the battles, and I know a lot of players would bow down to him, and that just was not going to be me ... But it was good to talk about some of those times, to help myself move on."
So what does Miller truly think of Jordan? Let's just say the California native hasn't held back.
Reggie Miller underestimated 'Black Jesus'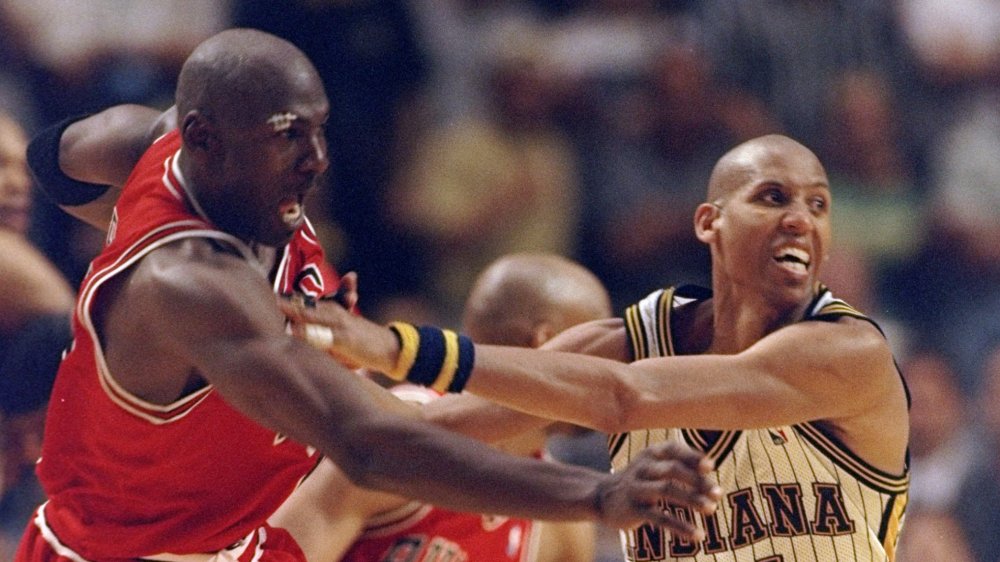 Vincent Laforet/Getty Images
Reggie Miller has many interesting stories about Michael Jordan, including a hilarious anecdote from when they played an exhibition game together. During a 2015 appearance on Jimmy Kimmel Live, Miller — who described himself as a "wide-eyed, energetic rookie" during his formative years — had been playing well against Jordan, so much so that he felt confident enough to trash talk the star. "'Michael...who do you think you are? The great Michael Jordan?'" Miller recalled. "'That's right, there's a new kid in town!' And as he's walking off, he's like, 'Be sure, and be careful, you never talk to Black Jesus like that.'"
Not only did Jordan shake his head at Miller's attempt at a rivalry, but he ended up outscoring him 40-2. "And as he's walking off, he's like, 'Be sure, and be careful, you never talk to Black Jesus like that.'" 
Miller's feelings about Jordan were complicated from then on, as he noted during an April 2020 interview on the Dan Patrick Show. "Being in our arena and having our fans cheer for him, it burned me," the athlete said. "There was a rage inside of me, and it made me want to be better."
Miller admitted it was the Indiana Pacers almost dethroning the Chicago Bulls in 1998 that "hurts" him most, and if ever saw Jordan today, he "might punch him." However, Miller ended on a positive note, adding, "I respect the heck of that dude. He's the greatest."