Shanna Moakler's Daughter Looks Exactly Like Her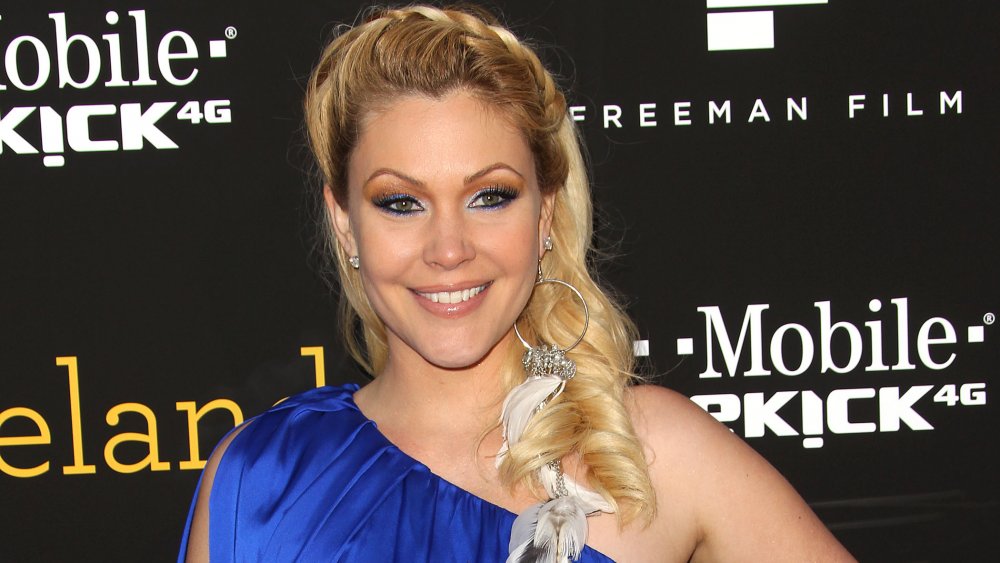 Frederick M. Brown/Getty Images
The early 2000s were the prime time for MTV reality shows, especially those following celebrities or creating them. The Ashlee Simpson Show was a classic, documenting Jessica Simpson's little sis finding her way in the music industry. There was Diddy's Making the Band, which led to the formation of O-Town and Danity Kane. And of course, Meet the Barkers spotlighted the lives of Blink-182's Travis Barker and then-wife Shanna Moakler.
Moakler's three children — Alabama Luella Barker, Landon Asher Barker, and Atiana Cecilia De La Hoya (her daughter from her relationship with Oscar de la Hoya) — appeared on the series as well. Although the show went off the air after less than a year in 2006, and the couple called it quits that same year, they've managed to overcome any past drama and successfully co-parent their kids.
What's especially interesting, though, is just how much Alabama looks like her famous mom, who once held the title of Miss USA. The teen, born in December 2005, is already a star on the rise with quite the Instagram following, boasting over 338,000 fans on the app. Who knows, maybe one day she'll even be more famous than her parents.
Alabama Barker is seriously her mom's mini-me
As you can easily see above, Alabama Luella Barker could double as her mom's little sister. However, one negative side to being the child of a celeb is the extra attention. In 2017, Shanna Moakler opened up to Entertainment Tonight about her daughter dealing with cyberbullies, including cruel comments telling the young YouTuber, who posts makeup challenges and other lighthearted videos, to "drink bleach." Although the unkind words "obviously upset" Alabama, her mom was proud of her for rising above it. 
"I'm so thankful that my daughter was confident enough, and had the self-esteem enough, to look past what the people were doing to her," Moakler told the outlet, while decrying cyberbullying as a whole. "I'm very proud that she just continued to go on being who she is, but a lot of kids don't, and it's scary." 
And Alabama isn't the only one that Moakler is proud of. "They're good little kids," the mother-of-three told ET of all her offspring. "They have good hearts and good souls... We just try to communicate with them as best we can constantly and show them through our actions with different people how you treat others as you would like to be treated." That last part is an important life lesson, whether someone's famous or not.
While she takes after her mom's looks, Alabama got Travis Barker's music skills
Usually celebrity kids will go one of two routes: They'll embrace the spotlight and pursue a career like their parents, or they'll hide from the public eye and crave way more privacy. Apparently Travis Barker's daughter Alabama Luella Barker falls in the first category. But of course, when your dad is a member of the forever-famous group Blink-182, there's going to be added pressure.
Luckily, the teen seems to be enjoying the limelight as she follows along in Travis' musical footsteps. In the 2018 video for her song "Our House," Alabama bops around the bright set filled with confetti while eating ice cream, cuddling a puppy, and goofing off with her dad. She's released other tracks called "Heartbreaker" and the Christmas-themed "Mistletoe."
According to Entertainment Tonight, Alabama has been singing since age 7. She told the outlet in 2018, "My dad always helps in any way he can," she adds. "He does a good job of guiding me and my brother, Landon, with music and life in general."
In general, it sounds like her father is supportive of her career. Alabama also told ET, "[My dad] has always said to me, 'Do it because you love it and because it makes you happy.' ... and I love it!" From the sound of it, she'll be a star in her own right one day — making her famous parents (including her look-alike mom) very proud.