The Truth About Tamra Judge's Feud With Kyle Richards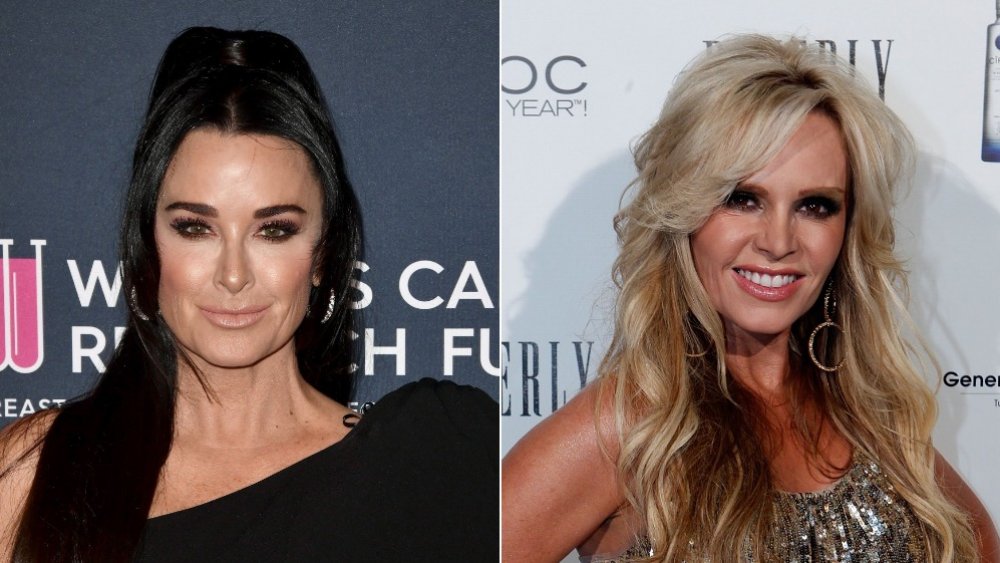 Frazer Harrison, Jordin Althaus/Getty Images
The Real Housewives franchise is famous for a high level of drama. And at this point, that drama doesn't even always remain between co-stars from the same show. There are plenty of Real Housewives beefing with each other from different cities. Social media comments and interview quotes can often be misinterpreted, leading to a feud that is not truly a feud at all.
Case in point, just look at the Kyle Richards vs. Tamra Judge headlines dominating the Real Housewives fandom in the spring of 2020. A lot of this perceived animosity has been taken out of context. Even the quote that started this all didn't actually come from Tamra or Kyle's mouth. So, let's backtrack a little bit. 
Following their departures from The Real Housewives of Orange County, both Tamra and Vicki Gunvalson have been especially vocal with their opinions. For the most part, they've been bashing Kelly Dodd and divulging details related to the demise of their friendships with Shannon Beador. During an Instagram Live session, the former Housewives did just that, but opted to stop when the comments section got overly negative, according to an Us Weekly article published May 6, 2020. 
That's when they started to talk about Real Housewives from different shows instead — or at least Vicki did. Vicki referred to New York Housewife Ramona Singer as "big eyes" before she described Kyle as "kind of vanilla." She added, "I don't see any conflict, like I just see her, like, playing the safe lane always."
Kyle Richards slammed Tamra Judge for kissing Braunwyn Windham-Burke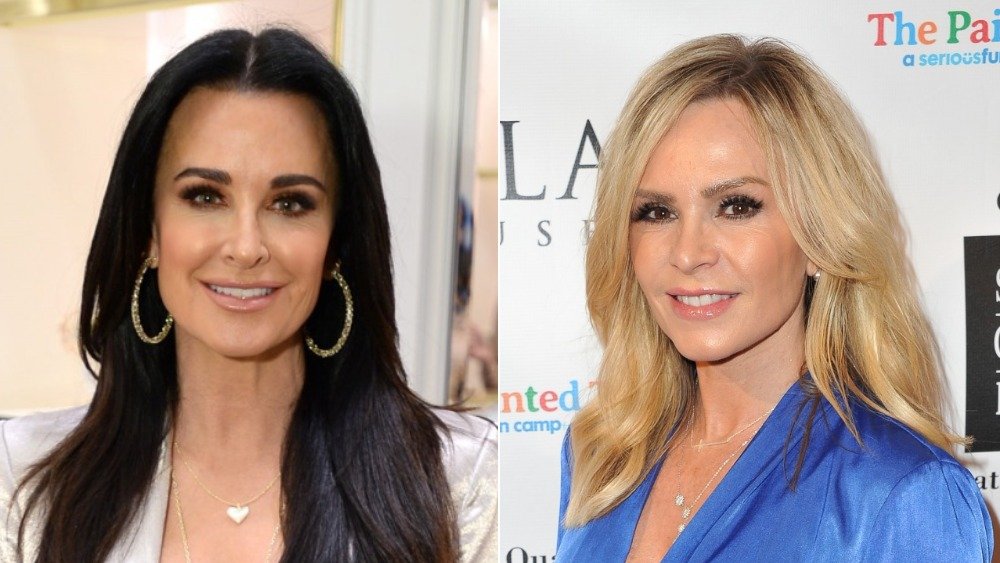 Andrew Toth, Allen Berezovsky/Getty Images
In an Us Weekly interview from mid-May 2020, Real Housewives of Beverly Hills star Kyle Richards clapped back at the comments Vicki Gunvalson made during her Instagram Live session with Tamra Judge. Kyle told the magazine, "Well, A) they don't know how much money I make. B) Like I say, I don't play it safe. I've had a lot of issues over these years, 10 years, a lot of them." She didn't just defend herself, though. She threw some shade of her own. Kyle told the outlet that she would never do something "just for TV purposes," clearly implying that Vicki and Tamra have done that.
Then, Kyle took a shot at Tamra's makeouts with former RHOC co-star Braunwyn Windham-Burke. She remarked, "That does not include getting drunk and putting my tongue in another married woman's mouth. On or off camera." Apparently, Kyle had no idea that it was Vicki who made those jobs at her; Tamra just watched her do so.
Soon after, Tamra cleared the air in an interview with The Daily Mail. She revealed, "I talked to Kyle and things are fine. It was a misunderstanding. I didn't say she was vanilla – those were not my words!" She emphasized, "I have nothing but love and respect for her." Then, she joked, "Next time I see Kyle I'll put my tongue down HER throat!" 
While Kyle probably won't like that, it's definitely nicer than the insults from Vicki.