The Truth About Debby Ryan's Secret Wedding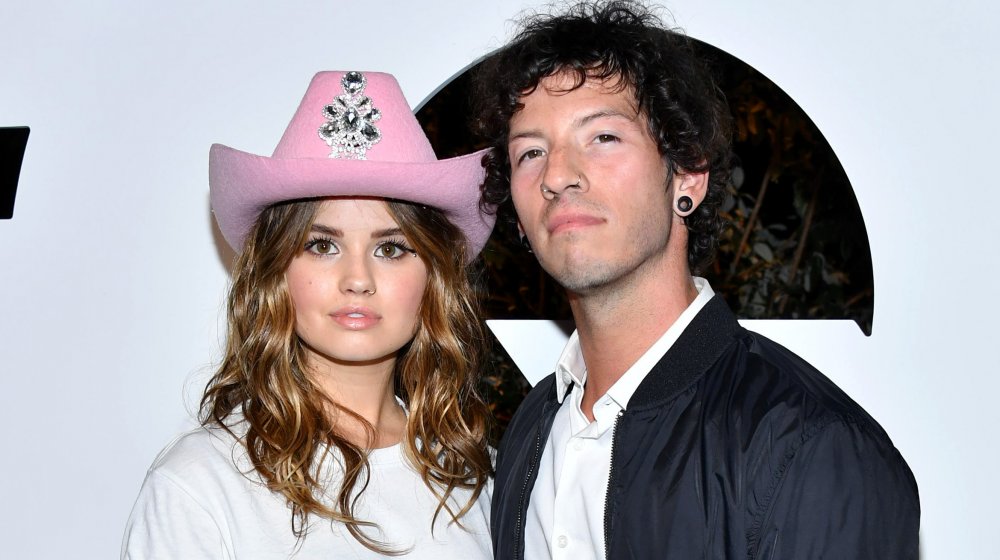 Amy Sussman/Getty Images
Rumors surrounding actor Debby Ryan's marriage to Twenty One Pilots drummer Josh Dun first surfaced in April 2020, when the band released a music video for their song, "Level of Concern." Some fans thought they spotted a wedding ring on Dun's hand at the 56-second mark, leading to speculation that the couple had gotten hitched in secret. Ryan confirmed the gossip in a May 2020 Vogue article detailing the nuptials, which went down on Dec. 31, 2019, in Austin, Texas.
Ryan and Dun got in engaged in December 2018, just five years after they first started dating. "So many things had to fall perfectly into place, and they all did at the very last second," the musician told Vogue about the romantic proposal he had pulled off for Ryan in New Zealand. "I couldn't have imagined the proposal working out any better."
As some might expect, this surprise wedding has thrown some fans for a loop. And if you're wondering why Ryan and Dun decided to keep their nuptials on the DL and are curious about their hush-hush wedding, you've come to the right place.
Was Debby Ryan inspired by her late friend, Cameron Boyce?
Debby Ryan revealed to Vogue that she and Josh Dun planned their wedding in 28 days, which is an extremely short period of time when you're trying to pull off an ultra-cool party. So why did Ryan speed up her journey to say "I do"? It might have to do with her Jessie co-star of four years, Cameron Boyce, who died in July 2019 due to a seizure. 
Although Vogue didn't name Boyce directly, the publication mentioned how this friend died the previous summer. "The time just felt right," she revealed to Vogue. "He was excited that Joshua and I were getting married, and I never doubted that I'd know him through every coming phase of our lives." Ryan continued, "When he passed, it really rocked me and put a lot of things in perspective. It didn't feel important to wait anymore, to stop being busy, or for things to line up perfectly—intending to do things is not nearly as powerful as doing, as we aren't promised tomorrow."
Ryan penned a touching tribute to Boyce after his death, writing on Instagram, "You're alive in the legacy of love you built, and I will keep that light burning in me for the rest of my journey. The world was robbed. We're better for you."
Debby Ryan's wedding was traditional with a twist
Bryan Bedder/Getty Images
Debby Ryan and Josh Dun's 3-day wedding celebration began at a beautiful church in Austin. "We didn't want the ceremony to be in a ballroom," Debby told Vogue. "It became more and more important to us that the sanctity of the union exists in a reverent place. I think I saw every church in the greater Austin area and narrowed it down to two." She added, "Joshua chose the one we went with. The stained glass windows really got me." 
Once Ryan and Dun said "I do," they swapped out the traditional vibe for a wild one. "We wanted it to feel like game night at our place had [turned into] a Gatsby-level dance party," the Disney alum shared. "I searched Google for 'art deco treehouse' and 'goth flowers' and made a couple of mood boards for tone reference ahead of seeing venues."
The two ultimately settled on Hotel Van Zandt, an eclectic boutique hotel. "The style was right: the chairs in the ballroom looked like some I wanted to rent," Ryan told Vogue. "The whole floor had space for lounging, a couple of bars, a photo booth, plus the event space was three ballrooms with floating walls. This allowed us to put the dance floor in the middle space, opening up to one side for the dinner reception, toasts, and first dances."
Congrats to Ryan and Dun!