What Is Ashton Kutcher's Relationship With Demi Moore's Daughters Like Today?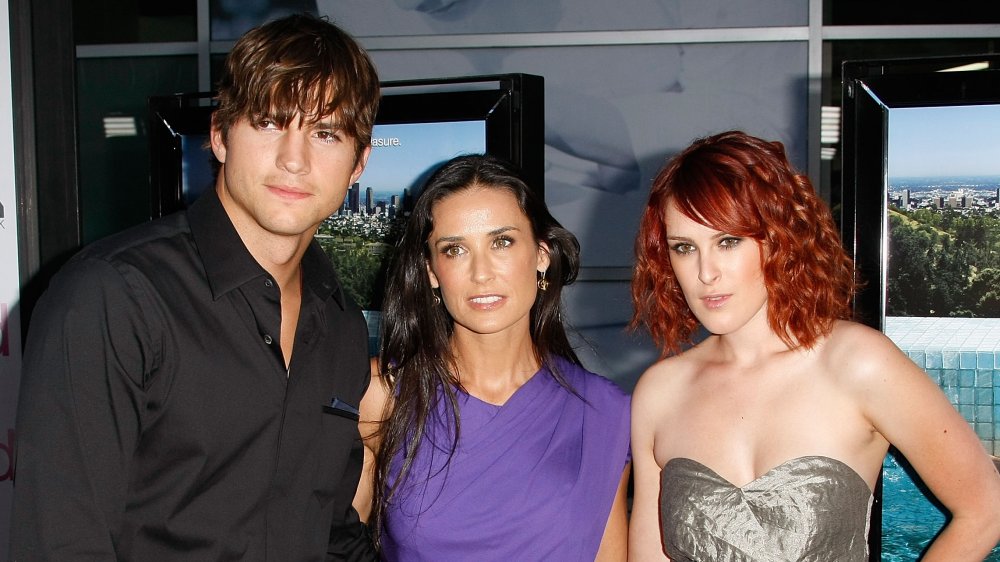 Michael Buckner/Getty Images
It feels like a whole lifetime ago that Ashton Kutcher was married to Demi Moore. The 20-something guy became a stepfather to her three daughters, but then he and Moore divorced, and he went on to marry Mila Kunis. Even though he's not technically related to Tallulah, Scout, and Rumer Willis, he has maintained relationships with the three of them.
In February 2020, USA Today reported that the That '70s Show alum dished on their current dynamic on an episode of the WTF With Marc Maron podcast. Kutcher recalled, "I was helping raise teenage girls through their adolescence." He added, "I love them and I'm never going to stop loving them and respecting them and honoring them and rooting for them to be successful." However, he did clarify that he and Moore do not "hang out," which makes sense. Still, Kutcher shared that he makes a "conscious effort to stay in touch with the girls."
While the dynamic is unconventional, Kutcher explained he maintained these relationships because the desire is mutual, remarking, "If they don't want an engagement with me, I'm not going to force it upon them, but they all do and it's great." In July 2018, Kunis similarly discussed Kutcher's bond with Moore's children on an episode of WTF With Marc Maron. People reported that she said, "They had, like, a normal, real relationship," and "they had three kids they were raising. It was, like, a normal life." She also commented, "He was younger but he loved those kids."
Ashon Kutcher was discouraged from seeing Demi Moore's kids at one point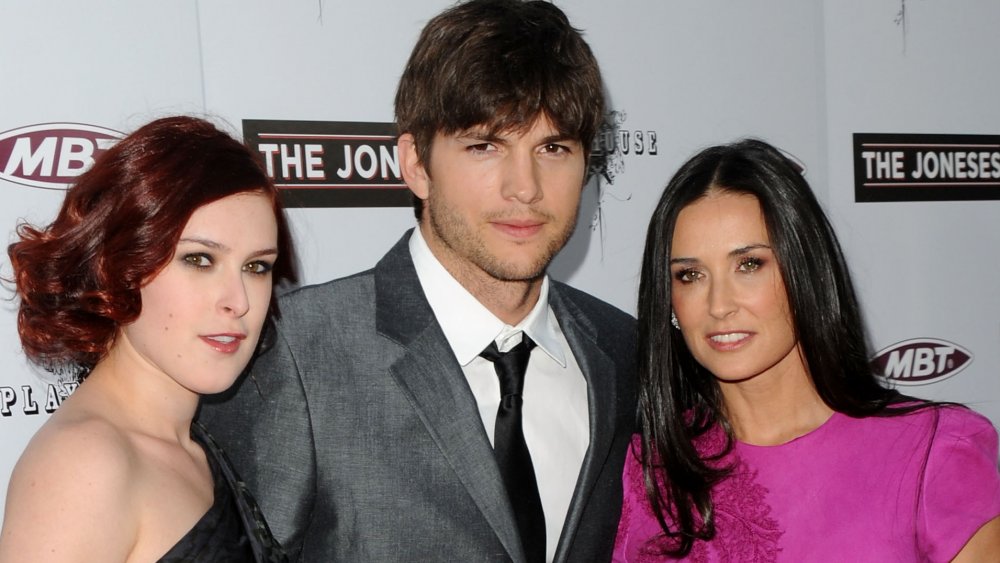 Jason Merritt/term/Getty Images
In June 2017, Ashton Kutcher discussed Demi Moore's daughters on The Howard Stern Show. According to Radar Online, Kutcher said, "The first time I became a dad, I was 25 years old, and Demi had her three daughters, and Tallulah [Willis] was I think 8, and Rumer [Willis] was 13, the oldest, and Scout [Willis] was like 9." He said, "I love those kids like my own kids, and I helped raise them until Talullah was 18 when we got divorced." Kutcher said he talked to Rumer "all the time" and to Tallulah "sometimes." He said he only texts Scout "a little bit." However, he revealed, "I don't see them."
The Punk'd alum divulged, "It's super awkward, and it's got to be awkward for them. Like this person who was in their life that was like another dad to them, and suddenly this guy is not there anymore. And for a while it was sort of like 'don't go there' and I got to respect all the wishes of everyone — the collective, and so it's tough." Howard Stern asked if it was "painful," prompting the actor to admit, "Yeah, it hurts me." 
Kutcher added, "I love them so much and they were such a big part of my life for a really long time. At some point, I'm sure it will fully plug back in, and I'm just going to keep working on it until it does."
Rumer Willis was angry when Demi Moore wanted a baby with Ashton Kutcher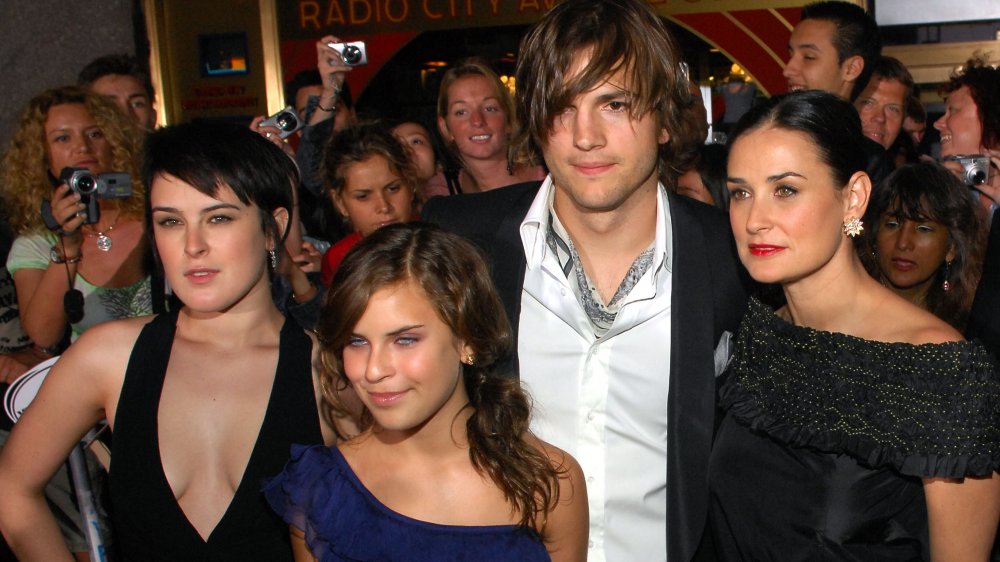 Gustavo Caballero/Getty Images
There was a three-year time period when Demi Moore was not on speaking terms with her three daughters Scout, Tallulah, and Rumer Willis. Her daughters attributed part of that estrangement to Moore's relapse with drinking. However, Rumer also admitted it was tough for her when Moore tried to have children with her then-husband Ashton Kutcher.
During a November 2019 Red Table Talk episode, Rumer said (via HuffPost), "With Ashton, I was so angry because I felt like something that was mine had been taken away." She continued to explain, "When she wanted to have another baby and then it wasn't happening, and there was so much focus on that, it was like 'Oh, well we're not enough.'" Moore did get pregnant. However, she suffered a miscarriage six months in. 
Rumer admitted to Moore, "I think after you had a miscarriage, I literally was just like, 'Why are you so desperate to have another kid?' I couldn't stand the idea." However, she changed her stance once she saw photos of her mom during her pregnancy. Rumer said that she "saw how big her stomach was, and I was like, 'Oh my god, I was so insensitive. I never once went to you and said, 'I'm so sorry,' 'Are you okay?'"
While things have been complicated for Kutcher and the Willis sisters, it seems like they have worked through past issues to get to a comfortable, supportive place today.