The Untold Truth Of Elizabeth Hurley's Son, Damian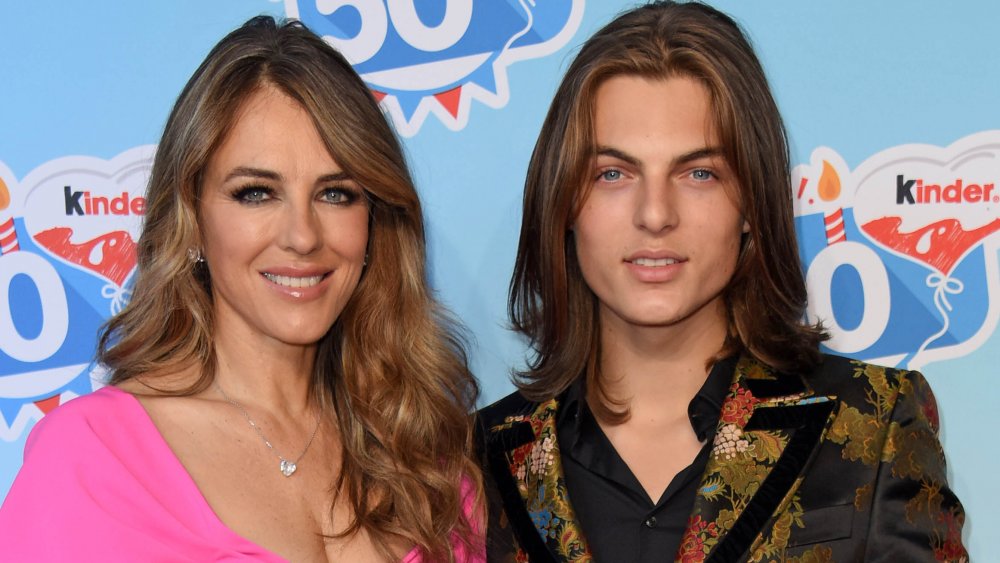 Tristar Media/Getty Images
In late June 2020, Elizabeth Hurley and her son, Damian Hurley, found themselves in the news for a devastating reason. Elizabeth's ex and Damian's father, Steve Bing, died by suicide on June 22, 2020, per TMZ.
Both Elizabeth and Damian made statements regarding their terrible loss on Instagram, with the actress noting that while she and her ex went through some "tough times" — as per People, Bing initially "contested her paternity claims" – they had "become close again" in the year prior to his death, last speaking on Damian's 18th birthday in April 2020.
As for Damian's piece, he thanked friends and family for their kind words, calling it a "strange and confusing time."
"Thank you from the bottom of my heart to everyone that has reached out following the devastating news. I'm trying to reply to as many of you as I can, but please know I will always remember your kindness," he wrote on Instagram, adding, "... I'm immensely grateful to be surrounded by my phenomenal family and friends."
Damian Hurley is the spitting image of his mom, Elizabeth Hurley
For those who want to learn more about Damian Hurley, the first thing anyone will notice is just how much he looks like his mom, Elizabeth Hurley. We're talking, confused-for-twins, let-me-do-a-double-take kind of similar.
They both have arresting blue eyes and long, flowing brunette manes, complete with tanned skin, striking features, and gorgeous good looks. However, it also looks like Damian inherited some of his facial shape and bone structure from his late father, Steve Bing. The two appeared to have the same creases in their cheeks when they smiled. 
While paying homage to his mother, Damian looked even more like the starlet when he wore a black, Versace suit fitted with large gold safety pin — a look that he showed off on Instagram. As Vogue reported, the suit was a tribute to one of Elizabeth's most iconic red carpet looks, which featured the model in a black Versace dress with a large cut-out and slit on one side, stitched together with gold safety pins.
Damian Hurley is also a model and an actor
While Damian's father, Steve Bing, was a screenwriter, producer, and philanthropist, so far, Damian has seemingly followed the career path of his mom, Elizabeth Hurley. Like his mother, Damian is also an actor and model.
In 2019, Damian did a campaign with Pat McGrath Labs, posing for the cosmetics line. In that commercial, which you can watch on YouTube, Damian's long locks were teased and styled voluminously, blowing away from his face. He sported a black leather jacket and looked absolutely radiant, his cheekbones dewy and luminous.
Damian is also an actor — or, at least, a budding one — making his debut in 2016 on his mom's former television show, The Royals. On the E! scripted series, Elizabeth starred as Queen Helena, while Damien played the part of Hansel von Liechtenstein, the Crown Prince of Liechtenstein, on two episodes.
To hear Elizabeth tell it, as she did to E! News, Damian grew up on the set of the show, so for him to get "quite a challenging part" was exciting. It was written for him, and Damian revealed the whole thing was "great."
"It was really good to be in front of the camera," he said. "Yeah, I loved it."