The Untold Truth Of Anna-Maria Sieklucka From 365 Days
If you haven't checked out 365 Days, hop on over to Netflix and treat yourself. The new Polish film is taking the streaming platform by storm and collectively elevating the world's heart rate because, dear readers, not only is it a thriller... it's also erotic.
365 Days joined Netflix on June 7, 2020, according to People, and it quickly became the platform's most-watched film. 365 Days is drawing comparisons to the trilogy hit 50 Shades of Grey, thanks to its lush sex scenes and BDSM themes. Not only that, but much like author E. L. James and her 50 Shades trilogy, 365 Days is also based on a trilogy book set by Polish author Blanka Lipińska, per People. The cherry on the sundae is that Lipińska's two other books, Ten dzień (This Day) and Kolejne 365 dni (Another 365 Days), are already published and available to readers.
The film is so popular that a sequel has already been announced, according to Newsweek, and audiences can potentially expect a release date around 2022, as production was shut down due to the pandemic.
While there's so much to explore in 365 Days, we're most interested in actress Anna-Maria Sieklucka, who plays the love interest Laura and captures audiences' hearts and attention. So, here is everything we know about the remarkable rising star.
'365 Days' is Anna-Maria Sieklucka's breakout role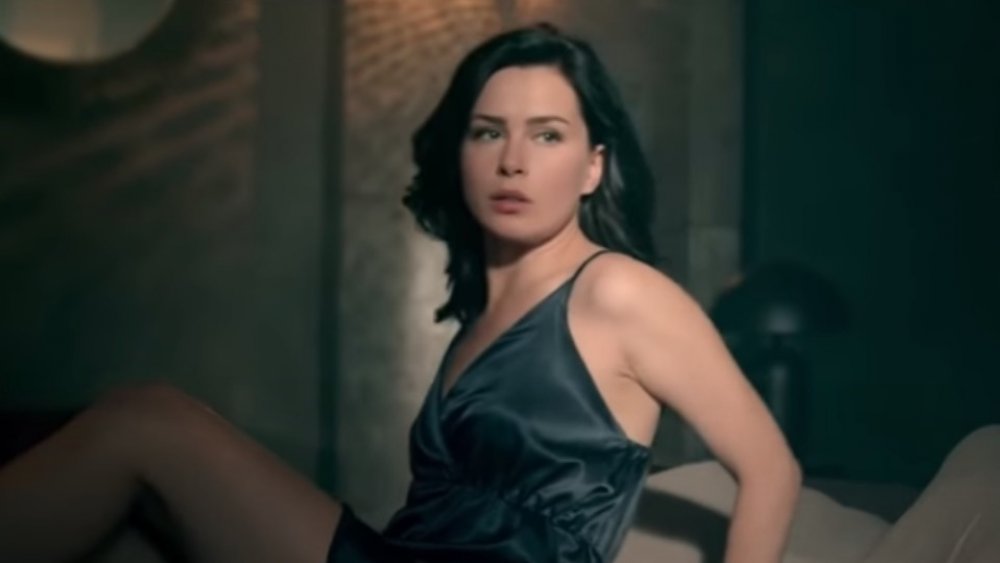 Jerra Mabz/YouTube
Anna-Maria Sieklucka plays Laura in Netflix's newest sensation: 365 Days. According to Newsweek, Laura is kidnapped by a member of the Sicilian mafia named Massimo, played by Michele Morrone, who won't touch her without her consent. He holds her prisoner on the balmy, Mediterranean island of Sicily, where she is given one year to fall in love with him.
Naturally, audiences are dying to get to know Sieklucka, who was relatively unknown before 365 Days — at least outside of her native Poland. She was born in Lublin, Poland on May 31, 1992, according to The Sun. She is fluent in Polish, English, French and German, per the outlet, and gained acting experience in theater productions before working on movies. She had a brief part in 1999 on the Polish medical TV series Na Dobre I Na Złe and appeared on the talk show Kuba Wojewódzki in 2006, according to her IMDb page.
As far as her personal life goes, Sieklucka is very private. After the heat she and Morrone shared on screen, fans are eager to know if they're a couple, and she seemingly answered that question, very vaguely, on Instagram. Keep reading to find out what she said.
Who is Anna-Maria Sieklucka dating?
The world has fallen head-over-heels in love with Anna-Maria Sieklucka and no one is terribly surprised. The gorgeous Polish actress is as talented as she is beautiful as she is brilliant, and naturally, everyone wants to know her relationship status. More to the point, people want to know if she's dating her 365 Days co-star, Michele Morrone.
In April 2020, Sieklucka shared a selfie on Instagram of herself with a mystery man and added a caption which translates to "One. Private. And there will be no more. Peace and love," according to Distractify. While it's not an explicit statement, it does not appear as though she and Morrone are dating IRL.
According to The Sun, Sieklucka talked about filming the movie during a press tour, saying, "The biggest surprise while working on this film was related to the emotions inside me, which I had to bring out." On filming the more explicit scenes, she said, "One of the most difficult experiences was to overcome shyness and to show the nudity we will see on the screen."
After the first movie was such a hit, fans are surely counting down until the 365 Days sequel arrives.