The Real Reason You Recognize Billy Hargrove From Stranger Things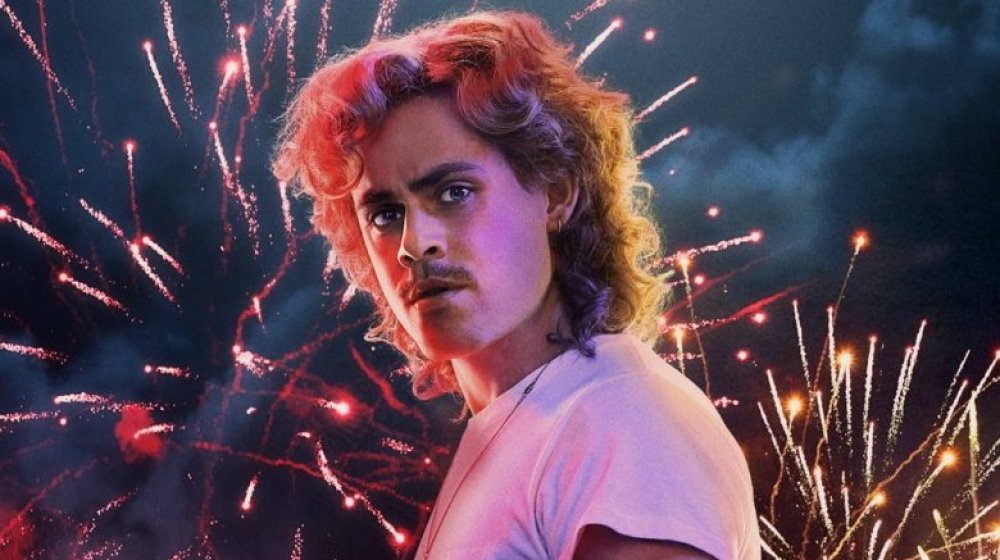 Netflix
The Netflix hit Stranger Things — the story of a group of kids fighting supernatural forces in 1985 — became an instant cult classic when it debuted in 2016. Critics and audiences both went wild for the throwback show. 
"Stranger Things is nothing if not a surprising, sometimes scary, moving and successful homage to the era of Spielberg's 'ET' and the 1980s themselves," IndieWire gushed. Gizmodo also couldn't get enough of the show. "Stranger Things is so entertaining that it's totally worth the time commitment, because believe me you will be mainlining the whole thing once it hooks you in. The characters are especially well-drawn, no small feat when most of them are around 12 years old."
Winona Ryder and David Harbour play Joyce Byers and Jim Hopper — the main adult characters in the show, and they're both incredibly entertaining to watch, but after an exceptionally successful first season, the show's writers knew they'd need to introduce some new faces in Season 2. Enter Dacre Montgomery, who plays bad boy Billy Hargrove, the hot-headed older brother of Sadie Sink's character, Max Mayfield. Billy arrives on the scene with a saunter and a cigarette and immediately begins flirting with the moms and bullying the kids. He became a new anti-hero for the show — and wow, did he make an impression! 
Are you wondering why Billy looks somewhat familiar, yet you just can't place him? We're here to answer that question for you.
Go Go, Billy Hargrove! Yep, he's a Power Ranger
You may not picture Billy Hargrove from Stranger Things as a kids movie star, but actor Dacre Montgomery got his first big break in Hollywood when he was cast as Jason, the Red Ranger, in the 2017 Power Rangers reboot.
Montgomery really appreciated the role, particularly considering the personal challenges from his youth. "High school was tough for me," he told Teen Vogue. "...I hope that Jason is endearing and his seeking of relationships with the other characters in a different social group is real to you or any other viewer because that's really where I was in high school," he said. "I was sort of floating between different groups. I didn't really have a group."
Acting isn't Montgomery's only creative outlet. He launched a poetry podcast, DKMH, in 2019 and announced that he would be releasing a book of poetry in 2020. He described his poetic style to The New York Times: "It's kind of an amalgamation of beat poetry that I've been writing for a long time ... I started approaching musicians around the world to help me compose scores that I could narrate my beat poetry to."
If you're anxious to see Montgomery on the screen again, keep an eye out for The Broken Heart Gallery, a romantic comedy produced by Selena Gomez and 13 Reasons Why producer Mandy Teefey, per The Hollywood Reporter.