The Real Reason Pink And Carey Hart Are Still Together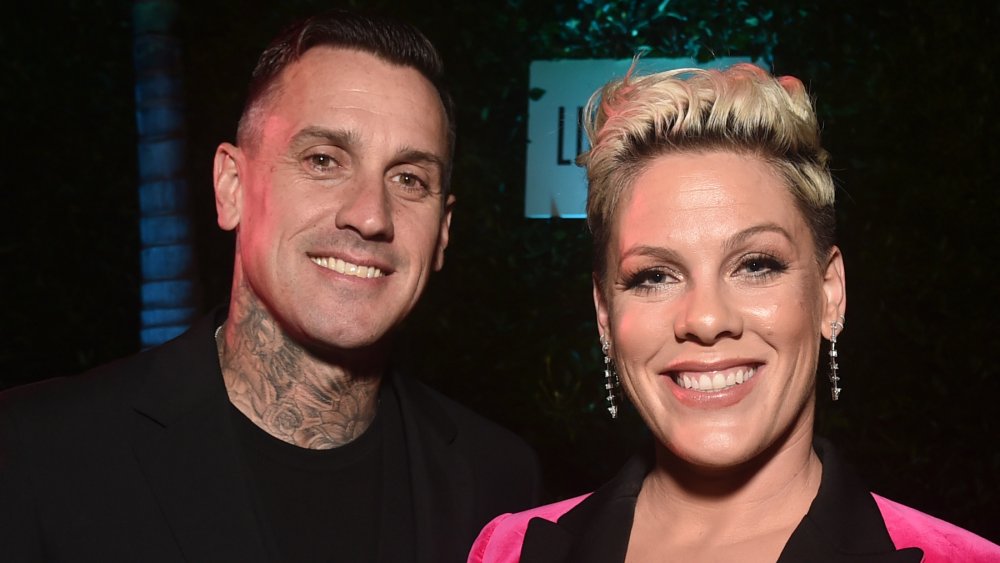 Alberto E. Rodriguez/Getty Images
It was back in 2001 that chart-topping pop star Pink first met her future husband. Pink was attending the 2001 Summer X Games in Philadelphia, Penn. when she first laid eyes on motocross competitor Carey Hart, per Popsugar. According to USA Today, Pink was "captivated in part by his bad-boy charms," and the two began dating.
By 2003, the singer and the athlete had called it quits. However, US Weekly reported that "[a]fter a short-lived split ... the couple reunited and eventually got engaged in 2005." They married in a stunning ceremony in Costa Rica in 2006, per People, but it wasn't long before they took another break. In 2008, the couple separated before reuniting and welcoming daughter Willow in 2011, per US Weekly. Their son, Jameson, was born in 2016.
Pink, who's known for being pretty open about her life, talked about her and her husband's on-again, off-again relationship to The Guardian in 2017 "There are moments where I look at [Hart] and he is the most thoughtful, logical, constant ... he's like a rock. He's a good man. He's a good dad. He's just the kind of dad I thought he'd be and then some," she said. 
She continued, "And then I'll look at him and go: I've never liked you. There's nothing I like about you. We have nothing in common. I don't like any of the s**t you like. I don't ever wanna see you again."
While the couple continues to hit rough patches, Pink seems confident that they can overcome any obstacle thanks to one specific reason. Keep reading to find out her secret to keeping their marriage intact.
Pink and Carey Hart swear by couples counseling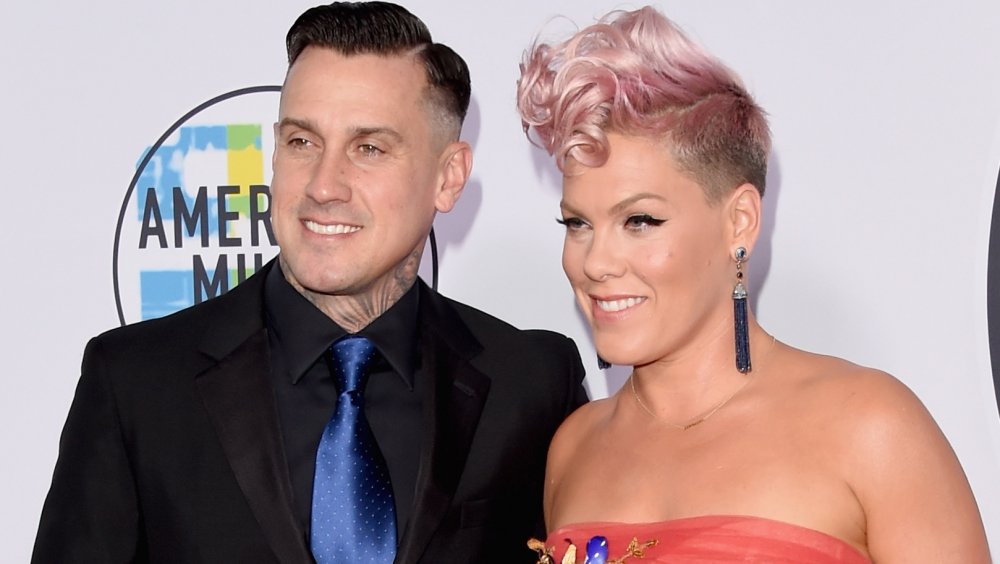 J. Merritt/Getty Images
When two successful people couple up, there's bound to be some head-butting from time to time. As of this writing, Pink — who made her musical debut in 2000 — has sold more than 13 million albums and won three Grammys, per USA Today. Her hubby, Carey Hart, is just as successful. In addition to being a "mainstay at the X Games for years on end," he also won gold at the Australian X Games in 1999 and again in 2002, according to PopCulture.
Even though the couple has had their ups and downs, Pink is certain that they're in it for the long haul. The "So What" singer credits couples therapy for saving their marriage. "It's the only reason that we're still together because you know, I think partners after a long time, we just speak ... you just speak two different languages," she said during an Instagram Live in June 2020 (via Page Six). "You need someone to hear both of you and then translate it for you ..."
In the Instagram Live, Pink revealed that she doesn't think her and Hart would still be together if it weren't for the help of their therapist, Vanessa, who's been working with the couple for the past 18 years. "We just wouldn't because we are not taught as kids how to have relationships, how to get along with people," she said. 
While it might not be an innate quality, it definitely seems like Pink and Hart are willing to continue to learn and grow.