The Real Reason Jojo Siwa Has Been Ditching Her Signature Ponytail
It's rare to catch JoJo Siwa (whose real name is Joelle Joanie Siwa) without her signature ponytail, but in early 2020, we've been seeing a whole new teenager. The often-bedazzled entertainer took to TikTok in late April to share with her fans about why she's looking a little different, per Us Weekly. It's really quite simple — Siwa said this is just how she looks in the morning or at night!
"Recently, I've been showing myself looking different — not the classic rainbow, sparkles and side ponytail with a JoJo bow," she wrote on her TikTok video that she self-described as a PSA. "I've been hated on for YEARS for dressing 'young' and acting 'childish.' People think this is me changing. LOL nope! I love who I am!"
The videos her fans were so surprised to see were of her with her hair down and flowing, which is not something we're usually privy to. The teenage performer is usually found in neon colors, glitter, and a whole lot of glam — not to mention her iconic JoJo bow — but she posted a different TikTok that same month wearing a subdued outfit and her hair flowing free. The response was overwhelming, as her fans couldn't get over how gorgeous her hair is! 
JoJo Siwa even has her own subscription box for bows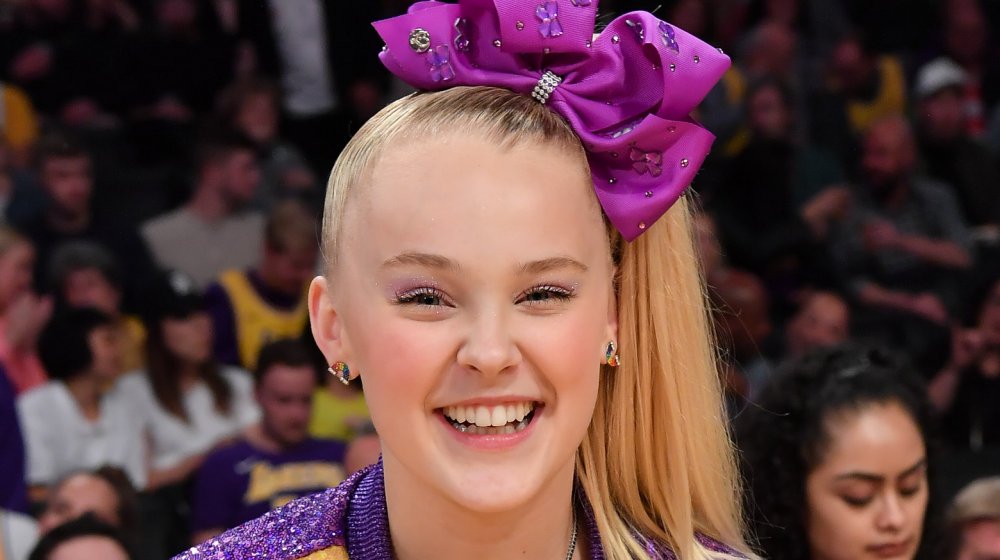 Allen Berezovsky/Getty Images
Don't expect to see JoJo Siwa without her ponytail very often, though. These rare glimpses of the former Dance Moms star came during the COVID-19 pandemic that swept the world, and Siwa was sharing social media posts from home while under lockdown. Though the teenager is very open with sharing behind-the-scenes looks at her fabulous life, we don't expect her so-called morning and night hair (a.k.a. her hair down) to make any appearances on stage anytime soon. After all, Siwa is known for her ponytail and JoJo bows.
She's so known for those bows, in fact, that she sells them. She even has a subscription box for them. Yes, JoJo's Bow Club is a very real thing where you'll get a bow in the mail every month. If you're not ready to commit to a monthly subscription bow, you can find Siwa's signature bows at many retailers, including Amazon. If you find yourself at a concert for this popular YouTuber sometime in the future, you'll fit right in with some sparkles, some glitter, and a JoJo bow. Who knows, you might even spot Siwa's bestie North West in the audience with you!