The Truth About Fiona Apple And Cara Delevingne's Relationship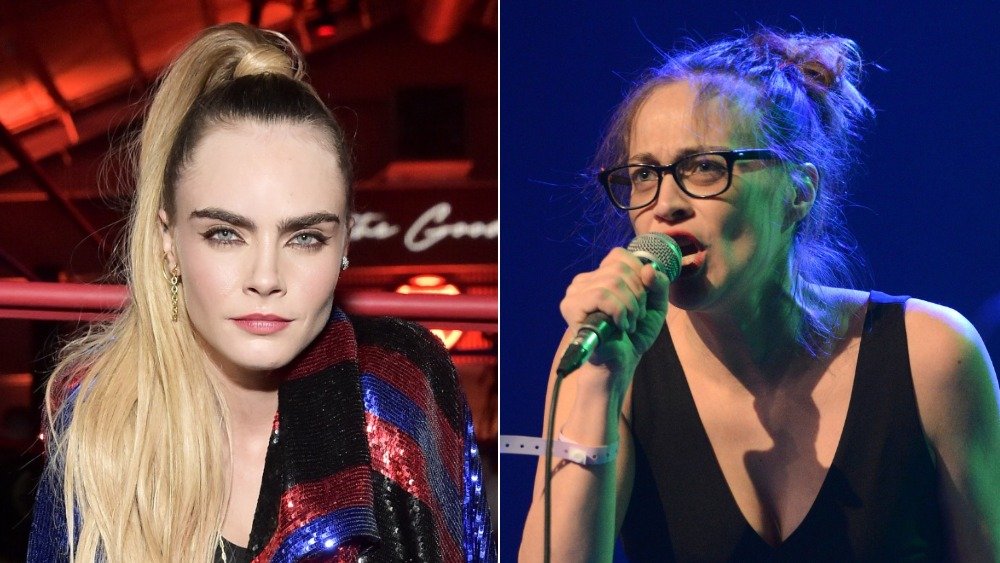 Stefanie Keenan, Scott Dudelson/Getty Images
Cara Delevingne has gone from the runway to the big screen and television. She's played the high school dream girl who disappears in the adaptation of novelist John Green's Paper Towns and the main villainess Enchantress in Suicide Squad alongside Will Smith, Jared Leto, and Margot Robbie. Delevingne also appeared as faerie Vignette Stonemoss for the Amazon series, Carnival Row, in 2019. 
The Brit also talked openly with Variety about serving as a role model for LGBTQ+ youth and her work with The Trevor Project, an organization focused on youth suicide prevention and crisis intervention. But lately, she has been spending time in the recording studio and forming friendships along the way.
Delevingne made an unexpected appearance on singer Fiona Apple's album, Fetch the Bolt Cutters, released in April 2020. It was Apple's first studio album in eight years, and Delevingne appears on the title track. Following the album's release, Delevingne shared a behind-the-scenes photo of their recording session with her millions of Instagram followers. "So proud of you Fiona!! Her new album 'Fetch the Bolt Cutters' is out NOW – I feel so lucky to have been a part of it (as well as my dogs!) and to make a small cameo on the title track," Delevingne posted.
So how does the actor know Apple? We break down their friendship after the jump.
St. Vincent brought Cara Delevingne and Fiona Apple together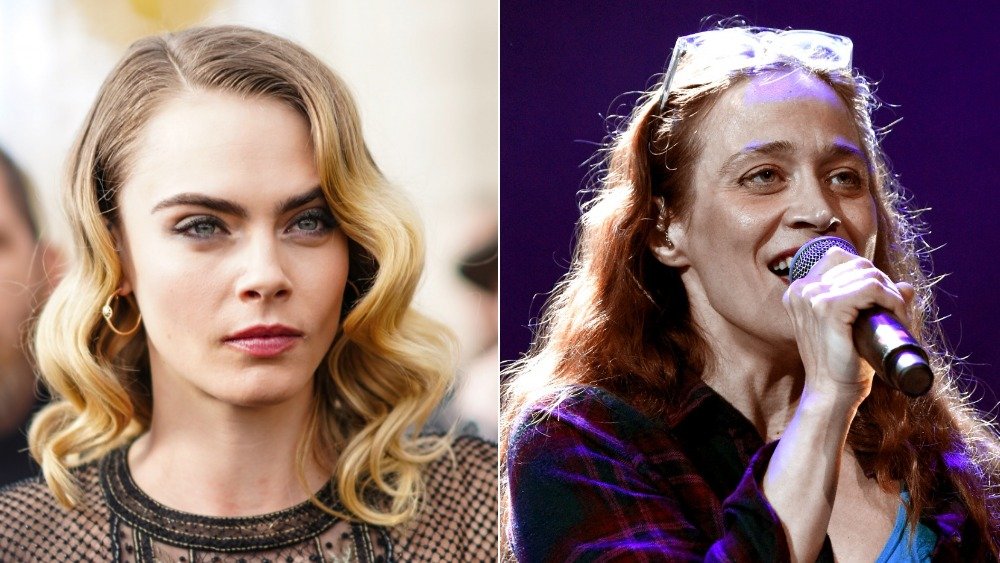 Edward Berthelot, Kevin Mazur/Getty Images
The friendship between Cara Delevingne and Fiona Apple may seem like an unlikely pairing, but, as it turns out, they became fast friends after Delevingne's then-girlfriend Annie Clark, better known by her stage name as St. Vincent, seemingly introduced them. It might have all started when Clark posted an August 2016 Instagram photo of Delevingne recreating the musician's cover art for her debut studio album, Tidal. 
Delevingne and Apple were included in a text chain with Clark, according to Variety, and reportedly continued to communicate separately when Delevingne and Clark broke up in September 2016.
"I think Annie gave me my first impression of Cara, by referring to her as 'goof.' She's pretty goofy, and that made me comfortable!" the singer told Variety. "After that, Cara and I would FaceTime, and semiregularly text lyrics back and forth for our imaginary (but still possible!) band, the Rug Burns."
Apple and Delevingne have only met a few times in person before recording together, the "Criminal" crooner told Vulture. Apple wanted Delevingne to sing the chorus line on the song, "Fetch the Bolt Cutters." The line and album title are from a British crime show starring Gillian Anderson.
"She was such a good friend to me in that moment that I felt really comfortable, and I was like, 'Okay, come on over, let's do it," Apple explained to Vulture. "There's one line to sing: ['Fetch the bolt cutters.']"
Does Cara Delevingne have a future in music?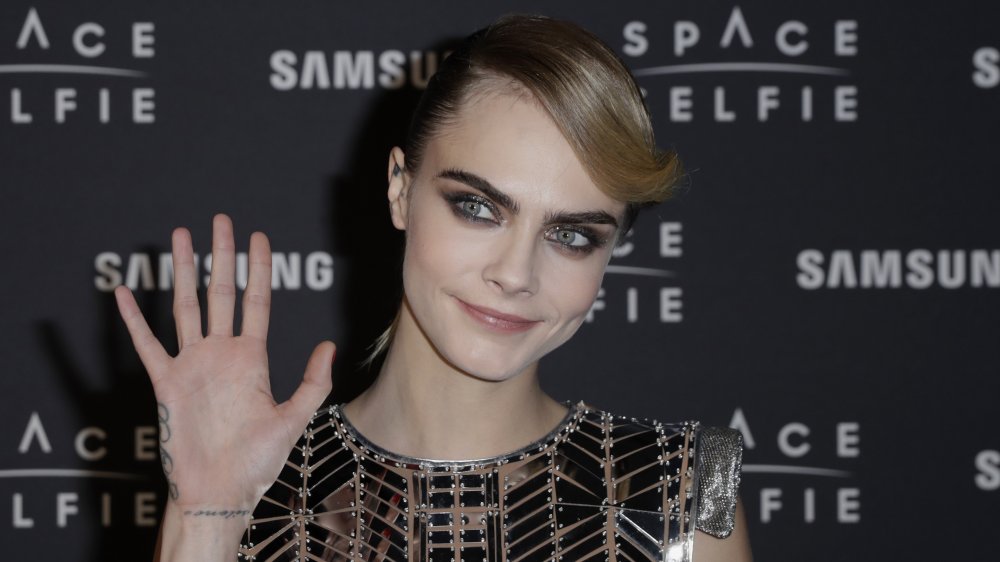 John Phillips/Getty Images
The Rug Burns may only be imaginative for now, but Cara Delevingne possibly has a future in music. Delevingne provided backing vocals on the song, "Pills," which was featured on St. Vincent's 2017 album, Masseduction. Delevingne performed under the moniker Kid Monkey for the chorus, according to The New Yorker.
Delevingne's acting and singing talents collided in the 2019 grunge music drama, Her Smell, starring Elisabeth Moss and Ashley Benson. Delevingne performed as a drummer in the fictional band, the Akergirls, and an MTV-like video for the song, "Can't Wait," was released featuring the model-actor. Benson and Delevingne dated for two years before their breakup in May 2020.
Although it's unclear whether Delevingne will pursue her own career, it's clear she found a friend in music with singer Fiona Apple. "I felt like I met my musical soulmate; she allowed me to feel like a kid," Delevingne told Variety.