The Truth About Naya Rivera And Big Sean's Relationship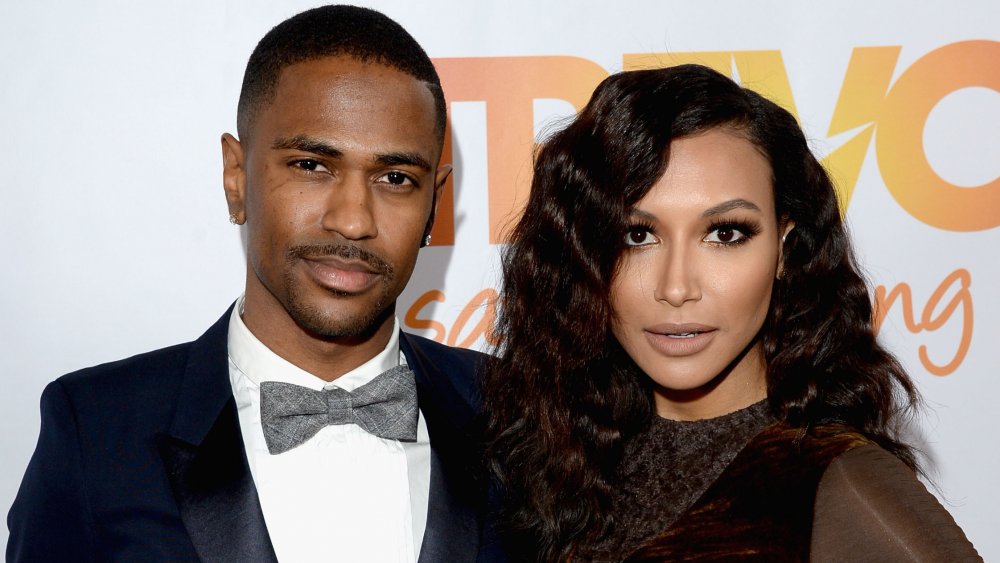 Jason Merritt/term/Getty Images
UPDATE: On July 13, 2020, the Ventura County Sheriff's Office confirmed Naya Rivera's body has been recovered at Lake Piru. In a press conference, Sheriff Bill Ayub said, "We are confident the body we found is that of Naya Rivera."
The original story follows below.
On July 8, 2020, TMZ reported the tragic news that Glee actress Naya Rivera has been declared missing after a day of boating with her son. The outlet shared that her 4-year-old son Josy Dorsey was found on a boat that she presumably rented on Lake Piru, which is located in Southern California. Authorities were looking for the Glee alum, but they decided to suspend the search overnight because it was too dark to make meaningful progress. At the moment of this writing, it's been reported that the search is now considered to be a recovery mission, with Rivera presumed dead. Rivera shares custody of Josey with her ex-husband Ryan Dorsey, whom she divorced in 2018.
Us Weekly confirmed that Rivera married her ex in July 2014 on the same date she was originally set to marry rapper Big Sean, who broke up with her in April 2014. Entertainment Tonight reported that the rapper "liked" several tweets hoping for Rivera's safe return. 
Back when the couple first split, Big Sean's representative confirmed to People that he was the one who called off the engagement amid rumors that he'd cheated on Rivera. At the time Big Sean's rep shared, "The recent rumors and accusations reported by so-called or fake sources are simply untrue. Sean wishes Naya nothing but the best and it is still his hope that they can continue to work through their issues privately. We will not be commenting again on this matter." 
However, as it turned out, that actually wasn't the last time that Big Sean addressed the matter. Instead, the two exes dissed their relationship with songs, interviews, books, and social media posts for years.
Naya Rivera accused Big Sean of cheating and stealing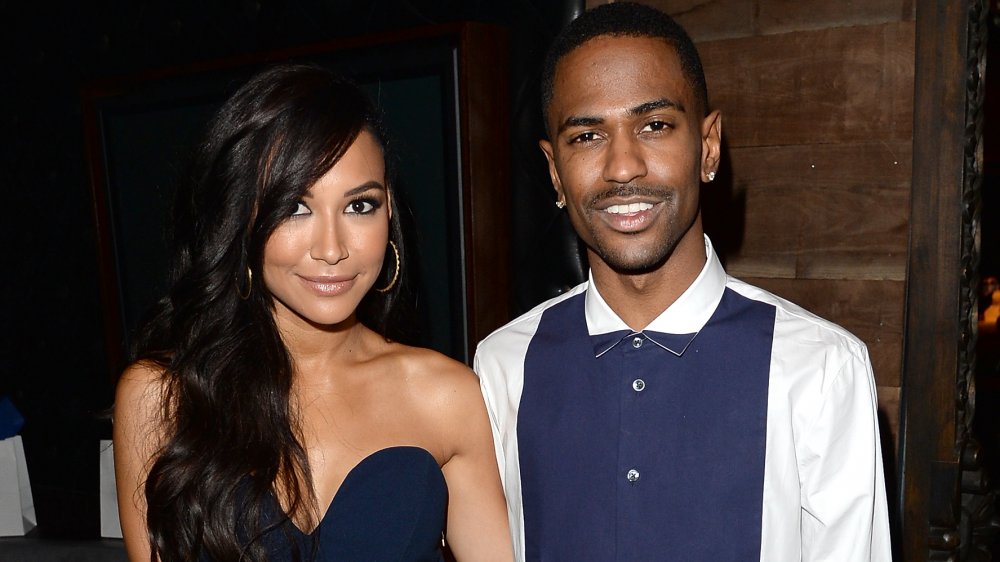 Jason Merritt/Getty Images
In April 2014, BET reported that Naya Rivera tweeted and deleted, "@BigSean stealing Rolexes from a lady's [sic] house now. Maybe cuz I'm on Glee and making more money or something. #triflin." TMZ countered that Big Sean didn't "steal" the watch and it was actually his own Rolex that he let her wear. The outlet claimed he decided to call it quits because she was "way too controlling," with a source telling TMZ she would threaten him, making remarks like "If you don't listen to what I say, I'll ruin your career." 
In her 2016 memoir, Sorry Not Sorry: Dreams, Mistakes and Growing Up, Rivera claimed, "I learned that I was no longer getting married from THE INTERNET, and at the same time as the rest of the world," according to Us Weekly. Rivera also implied that Big Sean cheated on her with Ariana Grande, writing, "I walk in, go downstairs, and guess what little girl is sitting cross-legged on the couch listening to music? It rhymes with 'Smariana Schmande." Big Sean's rep denied cheating allegations in 2014, telling Us Weekly, "Sean did not cheat on Naya and the allegations are 100% false and untrue." Of course, after breaking up with Rivera, Big Sean dated Grande for eight months.
He alluded to Rivera's book in his 2016 song "No Interviews," rapping, "And the funny thing about it is my ex wanna write a tell-all. F***ed up thing about it is she ain't even tell all."
They met on Twitter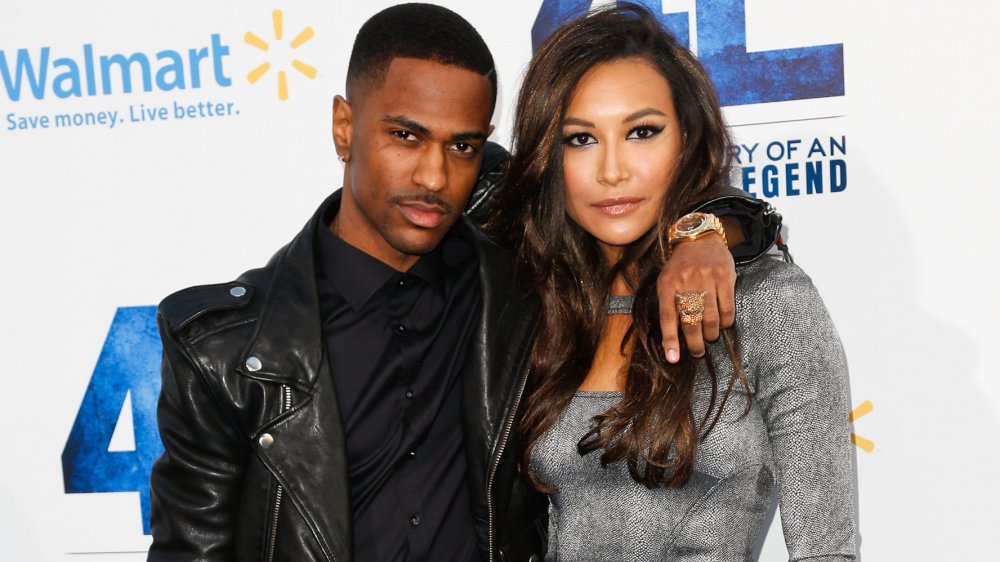 Imeh Akpanudosen/Getty Images
In an October 2013 E! News interview, still a year before their breakup, Big Sean and Naya Rivera were asked who introduced them, with Big Sean simply saying, "Twitter." At the time, The Hollywood Reporter shared that Rivera explained to Access Hollywood, "I had followed him, and he sent me a little message like, 'I'm a fan." She shared, "We went to dinner and the rest is history," with the couple getting engaged in October 2013.
Before things went south, Rivera gushed in a January 2014 Cosmpolitan interview, "I think he's going to be an amazing husband, and he'll make a great father someday." The former Glee cast member remarked, "He's so kind to people, but he also wears the pants in our relationship, which I love. We Latinas are very independent and strong, so it's even sweeter that I've found somebody who can let me out of that role for a minute."
Little did she know at the time that they would endure a messy break up months after that interview was published. Big Sean seemingly shaded her three years after their split with a now-deleted video of a girl saying "I told y'all n******. I told y'alln******. Y'all thought I was playing, but I told y'all n******," which People construed as a response to Rivera's arrest for domestic battery after Ryan Dorsey claimed she struck him in the head and face.
But after all of the public digs over the years, it seems that Big Sean hopes that Rivera is found safe despite the grim conclusions authorities have come to regarding their chances.
If you feel like you need a resource after reading sensitive subject matter, please contact the Crisis Text Line by texting HOME to 741741, or call the National Alliance on Mental Illness Helpline at 1-800-950-NAMI (6264)