The Real Reason Mila Kunis Won't Act With Ashton Kutcher Anymore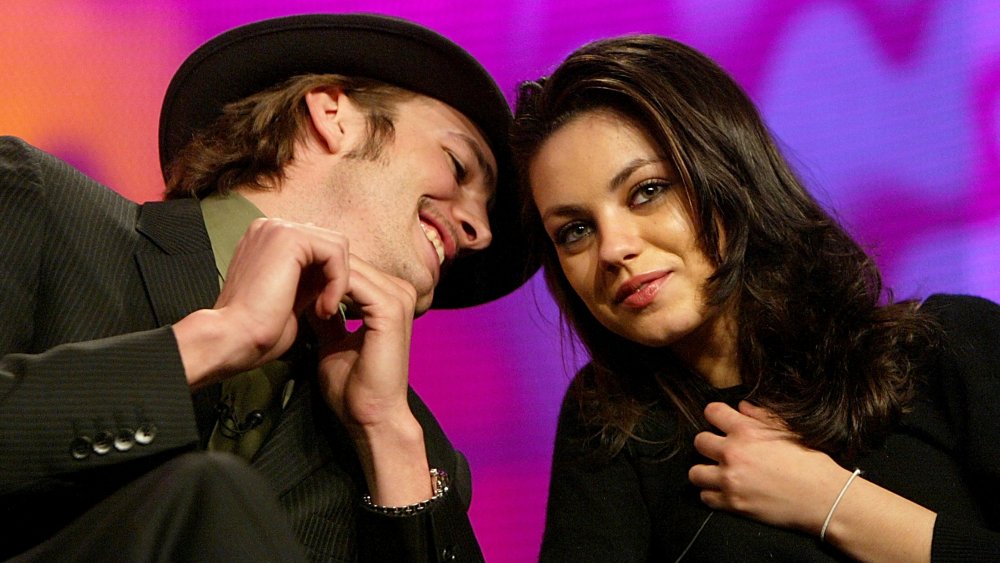 Kevin Winter/Getty Images
We can all agree that Mila Kunis and Ashton Kutcher's love story is one for the ages. The pair met as co-stars on the set on That '70s Show back in 1998, and quickly hit it off as friends long before their relationship turned romantic in 2012. While fans everywhere fell in love with their on-screen characters, Jackie Burkhart and Michael Kelso, it wasn't until decades later that their stars aligned and they realized they were each other's soul mates. (Although, Kunis did admit to People that she had "the biggest crush" on him while filming the show.)
In fact, the actress' very first kiss ever was a scripted kiss to Kutcher, which makes their love story all that much sweeter. "Yep, in the show [we kissed], with no feelings whatsoever," Kunis said on Marc Maron's WTF podcast in 2018. "It's the weirdest story that nobody believes, but it's the God's honest truth. There was nothing there, and it was like ... whatever."
These days, the now-married stars, who share two beautiful children, are one of Hollywood's most beloved couples. However, fans will be heartbroken to know that they will probably never see Kunis and Kutcher act together again — and here's why.
Mila Kunis shut down any hope that she and Ashton Kutcher will make a movie together
Alberto E. Rodriguez/Getty Images
Other than their work on That '70s Show, Mila Kunis and Asthon Kutcher have shared the screen several more times. The Bad Moms star guest-starred on Two and a Half Men, and appeared in the 2014 film Annie alongside her husband — she even showed up in an episode of Kutcher's Punk'd back in 2005. But during an interview on Sunday TODAY with Willie Geist in 2018, the actress was asked if she and her husband had plans to make a film together anytime soon ... and she immediately shook her head.
Saying that it's "probably not going to happen," Kunis explained, "I can't look at him and not be like, 'What are you doing?' ... No, it's weird." She went on to say, "In a scene with him, I was like, 'Oh, I see you acting!' Like, I can catch it. And he looked at me and he was like, 'What's that face you make?'" Kunis added, "I was like, 'We can't do this. We can't be together in a scene.' Because we both look at each other and ... you can catch each other on the weird shticks, so to speak."
Ironically, Mila Kunis and Ashton Kutcher's relationship played out like a real-life rom com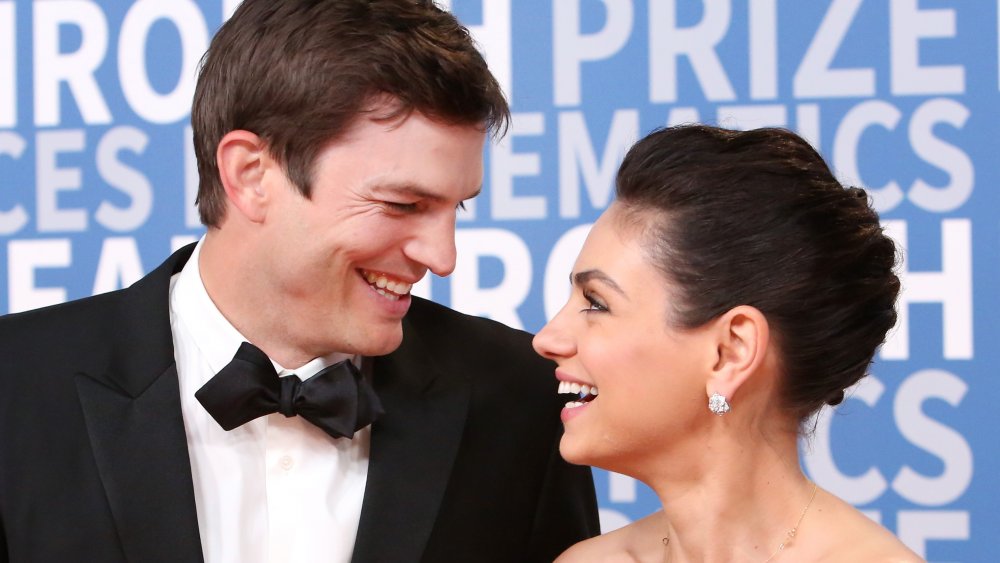 Jesse Grant/Getty Images
During an appearance on The Howard Stern Show in 2016, Mila Kunis revealed that she and Ashton Kutcher actually started out as friends with benefits — just like the characters in their respective movies, Friends with Benefits and No Strings Attached. (Both films are about two friends who decide to sleep together without getting romantically involved.) "If we just paid attention to these movies, we should know that s**t like this does not work out in real life," Kunis said. "Well, we clearly didn't pay attention. We shook hands, we're like, 'Let's just have fun!' I mean, literally we lived out our movies. We literally just had a very open conversation."
Kunis and Kutcher soon realized they felt something more than friendship, with Kunis later explaining on Marc Maron's WTF podcast that she was ready to walk away before things got too serious (via Us Weekly): "I walked up to him and I was like, 'You know what? I actually care about you, and I don't wanna mess anything up, so I'm just going to walk away before it becomes too much.' And he was like, 'Got it.'"
"The next day he showed up to my house," Kunis recalled, "And he was like, 'Move in with me.'" Of course, the rest is history. And as sad as we are that Kunis and Kutcher will likely never appear on-screen together again, at least we'll always have old episodes of That 70's Show to watch.