The Truth About Naya Rivera And Demi Lovato's Relationship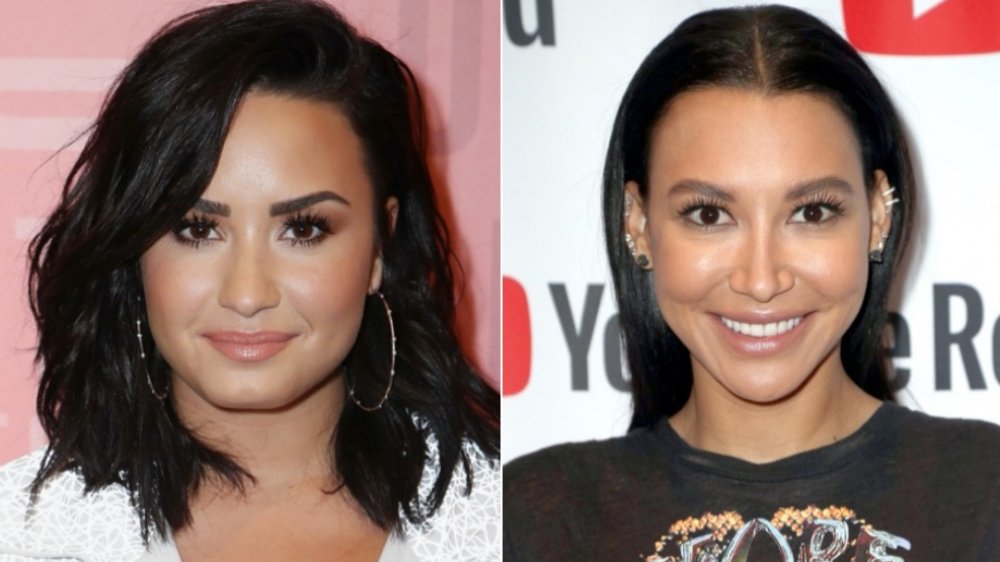 Ari Perilstein, Frederick M. Brown/Getty Images
UPDATE: On July 13, 2020, the Ventura County Sheriff's Office confirmed Naya Rivera's body has been recovered at Lake Piru. In a press conference, Sheriff Bill Ayub said, "We are confident the body we found is that of Naya Rivera." 
The original story follows below.
Glee alum Naya Rivera went missing on July 8, 2020, after spending the afternoon at Lake Piru, a body of water in Southern California. On the day of her disappearance, the singer had rented a pontoon boat with her young son, Josey Dorsey, whom she shares custody of with her ex-husband, Ryan Dorsey. TMZ reported that Rivera was declared missing after her life vest-clad son was found alone on the boat, with the star nowhere in sight. Josey reportedly said that he saw his mom jump into the water, but she never returned. As of this writing, authorities say the "Sorry" singer is presumed dead.
Countless celebrities have shared their reaction to the news, including Rivera's ex-fiance Big Sean, who "liked" several tweets hoping for her safe return, per Entertainment Tonight. Pop star Demi Lovato (pictured left) also posted about Rivera's disappearance in an Instagram Story, writing, "Please pray for @nayarivera to be found safe and sound," along with a photo of a lit candle, Elle reported. On July 9, 2020, Lovato was holding out hope for a positive resolution. "I don't tweet often but sometimes my tweets come true so, together let's manifest on twitter that Naya will be found safe and sound!!" she said. "Come on y'all! Let's put this energy out there: they will find her healthy and alive!!"
Lovato guest-starred on Glee in 2013, playing a woman named Dani, who ended up dating Rivera's character, Santana. In real life, these two Hollywood stars have also shared a bod, supporting each other both personally and professionally. Let's take a closer look at the relationship between these two talented women.
Demi Lovato and Naya Rivera shared an on-screen romance
In August 2013, news broke that Demi Lovato was joining the Glee cast to play Naya Rivera's on-screen love interest, Dani, during Season 5. Soon after, Rivera told MTV News, "I mean, she's playing my love interest, so I'm very, very excited about that."
Not only did Lovato's character date Santana Lopez, but she also sang a few tunes. Rivera said at the time, "We're bringing her to the dark side. Well, she comes in in a Beatles episode, so [we're singing] a Beatles song. I'm excited." The pair ended up harmonizing on the Beatles song "Here Comes the Sun." A month later, MTV News reported that, in an interview with Ryan Seacrest, Lovato described the Glee set as a "giant hangout environment," saying she had already been friends with some of the cast members before filming.
The Disney alum discussed her role on the hit series: "What I want people to take away from this isn't, 'Oh my god, Demi is kissing a girl, like this is crazy' or whatever; I want people to take from it [that] this is actually an incredible step in our generation today where I'm able to play a young lesbian on prime time TV."
Rivera also raved in an interview with Yahoo's The Yo Show, "[Lovato is] just such a pleasure and a joy to have on set. She's funny and sweet and so talented." Lovato had similar praise for Rivera, telling MTV News that they "had an awesome time working together."
Demi Lovato and Naya Rivera supported one another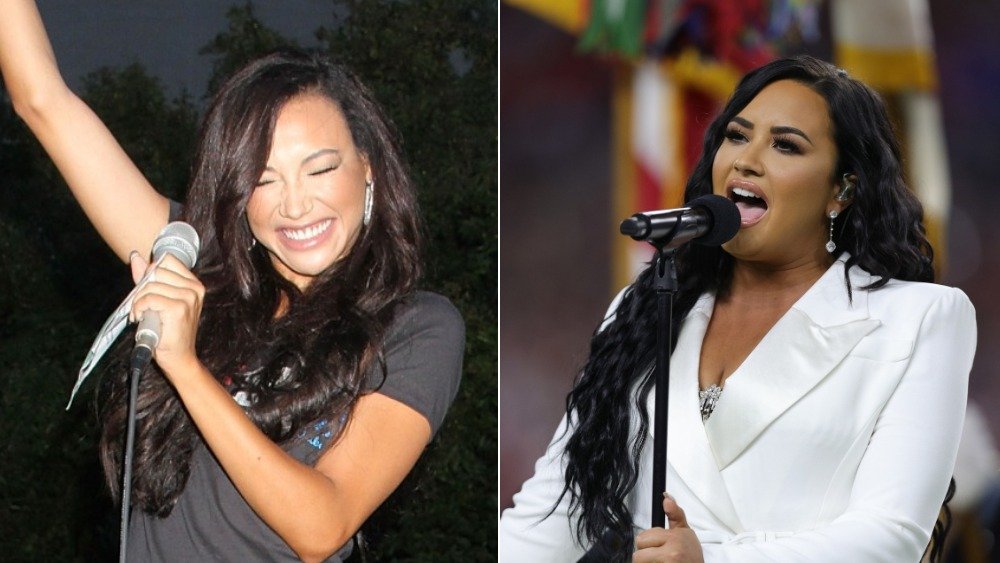 Laura Cavanaugh, Tom Pennington/Getty Images
One year before Demi Lovato appeared on Glee in 2013, Naya Rivera geeked out about the pop star, tweeting: "Just bought @ddlovato version of 'give your heart a break' because of Glee. I love this song, her voice is so cool!" 
Lovato has also showered praise on Rivera's vocal talents, particularly her single "Sorry." According to Yahoo, Rivera recalled the moment she garnered high praise from her peer. "[Lovato] texted me two days ago and was like, 'Your song, like, I'm obsessed. ... Will you send it to me?' I was like, 'No way — you know good music. That's such a good compliment." 
Aside from personally praising Rivera, Lovato also gave the song a public shout out when she tweeted, "Obsessed with my girlfriend's song 'sorry' out today!!! Love you @NayaRivera." Lovato loved it so much that she also included the song, and a track from Rivera's then-boyfriend Big Sean called "Mona Lisa," on her Neon Lights tour playlist.
Although it's evident that Lovato and Rivera got along very well while they filmed their storyline for Glee, it's unclear how closely they remained in touch in recent years. Nonetheless, it was thoughtful of Lovato to encourage her followers to hold space for Rivera following her disappearance. "Pray for Naya," Lovato said on Instagram, per People. "Nothing is impossible with God."
If you feel like you need a resource after reading sensitive subject matter, please contact the Crisis Text Line by texting HOME to 741741, or call the National Alliance on Mental Illness Helpline at 1-800-950-NAMI (6264).