The Real Reason Simone Biles Broke Up With Her Boyfriend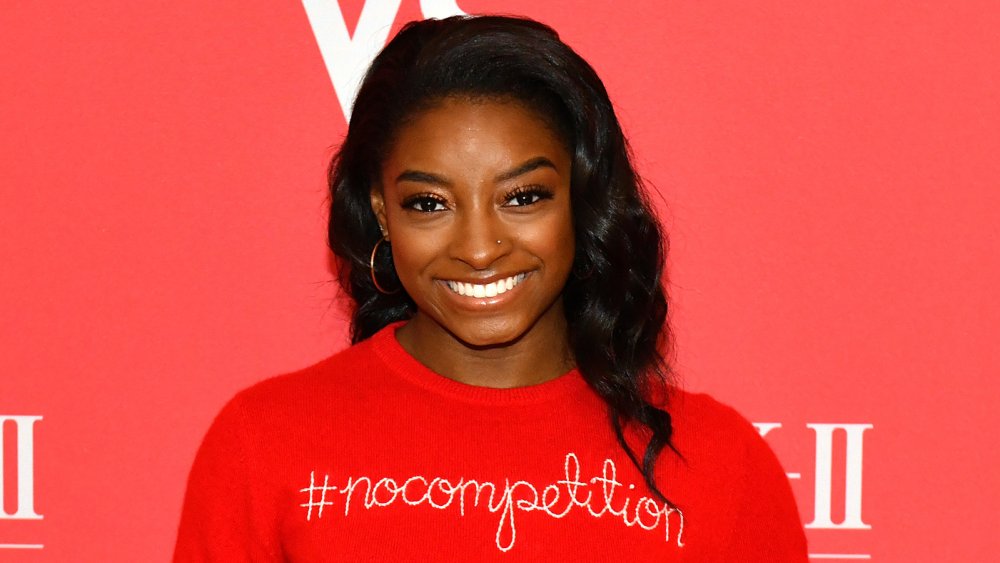 Craig Barritt/Getty Images
Gymnastics superstar Simone Biles is nursing double hurts in summer 2020 — the delay of the summer Olympics in Tokyo and the end of a long-term relationship. In the August 2020 cover story for Vogue, the Olympic gold medalist detailed how she was handling the two disappointments in the middle of the coronavirus pandemic.
Biles broke up with fellow gymnast Stacey Ervin Jr., her boyfriend of nearly three years, in early March 2020, according to the magazine. Per People, rumors that the athletic duo had called it quits began as early as March 2020, when Ervin didn't wish Biles a happy birthday on Instagram. Biles and Ervin, who was a member of the U.S. national team, went Instagram official in August 2017 (via People) when the couple posed together in a snapshot when Biles was inducted into the USA Gymnastics Hall of Fame.
"It's hard being young and having that long of a relationship and then ending it," Biles told Vogue. While she didn't detail the exact reason for their split, she says it was "for the best."  
Biles had been training extensively this year for the Tokyo Summer Olympics, but the event was postponed to July 2021 due to the pandemic. Now, she's navigating life as a newly single woman, too.
Stacey Ervin Jr. was Simone Biles' first boyfriend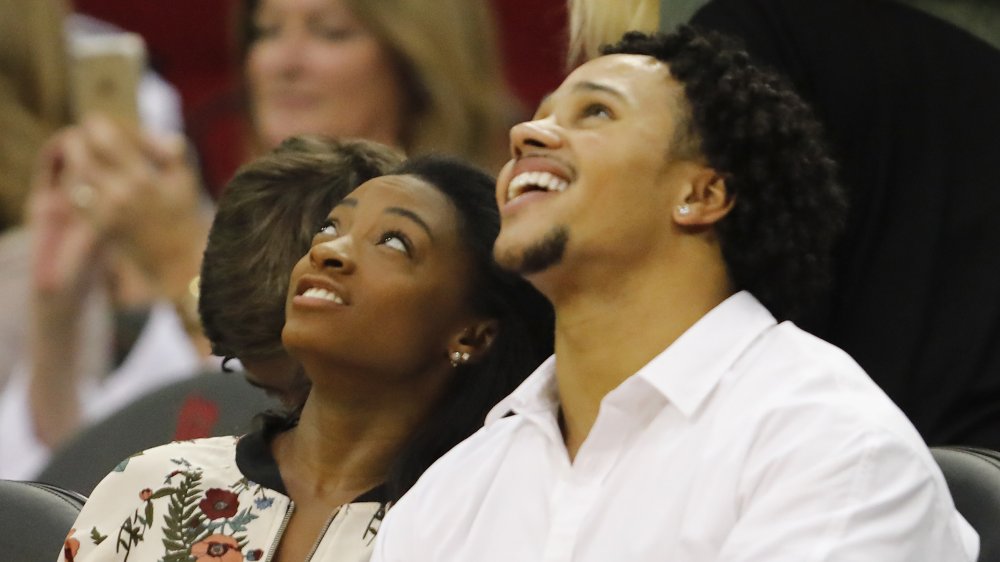 Tim Warner/Getty Images
Before dating Stacey Ervin Jr., Simon Biles told Entertainment Tonight in 2017 that she never had a boyfriend.
"I have never had a boyfriend in my life," Biles said. "At 20 years old I feel like you should have gone through those things and gone on dates. I have been on like, maybe one proper date."
In 2018, Biles told the Olympic Channel that Ervin was a great source of support for her, especially because they were in the same sport.
"It's really good to have him on my side and understand the sport and the training that we go through and to have such a big outcome," Biles said.
During their relationship, Biles and Ervin often shared their love on Instagram (via People). In snapshots from their 2019 Thanksgiving holiday trip to Belize, a country deeply connected to Biles, she posted she wanted to "spend the rest of my sunsets with you."
That trip came a month after Biles became the most decorated gymnast in history, winning five gold medals at the world championships in Germany in October 2019. Per E! News, Ervin cheered on his girlfriend stateside, posting on Instagram, "I get hyped every time I watch her do her thing & today was no exception."
In an interview with Today, Biles gushed about her boyfriend's cheering.
"Every time it's different, he basically just screams into the phone and tells me how proud he is of me," Biles said. "He's an awesome times two."