Meghan Markle Embraces A Brand New Look Post-Royal Life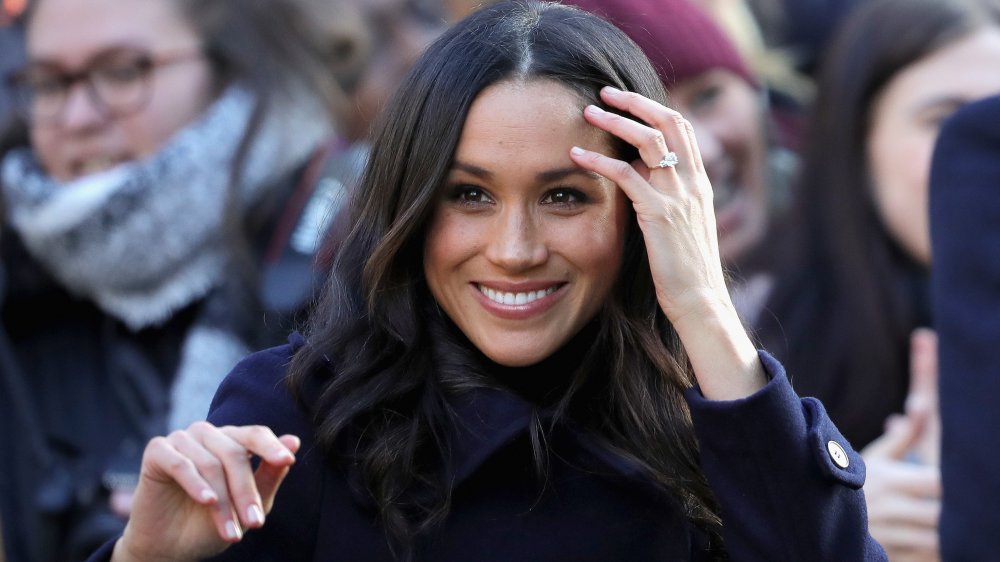 Christopher Furlong/Getty Images
Meghan Markle may be a modern woman who has chosen to rid herself of the rigid rules related to royal duties — which tends to stir up plenty of buzz around the former Hollywood star — but she's also a style icon. The public is captivated when she steps out looking elegant during official engagements. Fans even noticed when she embraced a laid-back look in isolation. And then, there's her hair. Whether she opts to wear it naturally or slay something highly styled, she's bound to stir up aesthetic-based buzz, which is exactly what happened when she debuted a new look in her post-royal life.
Following Meghan and Prince Harry's decision to leave their roles as senior royals, Meghan has been unveiling a number of changes. She's moved to Los Angeles, she's getting back to work, and she's ditched the 'do that she had when she first became a royal. In July 2020, the Duchess of Sussex appeared via video link to address the 2020 Girl Up Leadership Summit. While Meghan shared her message, discussing the issue of gender and race inequality, fans couldn't help but notice that Meghan's hair was a bit different.
While that's enough to pique some people's interest, you might also want to know how this might be a sign of what we can expect in the future from the famous figure.
Meghan Markle's new hair hints at her new role
When Meghan Markle stepped in front of the camera in July 2020, in addition to delivering a meaningful message (seriously, you should take a few minutes to listen to what she had to say), she also showed the world her new look, which features much longer hair. Worn down, perfectly straight, and pulled to the front over each shoulder, Meghan's hair reached down well past her chest. With a stunning shine, enviable thickness, and luscious length, the Duchess of Sussex's crown of hair was worthy of a queen.
Celebrity hairstylist James Johnson told the Daily Mail's FEMAIL that "Meghan's straight hair is the easy at home sleek look." That means that while it's "elegant and professional," it "still delivers a level a coolness to match her L.A. vibe!"
Johnson also noted that Meghan's new hairstyle "makes her look more influencer than royal as it's more youthful and current." If that was the intent, it would certainly make sense as the Duchess has hired a top agency to arrange (lucrative) speaking engagements for her, and she may be bringing back The Tig, her style-savvy lifestyle website. Therefore, she'd likely want to look like the professional influencer — and less like a duty-bound royal — that she now is.