This Is Why Kanye West And Amber Rose Broke Up
Michael Loccisano/Getty Images
Before Kimye, Kanye West dated Amber Rose for two years, per US Weekly. Rose was West's date the infamous night when he interrupted Taylor Swift's speech at the MTV Video Music Awards. They split up in 2010 shortly before the release of his album My Beautiful Dark Twisted Fantasy, which many believed was inspired by his relationship with Rose. In 2015, the model told GQ that she will "[n]ever, ever, ever" listen to the album, proclaiming, "It's just not for me." 
That being said, she's not always in control of the music, especially when she's out in public. For that reason, Rose has heard some bits here and there, telling the magazine, "I'll hear songs and I'm like, 'Oh, he said that about me.' No one knows what he's talking about but me and him. People can't decipher. They'll be like, 'That's a cool song,' and I'm like, 'That happened to us when we were together.'" 
She admitted, "Obviously, I know he's talking to me through music," which he almost did on the 2016 track "Famous." While the former couple didn't give a joint statement or any sort of formal explanation for their split, they've both talked a lot of trash about each other since the breakup. In a 2016 Daily Beast interview, Rose was asked if My Beautiful Dark Twisted Fantasy was about her and if West cheated with now-wife Kim Kardashian. She told the outlet: "Oh, I'm not talking about that. I am not talking about that." 
However, she did talk very openly about that in other interviews.]
Amber Rose says Kanye West cheated with Kim Kardashian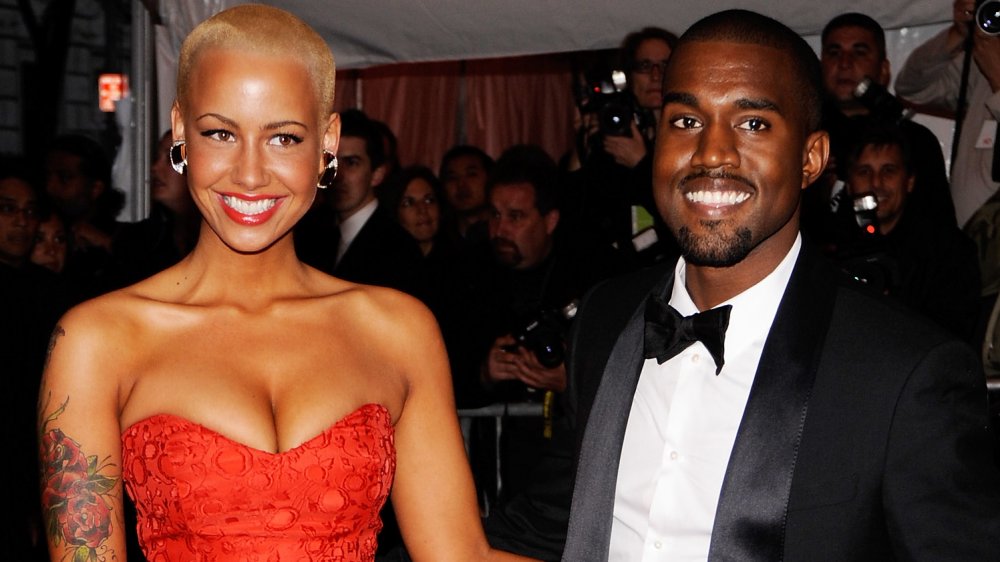 Larry Busacca/Getty Images
In 2012, Amber Rose told the New York Post: "[Kanye West] can't be faithful, and it's not just with one person. He's just unfaithful with a lot of different women. I got to the point where I thought, my heart can't take it anymore. I don't deserve this. I don't care when people say that I owe him my life because I'm famous now. I don't owe him nothing." She eventually got more specific in an interview with Star magazine (via HuffPost), claiming, "Kim [Kardashian] is one of the main reasons why me and Kanye are not together. She's a homewrecker." 
At the time, Kardashian was in a relationship with Reggie Bush, with Rose claiming, "They were both cheating on me and Reggie with each other." Rose added that Kardashian "was sending pictures, and I was like, 'Kim, just stop. Don't be that person.' I thought at least she'd be woman enough to respond to me. She never responded." 
Rose continued: "It's very important that us women stick together and we don't f**k each other over like that." Interestingly enough, Rose told Vibe in 2011: "Me and Reggie dated very briefly after Kanye."
However, Rose's former publicist Janero Marchand claimed: "Amber Rose allowed fame, money, and greed to get in the way of her self respect, dignity, and morals. Kim Kardashian did not break up their relationship, Amber did." Specifically, he accused Rose of stealing from the rapper and cheating on him, claiming that West's "Robocop" music video, which featured Rose, was never released because West discovered her alleged infidelity.
Amber Rose says Kanye West bullied her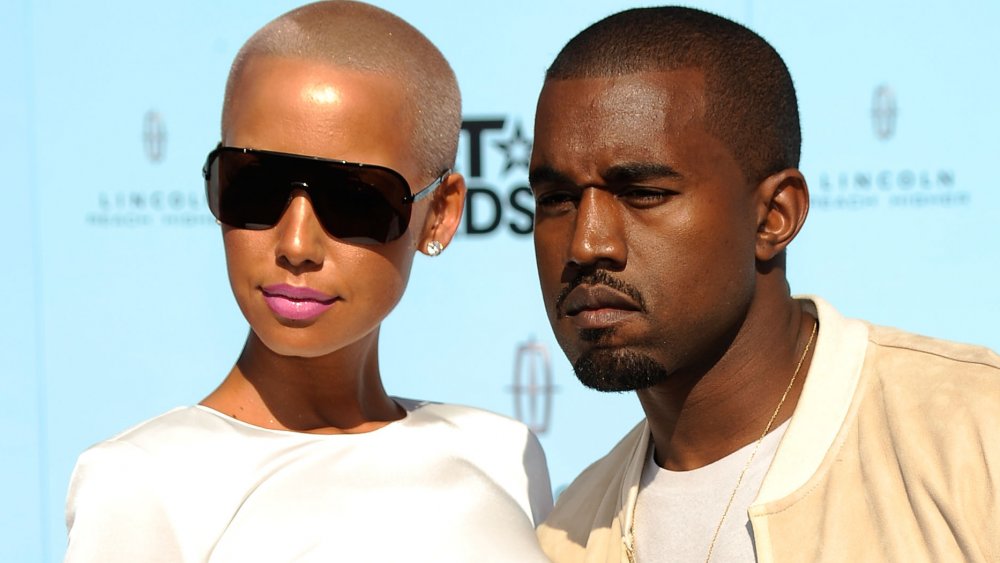 Frazer Harrison/Getty Images
During a 2010 radio interview, Kanye West kept it positive when he was asked about ex-girlfriend Amber Rose, saying (via HuffPost), "It was an amazing time and it came to an end." He added, "One of the greatest things that she showed me was just to be a nicer person because she was so disconnected from the concept of celebrity when I first met her." However, that lesson was seemingly forgotten in 2015 when he claimed he had to take "30 showers" after dating Rose. 
In 2017, Rose told Complex that she endured "constant bullying" from West after they split up. She remarked, "I still have never said anything mean about Kanye. This is after six, seven years of constant bullying from him." In all fairness, that's not exactly true since they have both shaded each other throughout the years in interviews and on social media.
Reflecting on the relationship, Rose told Complex, "It's a great part of history and it's a great part of hip-hop, and I'm happy to be a part of it, but that time was not a great time for me." She said, "I'm famous, and I'm broke ... Then it's like, 'I can't date anyone else. I can't say anything on the internet because Kanye has such a voice.'" Rose added: "If I was going to kill myself, I would have done it during those times."
Even though West and Rose split up over a decade ago, they will always be linked to each other, but, maybe, they will stop dissing each other in public.