Kanye West's 'Famous' Demo Disses Taylor Swift And Amber Rose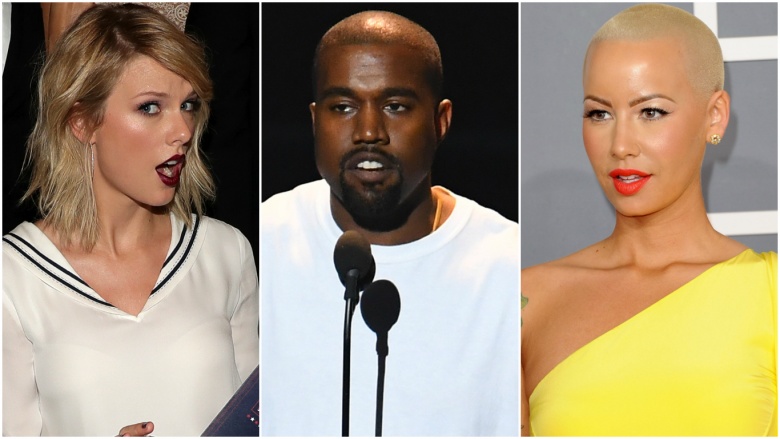 Getty Images
Kanye West's beef with Taylor Swift over "Famous" may have been even worse before he slightly altered the lyrics. In a leaked demo of his controversial song, the rapper disses Taylor Swift and ex Amber Rose.
According to People, a leaked demo of the song featured the lyrics, "I feel like Taylor Swift still owe me sex / I made that b***h famous," followed by, "I feel like Amber Rose still owe me sex / Why? I made that b***h famous / Not really, but somewhat famous."
The actual lyrics in the final version of "Famous," which dropped in February 2016, are "For all my Southside n****s who know me best / I feel like me and Taylor might still have sex / Why, I made that b***h famous."
Even though the demo version seems more offensive (because it explicitly implies that Swift owes West for his 2009 MTV Video Music Awards outburst), Swift clearly wasn't thrilled with the re-worked cut either. A source told People, "Now you know why Kim [Kardashian] only posted an edited three minutes of video footage to Snapchat and not the hour-long conversation that they had." An insider also confirmed to E! News that the footage was edited to omit Swift's alleged approval of the lyrics.
Rose also spoke out against "Famous" long before the demo featuring her name surfaced. The talk show host told Entertainment Tonight in July 2016, "Everything I've done since [dating West] is my own doing, and I've worked my f**king a** off for everything I have," she added.
Billboard reports that the demo's music is also quite different, with a "slower, more loping beat," a Young Thug feature, and a Nina Simone sample instead of vocals from Rihanna.
As Nicki Swift previously reported, though Kardashian insists she and West are "so over" the feud, Yeezy likely does care, at least a little bit. In September 2016, he performed "Famous" three times in Swift's hometown of Nashville, Tenn. and urged the audience to roar, "F**k Taylor Swift!"