Kanye West Disses Taylor Swift During Concert In Her Hometown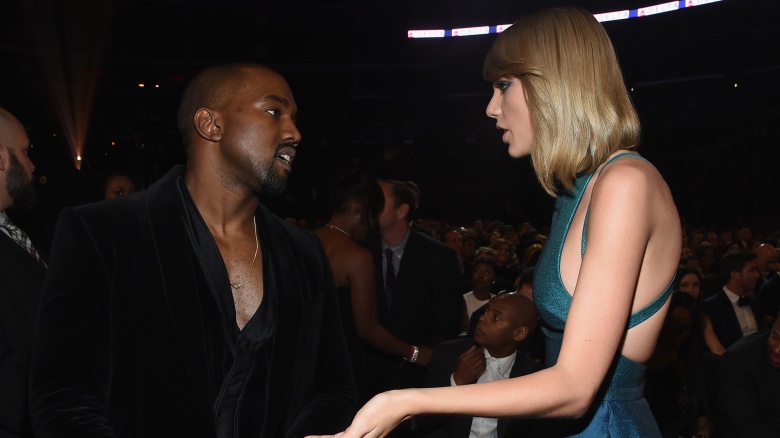 Getty Images
Kanye West is taking his trolling of Taylor Swift up a notch.
Us Weekly reports the rapper dissed the songstress in a big way over the weekend. During a concert in her hometown of Nashville, Tenn. on Sept. 24, 2016, West performed "Famous" three times. In case you could forget, that's the song Swift, West, and wife Kim Kardashian have been fiercely feuding over. Adding insult to injury, West reportedly encouraged the audience at the concert to yell, "F**k Taylor Swift!" repeatedly.
"I need to hear that loud in Nashville," he told the crowd. "So many people told me, 'You've got to take that line out of the song. You got to play it safe,' but this is what rap music is," he said. "This is what art is. Saying how you feel. And this song is how I feel."
As Nicki Swift previously reported, the song includes the lyric, "I feel like me and Taylor might still have sex / Why? I made that b**ch famous." Swift didn't take kindly to the tune, dissing West in her 2016 Grammy Awards acceptance speech for album of the year and denying that she gave the rapper permission to use her name in the song. Kardashian later exposed Swift as an alleged liar, via a series of videos posted to Snapchat that depicted West talking to Swift about the controversial lyrics over the phone.
Swift countered that the words "that b**ch" weren't cleared by her or her team, even if other portions of the track were reviewed. She labeled the song "character assassination" and tweeted, "Where is the video of Kanye telling me he was going to call me 'that b**ch' in his song? It doesn't exist because it never happened. You don't get to control someone's emotional response to being called 'that b**ch' in front of the entire world."