The Truth About Elvis Presley's Final Year Of Life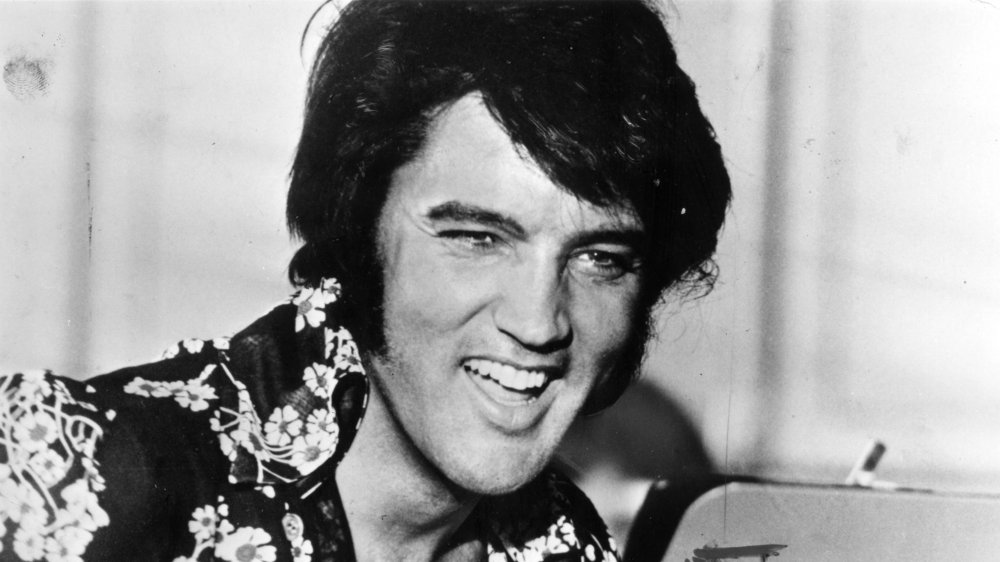 Keystone/Getty Images
We may receive a commission on purchases made from links.
Is any figure in rock 'n' roll history as iconic — or mystifying — as Elvis Presley? Born in Mississippi, Elvis Presley went from truck driver to rock king, and the crooner and hip gyrator revolutionized music and pop culture in the 1950s. With tunes like "Jailhouse Rock" and "Blue Suede Shoes" on live TV and the radio, millions of teenagers swooned, and buttoned-up parents were horrified but soon dancing along to the new sound. Presley would go on to have 149 songs appear on Billboard's Hot 100, per Graceland, and of those, 114 were in the top 40. While the King has been criticized for lifting songs from Black musicians, there's no arguing he changed music forever.
On Aug. 16, 1977, in the midst of addiction and health issues, Presley was found unresponsive by girlfriend Ginger Alden in his bathroom at Graceland, his Memphis mansion. He was tragically pronounced dead at age 42, per Rolling Stone. "[I lost] everything," his ex-wife, Priscilla Presley, who divorced the icon four years earlier on good terms, told Entertainment Tonight in an August 2017 interview. "You have to remember, he was such an impact in my life, in every way. He was my mentor, he was my confidant... He was everything." 
What was the final year of Elvis Presley's life really like? The answer reveals more about the icon and his lonely, puzzling third act. Let's take a look.
Elvis Presley reportedly struggled with pills and overeating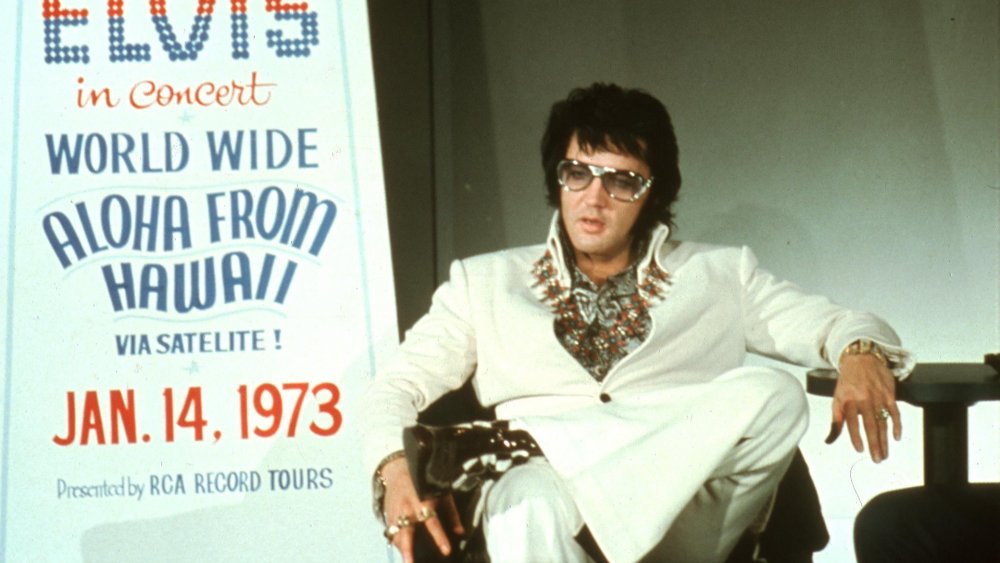 Michael Ochs Archives/Getty Images
It's widely believed Elvis Presley died of a heart attack, but the truth is more complex, as it seemed he was pushing himself toward the edge. According to PBS, one of the three doctors handling Presley's post-mortem exam prematurely declared his death was due to a "cardiac arrhythmia" and that drugs were not involved. Of course, that wasn't the case. 
The King was reportedly addicted to pills. Early on, according to LiveAbout.com, medications were allegedly pushed on Presley by his manager, the infamous "Colonel" Tom Parker, to keep his star in line. But in his last months, that medicine chest had apparently become a pill buffet. When the toxicology report came back several weeks after his death, his blood contained very high levels of the opiates Dilaudid, Percodan, Demerol, and codeine, as well as quaaludes, reported People. Presley apparently had his private doctor, Dr. Nick, prescribing any pill he wanted, per NME.
And that wasn't the star's only addiction. According to the Daily News, Presley was eating... a lot. He was apparently consuming enough calories to feed several people daily, becoming a bloated shell of his former self. One of his favorite meals was reportedly a roll stuffed with bacon, peanut butter, and jelly. Plus, Presley was holed up in Graceland, unwilling to leave even to record music, according to Rolling Stone. Friends had to visit him in his infamous "jungle room." Essentially, the music legend's lifestyle may have contributed to his death. 
Elvis Presley still put out music and gave his final show his all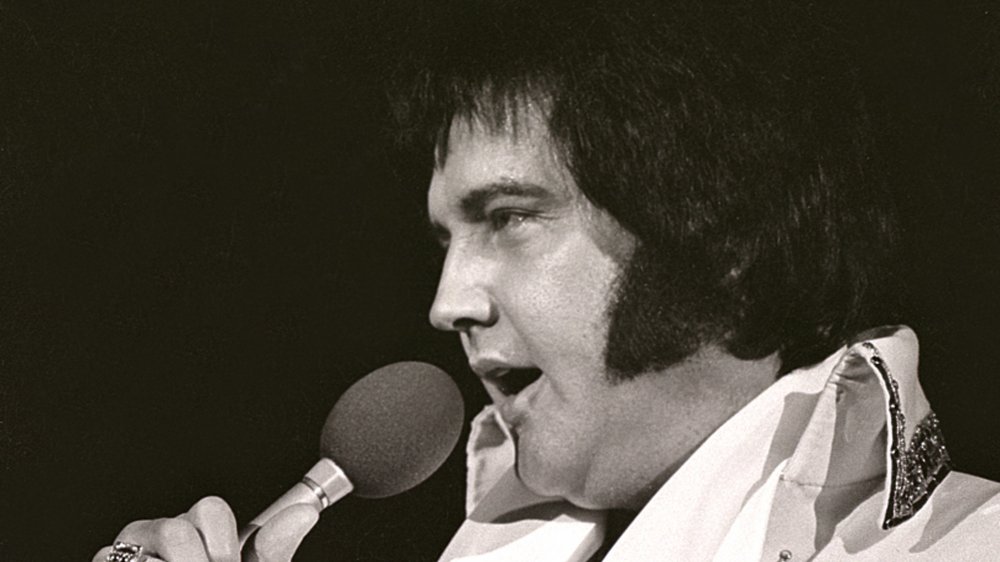 Ronald C. Modra/Getty Images
Some people also believe that in his later years Elvis Presley stopped putting out music, but that's not necessarily true. In July 1977, he released his final album, Moody Blue, which was a mix of live recordings and new songs. Tunes like "Moody Blue" and "She Thinks I Still Care" were album highlights that meshed well with late '70s style music, and according to Rolling Stone, the tracks gave "a real-life glimpse into the life of an increasingly isolated man."
Presley also may have known the end was coming. According to Rolling Stone, he gave his final concert in Indianapolis on June 26, 1977. During that show he sang his blue suede shoes off, despite physical problems. According to Peter Guralnick's book, Careless Love: The Unmaking of Elvis Presley, he performed with "an energy and vitality that had been missing the entire tour."
In those final days, Presley was apparently deeply lonely and starved for true connection. He reportedly felt he had no real friends aside from his nurse and pined for his ex-wife, Priscilla. "He was very miserable," Presley's private nurse, Letetia Henley, addressed those final days in her book, Taking Care of Elvis: "He was depressed about aging and not having a woman he loved. He missed Priscilla."
If you or someone you know is struggling with substance abuse and mental health, please contact SAMHSA's 24-hour National Helpline at 1-800-662-HELP (4357).