The Truth About Simone Biles' Relationship With Jonathan Owens
Simone Biles, four-time Olympic gold medalist and USA gymnast superstar, broke the news on Aug. 2, 2020 via Instagram that she's in a new relationship. Biles shared two pics of herself with NFL star Jonathan Owens, and we are very here for this. The Olympian captioned the adorable photo with the simple statement: "It's just us." The first photo shows Owens standing behind Biles, while they both smile at the camera, and in the second, Owens is kissing Biles' neck. Meanwhile, the comments section is flooded with heart emojis from friends and fans.
This isn't the first time that Owens has appeared on Biles' social media either. According to People, back in July 2020, Biles wished Owens a happy birthday on her Instagram Story with the statement, "Happy 25th birthday. Hope this year brings you everything you want and more." The Instagram Story was saved by The Shade Room and features Owen giving Biles a piggyback ride. Obviously, fans had a pretty good idea that the two athletes were a couple, but it wasn't officially official until Biles' most recent post.
In the spirit of celebrating this happy news, here's everything we know about the new couple.
Simone Biles found love in an otherwise tough year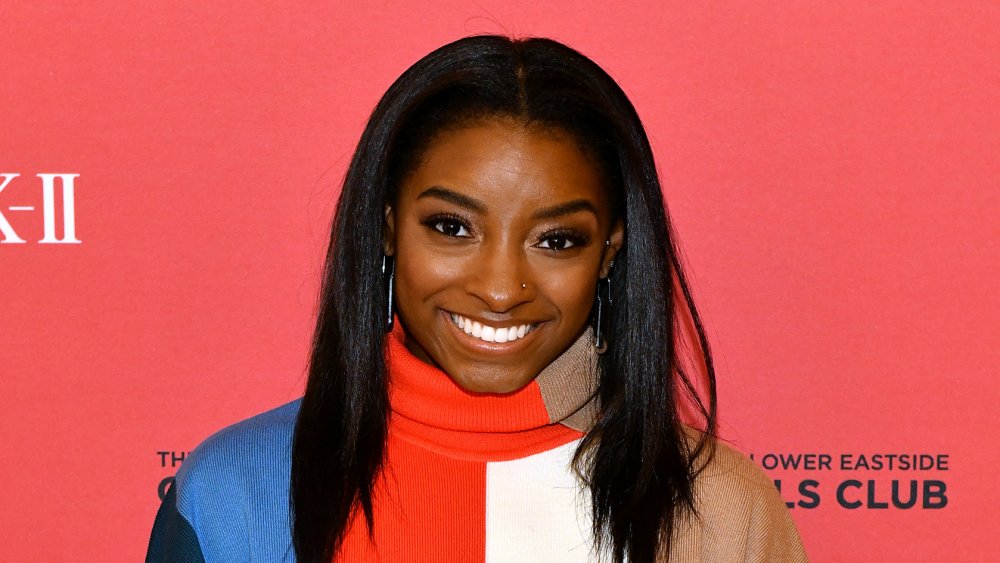 Craig Barritt/Getty Images
Simone Biles' new boyfriend, Jonathan Owens, is an NFL star, currently playing for the Houston Texans, according to his official NFL bio. He was signed by the team in September 2019, according to the Daily Mail. Owens plays the position of safety, which means he's a defensive back with an emphasis on tackling and interception, per LiveAbout.
Biles had previously been dating gymnast Stacey Ervin Jr. and they were together for almost three years, according to the Daily Mail. In her August 2020 cover story for Vogue, Biles confirmed that she and Ervin had split up in March of the same year. Biles told the outlet, "It's hard being young and having that long of a relationship and then ending it. But it was for the best."
This new relationship with Owens is a happy development for Biles in a year of setbacks and uncertainty. Given the extremely strict rules gymnasts have to follow, Biles was preparing and training for the summer Olympics, which were supposed to have taken place in 2020. They've since been postponed to July 2021, according to People, because of the coronavirus pandemic. Despite this change of plans, Biles remains strong and knows exactly who she is. As she said after winning at the 2016 Olympics, per Vogue: "I'm not the next Usain Bolt or Michael Phelps. I'm the first Simone Biles."