The Untold Truth Of JoJo Siwa's Boyfriend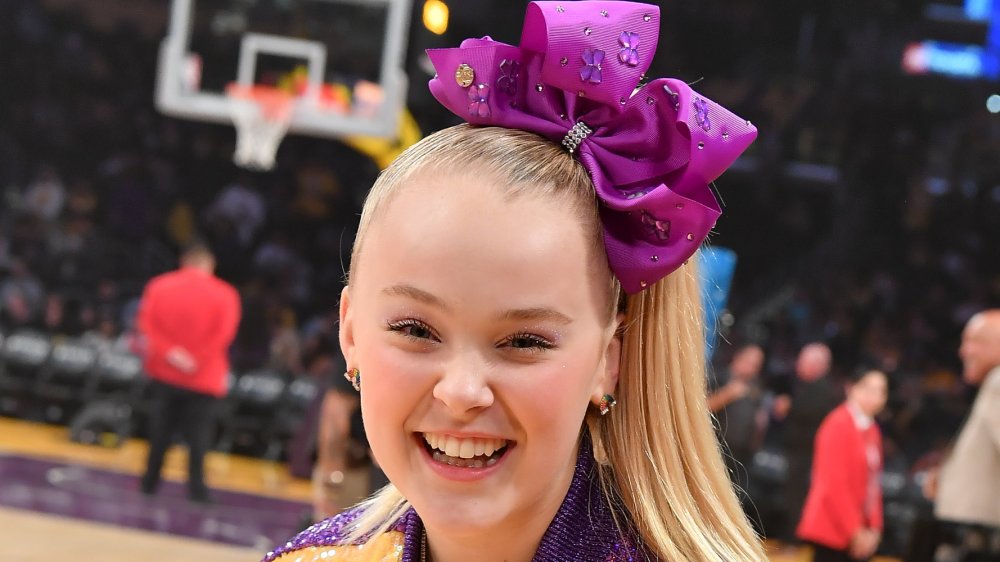 Allen Berezovsky/Getty Images
JoJo Siwa (full name Joelle Joanie Siwa) skyrocketed to Internet fame following her appearance on the popular Lifetime series Dance Moms. The former reality star transitioned her dancing and singing career into becoming a full-blown Gen-Z teen queen. As of this writing, Siwa has 27 million followers on TikTok. 
Siwa's fans surely adore her unique aesthetic which involves neon everything, and, of course, big bows which she has made part of her signature look. As described in a 2019 Time magazine interview: "The JoJo aesthetic is Midwestern Bob Mackie: rainbow sequin separates, machine-washable tulle, hearts and stars and unicorns." 
Even though the glittery pink internet star is an international sensation, she's still a normal teen with a personal life, too. While it's a bit odd to know who teenagers are dating, after repeatedly being asked by her Siwanatorz, in August 2020, Siwa finally shared her new boyfriend on TikTok (no, it's not her rumored beau Elliott Brown). Spoiler alert: she thinks he's amazing. Let's get to know the new duo. 
JoJo Siwa's new boyfriend is a fellow TikToker
JoJo Siwa put all the rumors about her dating life to bed when she shared her new boyfriend in the most Gen-Z way possible: on TikTok. According to E! News, the teen superstar is in a relationship with internet star Mark Bontempo. 
The two first appeared together in a TikTok post uploaded to Siwa's profile with the caption: "Meet Mark:) @mark.bontempo." Just to ensure that there was no confusion about their status whatsoever, Bontempo — who is related to another already famous internet star — duetted a "put a finger down" video with Siwa on National Girlfriend Day in which she revealed she is not "currently single." 
He captioned the TikTok, "@itsjojosiwa if it's not me you have some explaining to do #nationalgirlfriendday." In June 2020, Siwa told Seventeen that she had been dating someone new since May 2020, but didn't reveal his name at the time. It definitely seems like the Dance Moms alum could have been talking about Bontempo.
"It's really up to him," the "Boomerang" singer said. "I'm really in the public light and the thing is like, I don't care. That's a side of my life that I can keep public or I can keep private." She even added: "Honestly he's a dream. Really, truly unreal and I'm so happy."