This Is JoJo Siwa's Favorite Song She's Done This Year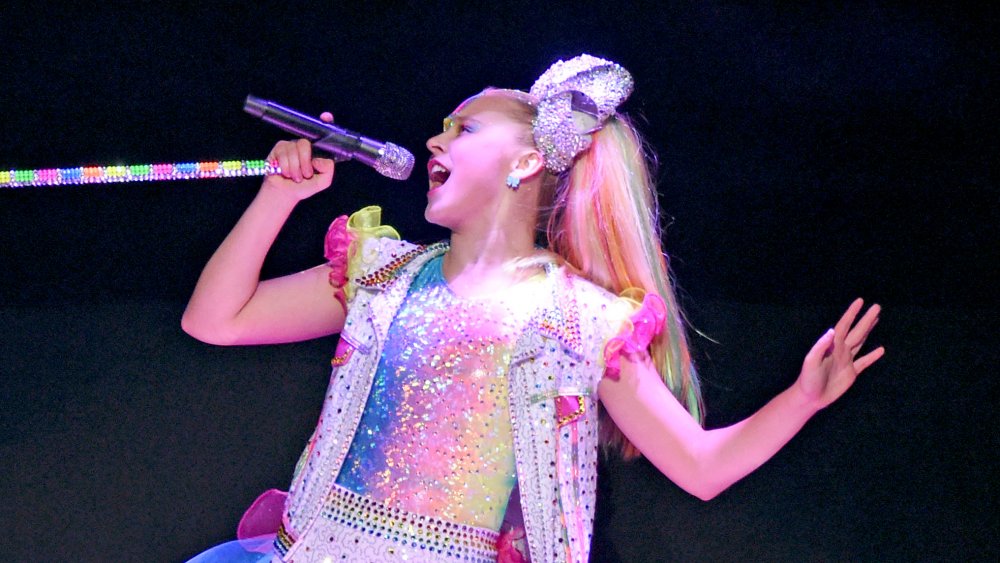 Stephen J. Cohen/Getty Images
JoJo Siwa is taking over the world, one sparkly hair bow at a time. Spring and summer of 2020 have been quite huge for the YouTube star, despite being stuck at home under COVID-19 lockdown. Siwa put her huge tour on hold and instead focused her energy on social media and her music. And when we say she focused on social media, we mean she took us on a journey with her hair!
First, Siwa (whose full name is Joelle Joanie Siwa) showed off her long hair — always tied up in a ponytail with her signature bow — down and wavy. Her fans couldn't help but lose their cool at how gorgeous Siwa's hair is. While it isn't a look she's stuck with, she did show it off again on the eve of her 17th birthday.
She made waves with her hair again in June when she went brunette for a hot second. However, that didn't stick either and she quickly returned to her blonde roots. But Siwa is more than just her hair! In fact, she told PeopleTV in June 2020 that she put out her favorite song ever this year. Actually, not just her favorite song, but her favorite thing ever!
JoJo Siwa has even more new music coming in 2020
JoJo Siwa released her song "Nonstop" on June 19, 2020. She told PeopleTV a few days later just how much she loves the song. "This song and this video, 'Nonstop'... it really is my favorite thing that I've done. Like, it is my favorite song, my favorite video. It all came together so well, and I'm so obsessed with it," she said. "The biggest thing for me with 'Nonstop' is that it's my first song released in over a year."
The song is as upbeat as you'd expect from Siwa and the video is a sight to be seen. Siwa and her bevy of dancers are in a circus ring, covered in sparkles, and dancing like there's no tomorrow. Siwa also mentioned that this song has live instruments in it, something she felt was really important to include. 
Siwa also shared with People TV that she has even more music coming in 2020 and maybe even some more TV appearances to add to her already growing list. She previously appeared on The Masked Singer, Keeping Up With the Kardashians, and of course, Dance Moms. Though things are up in the air with projects like a tour and some TV things, she said her music is under her control and there's plenty more to come — including five songs already done and ready to go. It's just a matter of when this YouTube sensation chooses to share them with the world.