How Much Are Cole And Savannah LaBrant Worth?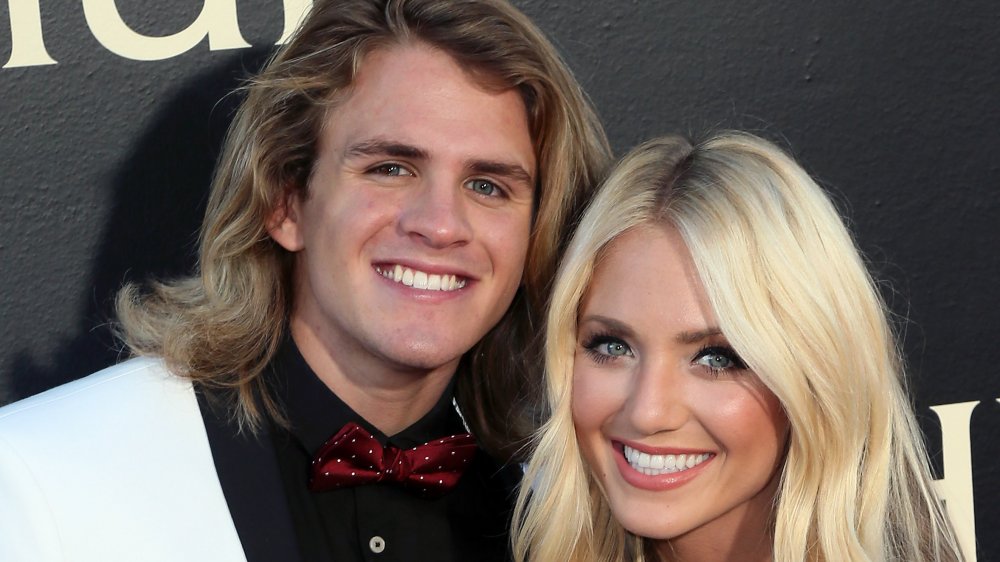 David Livingston/Getty Images
As far as YouTuber power players go, the LaBrant family is hard to ignore. The husband-wife duo of Cole and Savannah LaBrant — along with their young daughters Everleigh and Posie and new son Zealand — built a social media empire with their YouTube page called The LaBrant Fam, formerly known as Cole&Sav. The family-friendly channel currently has more than 12 million subscribers, with the handsome Christian couple posting lifestyle vlogs with family announcements, pranks, choreographed dances, and more. These days, their videos rarely get less than 1 million views, and they're doing well enough financially to throw around cash in uploads like, "Last Family Member To Leave Our Pool Wins $1000."
The couple, who wed in 2017, is well-versed in social media. According to Taudrey, Savannah got her start on the now-defunct app Musical.ly, while Cole got his start as a Vine star. And Everleigh (Cole's stepdaughter) is a YouTube star in her own right. Her channel — where you can find the youngster opening toys — has more than 3 million subscribers and her most popular video (a take on the Squishy Food vs. Real Food Challenge) has more than 50 million views.
It's no secret that family YouTubing is the California Gold Rush of the 21st century — there's clearly money to be made from it. Child YouTuber Ryan Kaji made a whopping $26 million in 2019, according to CNBC, making him the platform's highest-earner. That's a high number, but the LaBrants aren't too far behind. Keep reading to find out their net worth.
The LaBrants are YouTube millionaires, but they've faced backlash
According to Naibuzz, the LaBrants have an estimated net worth of $12 million. To date, their YouTube page has accumulated over 4 billion views with an average of 3 million views a day, which should generate around $15,000 per day — or $5.5 million per year from monetization on their videos. And that's before sponsored content. Meanwhile, daughter Everleigh's net worth is $2.2 million on her own, according to the Daily Mail. She was one of 2019's highest-paid YouTube stars based on her own much smaller channel. So you do the money math.
Savannah and Cole LaBrant haven't been strangers to controversy, however. According to NBC, in 2019, the couple shook audiences and their own daughter with their cruel April Fools' prank, telling Everleigh their dog, Carl, was going to have to find a new home. The distasteful, since-removed video was titled "We Have To Give Our Puppy Away ... Saying Goodbye Forever" and received its fair share of backlash.
The couple, who lives in California, also found themselves in hot water last year when they faked an evacuation amidst the state's wildfire outbreak, according to BuzzFeed. They faced controversy again in 2019 when Cole shared a now-deleted video where his adopted cousin, who's Black and nicknamed "Peanut," was stepped on by a white child, per BuzzFeed.
Well, the LaBrants are a clearly a family of high-earners, but hopefully they've learned some lessons from their blunders while improving their bottom line.