Are John Legend And Chrissy Teigen Expecting Their Third Child?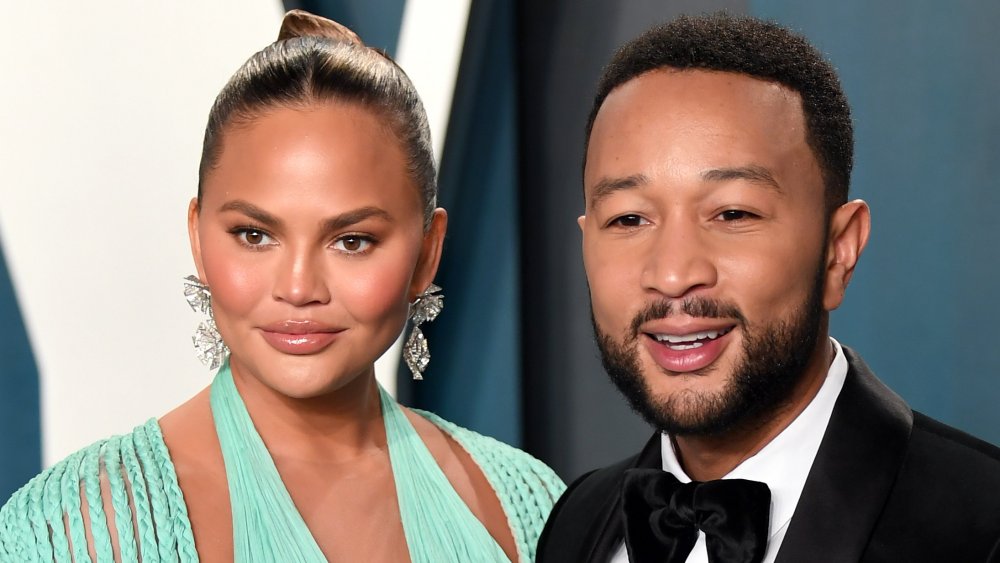 Karwai Tang/Getty Images
Singer John Legend and model and cookbook author Chrissy Teigen made a big announcement via a music video. In the footage for "Wild," Legend's single featuring Gary Clark Jr., Legend and his wife frolic along the beach, cuddle in a cabana, and take a stroll in the water with their kids (and some horses). The single comes off of Legend's June 2020 album Bigger Love. The video promised a "beautiful surprise," and upon its release, Teigen simply tweeted a heart-face emoji. So why all the love?
According to PopSugar, during a YouTube live to release the "Wild" music video, the couple discussed the progression of their videos together as a story of their family. Legend and Teigen wed in 2013, welcomed baby girl Luna in 2016, and added their son, Miles, to the mix in 2018. Music videos have "been chronicling our family's growth and our journey and we're so happy that this video is the next chapter."
At the end of the "Wild" video, the stars insinuate that they're expecting their third child. Legend and Teigen are seen standing on the beach holding Teigen's belly. Us Weekly confirmed the pregnancy news.
Was Chrissy Teigen and John Legend's third baby a surprise?
If there is one Hollywood couple unafraid to share their kiddos with the world via social media, it's John Legend and Chrissy Teigen. Cute photos and videos of Luna cooking with her mom or Miles getting into mischief fill the candid and comical feeds of their superstar parents. In August 2019, when a fan insinuated adding one more little one to the crew, Teigen responded: "Gonna try to wait a few years before attempting again. These guys are exhausting!" (via Us Weekly). So was this third pregnancy a surprise? 
It's hard to tell. Back in March 2018, Teigen did reveal to Us Weekly that she wanted to have babies back to back before worrying about a post-baby bod. "I think I do want to have another baby after this and then get hot. ... I just want to [have] babies, back to back to back, but then I think maybe I want to have my 30s, really live in my 30s and not just be pregnant throughout them," she said. 
The couple is no stranger to starring in videos together. In 2013, their love was the center of Legend's No.1 single "All of Me." Who knows, maybe the next video will be a birthing one? Until then, you can watch  "Wild" below!