The Untold Truth Of Fox News' Kat Timpf
Katherine "Kat" Timpf is best known as a personality on Fox News. At 31, she is among the youngest stars on the cable news network, but she's led a varied life as a columnist, commentator, and comedian. Originally from Michigan, Kempf has traveled the country, landing an intriguing mix of jobs along the way and regularly appearing on assorted Fox News shows, including Fox & Friends, America Live with Megyn Kelly, and On the Record with Greta van Susteren.
In 2017, Timpf was brought on as co-host of Fox News Specialists, and in 2019, she landed her own show, Sincerely, Kat, on the streaming platform Fox Nation. While her career at Fox is what she's best known for, her resume includes a number of other fascinating bullet points. Keep reading to learn the truth about her background, her education, her comedy career, and how she ended up at Fox News.
Kat Timpf identifies as a staunch libertarian
Kat Timpf was born and raised in Detroit, Mich. and attended the nearby Hillsdale College, graduating magna cum laude with a B.A. in English.. Hillsdale is notable for developing a core curriculum around Western heritage, as well as for denying financial support from the government, relying instead on private donations to help the college stay afloat. This practice reportedly helped inspire Timpf's belief in libertarianism.
In an interview with Hillsdale's The Collegian, Timpf called the "bravery" of the institution's decision to reject federal funding "amazing." She said Hillsdale "has shown that a private solution for education is possible." Timpf also stated that in her view, libertarianism "means limited government in all aspects. So get it out of economic policy, have a sensible foreign policy, and allow social decisions to be made by the individual."
Timpf told The Collegian that she was not as conservative as some of her classmates, nor does she lump herself in with the brand of conservatism touted by some of her colleagues at Fox News. "You just have to know what you believe and why you believe it," she said. "Being a libertarian, there is something about me for everyone to hate, but there is also something about me for everyone to agree on."
Kat Timpf says big government is 'ruining everything'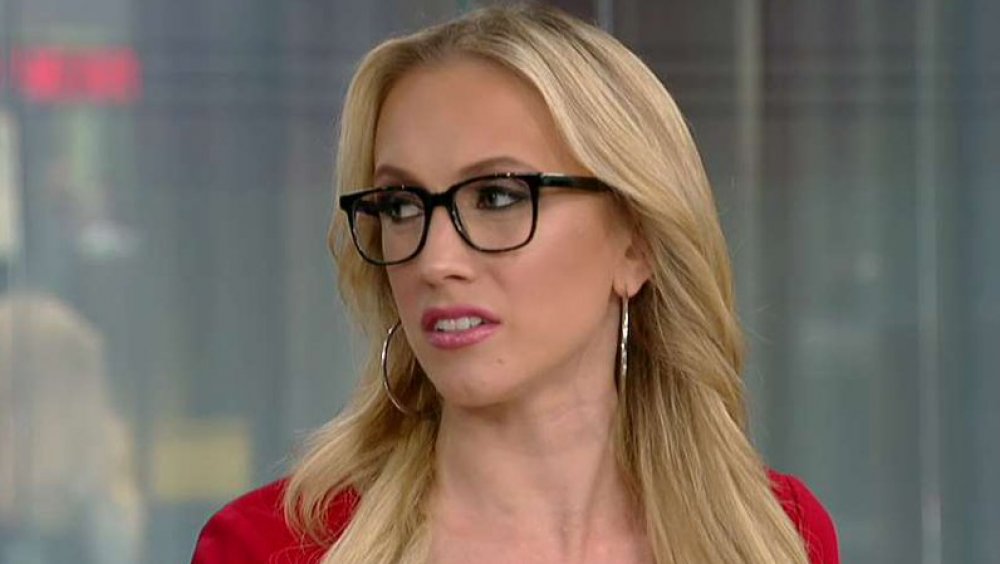 Fox News
Before working at Fox News, Kat Timpf worked as a stand-up comic on both coasts. According to her website, she's performed at The Improv in Los Angeles, as well as Gotham Comedy Club in New York City. She eventually became a featured comedian on Baltimore's 98 Rock morning drive radio show.
Timpf also had a weekly podcast on the Barstool Sports website in 2016 and 2017 called The Kat Timpf Show, wherein she would chat with guests about topics of the week, including sports, politics, and her personal life. Timpf also wrote columns for the conservative magazine National Review, stating on her website that she satirizes how "government overreach and cultural oversensitivity are basically ruining everything." 
Timpf credits her background in comedy as something that helped her land a position with Fox News. Her big break reportedly occurred during an appearance on Greg Gutfeld's Red Eye. "We had a good banter going back and forth, so then when he got his new show he asked me to be on it," she said.
Kat Timpf announced her engagement on Fox News
Although Kat Timpf seems to prefer to keep her private life under wraps, she did reveal on The Greg Gutfeld Show that she's engaged. While she has been pretty sparse on details, some tidbits can be gleaned from her social media pages. In an Instagram photo posted Aug. 7, 2020, Timpf shared a selfie showing off an engagement ring with a man tagged as Cameron Frish. The caption reads: "Omg our engagement photos are HERE."
A few days before she posted the photo of her ring, Timpf shared the clip of her confirming her engagement on Fox News to her Instagram account. Among the well-wishers was Meghan McCain, daughter of former Senator and Presidential candidate John McCain, who commented, "CONGRATULATIONS TO YOU AND CAM!!! I'm so glad I don't have to keep this a secret anymore!!!!!" 
Timpf has not publicly dished details about wedding plans at this time, but here's hoping she shares some matrimonial morsels in the days to come. Congratulations to the happy couple!