The Real Meaning Behind Katy Perry's Daisies Lyrics
Pop superstar Katy Perry has graced us with pop hit after pop hit since her rise in the pop universe skyrocketed in 2008 with her second studio album, One of the Boys. Multiple singles from that album made it to the Billboard Hot 100, including "I Kissed A Girl" and "Hot N Cold." 
As of this writing, Perry has more than 30 Billboard Hot 100 hits, nine No. 1 hits, six studio albums, and millions of KatyCats (her ever so loyal fanbase). From swinging across the Grammys stage to her big candy costumes to bringing out sharks at the Super Bowl, Perry consistently brings out all things pop with every song, album and performance.
The "Firework" singer is a beacon of light and inspiration for her fans, and her May 2020 single "Daisies" is no different. With lyrics like "When did we all stop believing in magic? / Why did we put all our hopes in a box in the attic?" and a chorus that ends with: "They tell me that I'm crazy/but I'll never let 'em change me/'Til they cover me in daisies, daisies, daisies," the song is another positive anthem to add to Perry's catalogue. 
But what does the song really mean? And could it have something to do with the name of her first born child? Let's dig in.
The song came from a dark place
Singer/songwriter Katy Perry welcomed her first child, daughter Daisy Dove Bloom, with fiancé Orlando Bloom in late August 2020. Following the Instagram announcement, fans freaked out, wondering if Perry's single "Daisies" — which was released in May 2020 – was an inside scoop to her baby girl's name, per Vulture. 
Upon the release of the song, Perry took to Instagram to share the true meaning, writing, "I wrote this song a couple months ago as a call to remain true to the course you've set for yourself, regardless of what others may think." She continued: "Recently, it has taken a new meaning for me, in light of what the whole world is experiencing. Each of us is one in more than seven billion, with our own story of strength and resilience to tell." 
The pop singer completed the message with encouragement for her fans, noting, "I hope it will be the soundtrack to going for your dreams now... especially the ones we left behind." In an interview with Apple Music host Zane Lowe, Perry described the meaning further, calling "Daisies" an "anthem for [herself]" (via Billboard). She also revealed to Lowe that she wrote the song coming "out of a pretty dark time."
Daisies was a 'nugget of inspiration'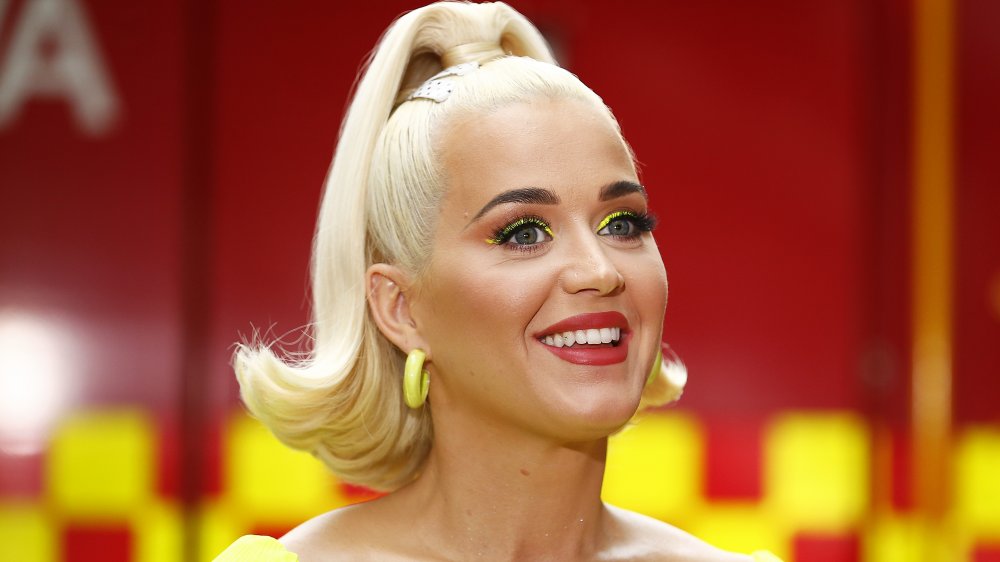 Daniel Pockett/Getty Images
Katy Perry's 2020 single "Daisies" was apparently a product of her own depression. The pop star, who is known to release uplifting anthems, shared in an interview with Apple Music's Zane Lowe that the flowery single was a "nugget of inspiration, explaining (via Billboard), "I wrote some of it while I was clinically depressed and trying to find the light at the end of the tunnel. And when I'm writing songs like 'Firework' or 'Roar,' it's not because I'm feeling hunky dory. It's literally because I am having really dark thoughts and trying to come out of it."
She continued: "And my soul sends a message to my intellect, to my head. It says, 'You're going to get through it. You've gotten through it before. And here's a nugget of inspiration, how you're going to do it.' And it becomes a song and 'Daisies' was just a nugget of inspiration for me to go, look, I don't need to change. I will stay true to my past."
The music video for "Daisies" features Perry pre-baby, with a pregnant belly singing in, you guessed it, a field of flowers. "Hopefully, when we all get out of this, we will appreciate and be grateful for our freedom," Perry said to Lowe, seemingly referring the coronavirus pandemic. "And we will go after life like never before knowing that it can be taken all away."