Lady Gaga's 2020 VMA Face Masks Have Everyone Talking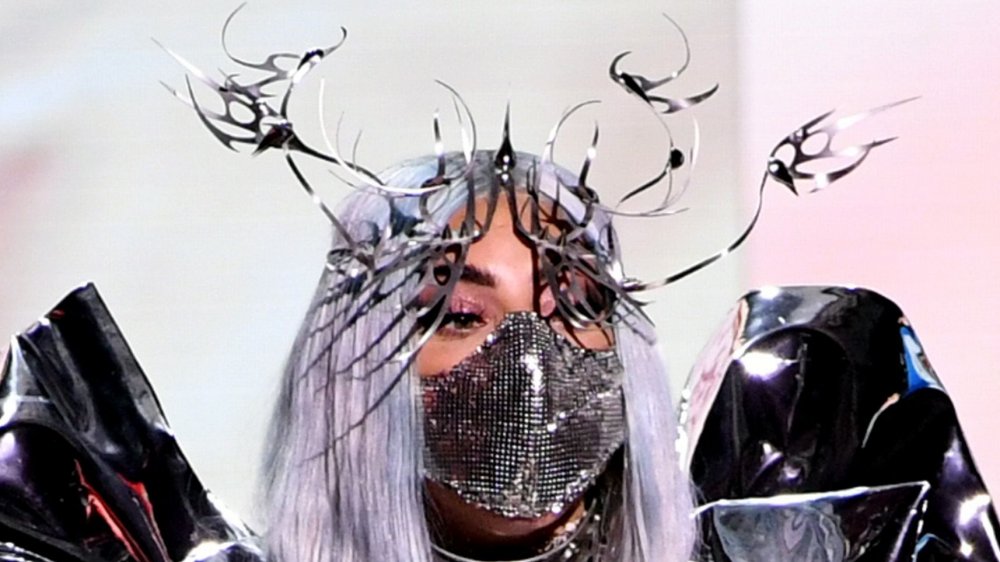 Kevin Winter/mtv Vmas 2020/Getty Images
Lady Gaga has never shied away from masks and face-altering looks, and she's sure not stopping now that they're in style. The superstar participated in the MTV Video Music Awards on Aug. 30, 2020, and while performing — and collecting a bevy of Moon Men — she wore face masks!
Per Elle, Gaga performed a "dazzling" live medley of songs from her 2020 album Chromatica. The tunes included "Stupid Love," played partly on a brain-shaped piano, "911," and her mega-hit duet "Rain On Me," alongside Ariana Grande. Both stars wore masks, and many fans thought Gaga truly delivered, not just with her energetic performance, but with her rapid outfit changes and accessory choices. "Here for Ariana Grande and Lady Gaga both wearing masks during their 'Rain on Me' performance," one fan tweeted. 
Lady Gaga was also COVID-conscious and masked-up while accepting the award for artist of the year, song of the year, and the new "Tricon" prize. Indeed, the one thing Lady Gaga wouldn't let "rain on" her throughout the night was germs. "I was wearing face shields before it was a thing," she posted on Instagram ahead of the show. 
According to Elle, Gaga's VMA looks began with Gaga posing for photographers pre-show in a spacey silver dress and face-covering helmet, but they didn't stop there. Here's a look at some of Lady Gaga's wildest masks from the 2020 VMAs. 
Lady Gaga wore amazing masks throughout the VMAs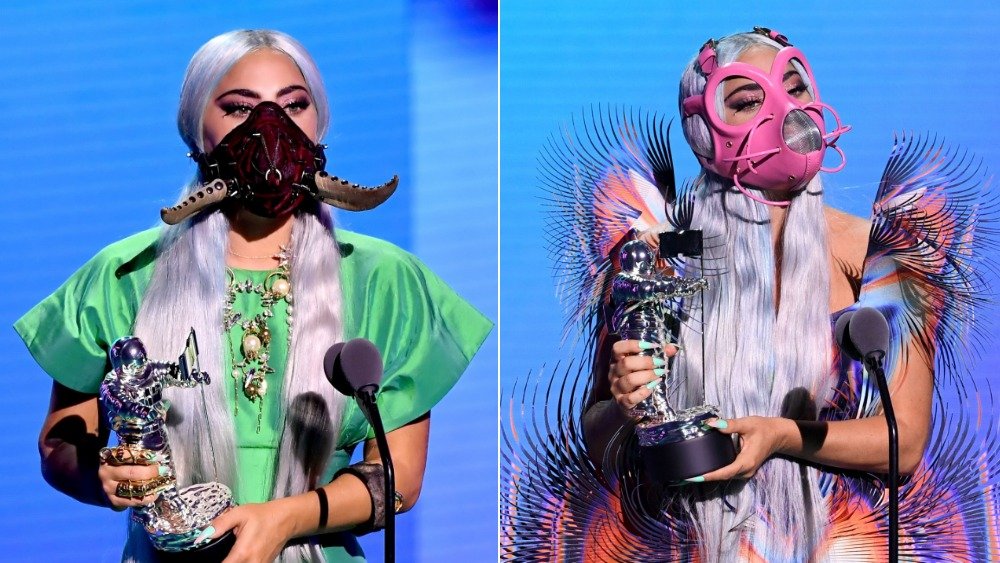 Yup, Lady Gaga's masks at the 2020 VMAs were truly something to behold. According to the Daily News, the pop superstar wore an electronic face mask that interacted with her every movement during her live performance. The zigzag energy monitor display on the mask even changed colors as the superstar switched outfits while singing. Impressive! 
Each time Gaga came on stage, she "kept things interesting" with outfits that "included, but were not limited to, a full-head face shield, a pink muzzle and a mask with tusks," reported Billboard. Truly, Gaga's many — and we do mean many — masked looks made her the evening's socially distanced style icon. Apparently, she used her speaking time to encourage viewers to wear masks to help battle the coronavirus pandemic, which has prompted health officials to encourage mask-wearing. 
"I might sound like a broken record, but wear a mask," Gaga said (via E! Online,) while accepting the Tricon Award. "It's a sign of respect. Thank you."
The A Star Is Born Oscar-winner's pointed statement is resonating with some fans. "If Lady Gaga and Ariana Grande can deliver THESE live vocals through full futuristic headgear you can survive wearing a cloth mask to go to the store Karen," one fan tweeted. Current events aside, we still wouldn't be surprised by these looks from Lady Gaga! Bravo!