The Truth About 'Stone Cold' Steve Austin's Ex-Wives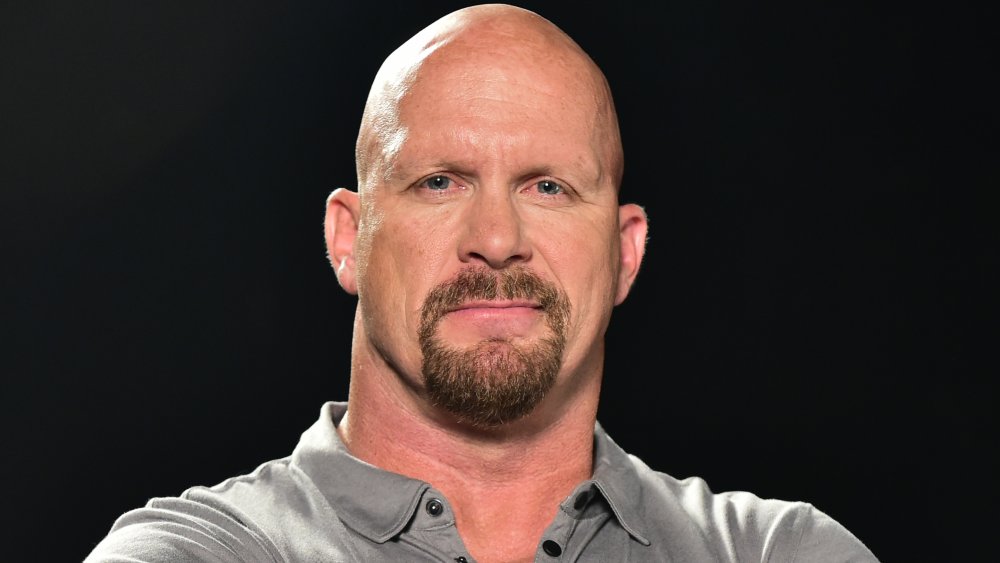 Moses Robinson/Getty Images
Even if you know the bare minimum about wrestling (or nothing at all), the name "Stone Cold" Steve Austin just might ring a bell. The 6'2", 250-pound wrestler originally made a name for himself as "Stunning" Steve Austin, eventually becoming an award-winning athlete. Austin (birth name Steven James Anderson) changed the game with his sometimes vulgar, beer-chugging persona who Rolling Stone called "the pissed-off poster boy of the so-called Attitude Era." Over the course of his wrestling career, Austin won 19 championship, per the Mirror, and became a six-time WWF World Heavyweight Champion. After retiring from the wrestling world in 2003, the Texas native went on to appear on the small and big screens and even in video games.
Even though he found fame, in part, thanks to his loud and boisterous persona, Austin switched gears and created a family-friendly podcast in 2013 called The Steve Austin Show, per Inside Radio. Not to lose his loyal "Stone Cold" following, a second, more on-brand podcast called The Steve Austin Show — Unleashed was created in 2015. However, the two shows were merged in 2018, according to Wrestling Inc. 
While his professional life was booming under the public's gaze, Austin's personal life was undergoing some changes, too. Over the years, the father of four has married four women who surely all have their own stories to tell when it comes to the former professional wrestler.
'Stone Cold' Steve Austin's first marriage was to his high school sweetheart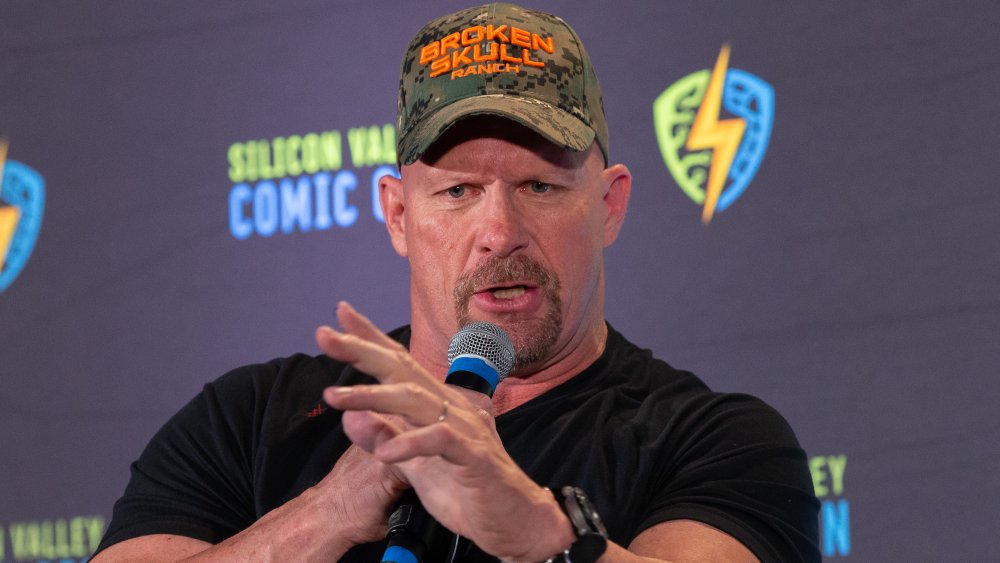 Bill Watters/Getty Images
"Stone Cold" Steve Austin married his high school girlfriend, Kathryn Burrhus — who he also dated through college — in 1990, per Still Unfold. However, it seems their marriage didn't last once Austin began wrestling professionally, and the two called it quits in 1992, according to Sports Keeda. The same year he divorced Burrhus, Austin tied the knot with Jeanie Clarke. 
Clarke — known as "Lady Blossom" in the ring, per Post and Courier — and Austin met while Clarke was working as wrestling manager/valet. In the early '90s, Clarke became Austin's valet. According to the outlet, she even "helped Austin come up with his 'Stone Cold' moniker." However, in 1991, Clarke "decided to retire from wrestling to concentrate on her family life," according to the Miami Herald. Per Still Unfold, Austin and Clarke were together until 1999. Over the course of their relationship, the couple had two children together, daughters Stephanie and Cassidy. Austin also adopted Clarke's daughter from a previous relationship. 
After Austin and Clarke went their separate ways, it wasn't long before Austin married his third wife, actress Debra Marshall.
'Stone Cold' Steve Austin's fourth wife reportedly helped him make 'positive changes'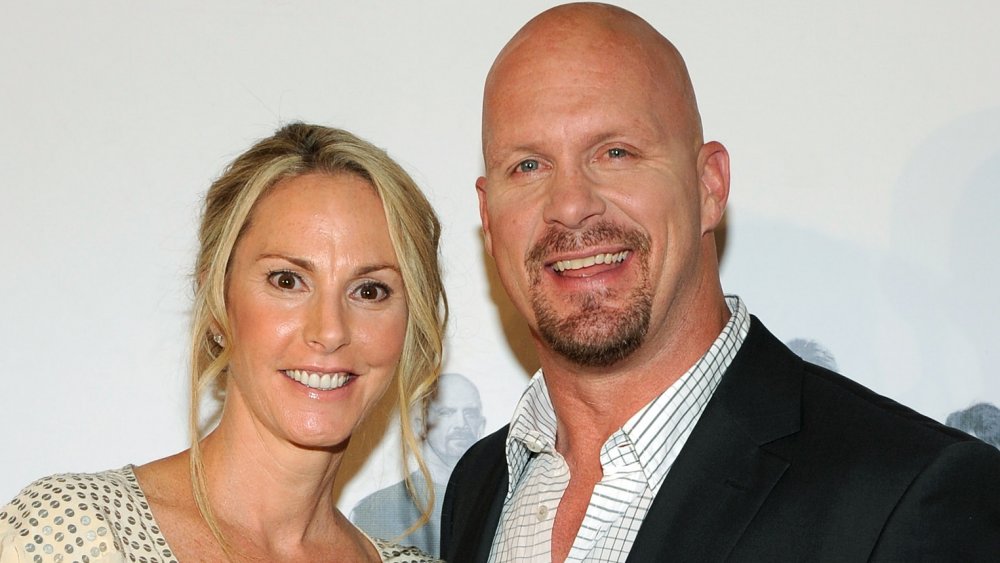 Ethan Miller/Getty Images
Debra Marshall (née McMichael and Williams) had a career as a wrestling valet during the mid to late '90s. She worked with Hulk Hogan, "Macho Man" Randy Savage, and ex-husband Steve "Mongo" McMichael. The former beauty queen (hence her stage name "Queen Debra") and Austin said "I do" in September 2000, according to Sports Keeda.
In June 2002, the police were called to their Texas home where Marshall was found with a "swollen cheek and eye and bruises to her back and shoulder," per Still Unfold. In August of that year, Austin was "arrested and charged with domestic abuse," according to Sports Keeda. The outlet reported that the wrestling champ "pled no contest" and was given one year probation, a $1,000 fine, and 80 hours of community service.
Ultimately, the two divorced in 2003 and Marshall reportedly auctioned off her wedding ring. It was reported that Marshall donated some of the proceeds to Safe Place, an organization that helps survivors of domestic abuse. According to Fox News, Marshall attributed Austin's alleged attacks to him allegedly using steroids and having "roid rage."
Following the divorce from Marshall, Austin took a break from marriage until 2009 when he married Kristin Austin (pictured above). As of this writing, they are still married. In 2020, Power Sportz reported that the former pro wrestler's fourth wife "played a key role in the positive changes" in Austin's life since their union.
If you or someone you know is dealing with domestic abuse, you can call the National Domestic Violence Hotline at 1−800−799−7233 or TTY 1−800−787−3224. You can also find more information, resources, and support at www.thehotline.org.