The Untold Truth Of Brad Pitt's Girlfriend's Husband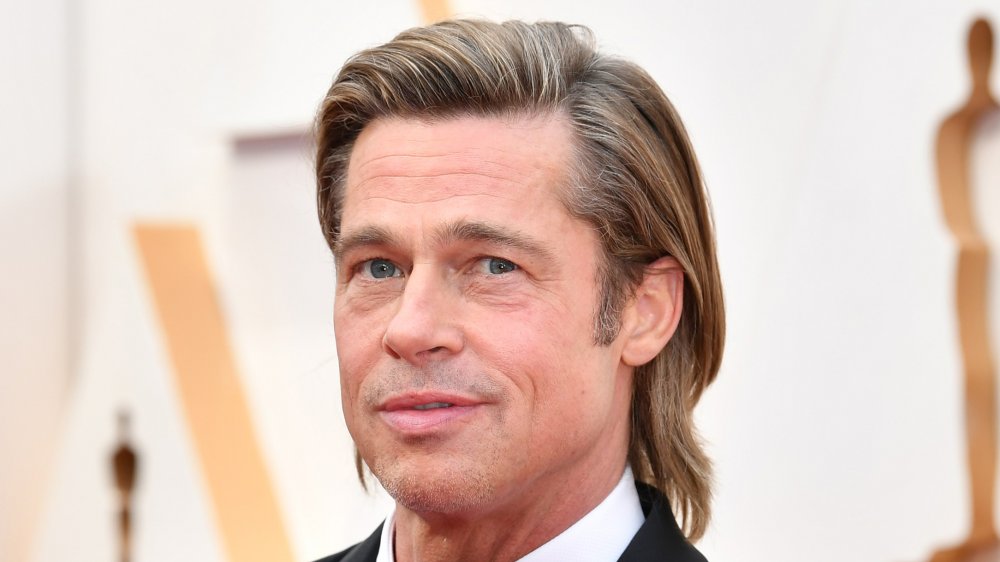 Amy Sussman/Getty Images
Brad Pitt may have one of the most interesting dating timelines in Hollywood. Following his very public separation in 2016 from Angelina Jolie — and ongoing divorce proceedings as of August 2020 — Pitt has been connected to a far less visible, but equally fascinating, array of women. The Fight Club star was apparently on Tinder (How many people do you think swiped left on Pitt's profile, assuming it was a hoax?) while also being connected in the tabloids to A-list stars such as Kate Hudson, Jennifer Lawrence, and, of course, Jennifer Aniston – because fans will never stop shipping them.
However, it seems as though this roaming bachelor is officially dating someone. According to E! News, Pitt has been dating German model Nicole Poturalski since the summer of 2019. An insider told Entertainment Tonight, "Brad and Nicole were introduced through friends, and when they first started seeing each other, they told no one about it. Even some of their inner circle of friends are only finding out now." The source added that "Brad has been very private about dating," which makes sense, because his new boo's bio includes a very interesting detail: Poturalski is married. Keep scrolling to learn about the other man in the model's life. 
Brad Pitt's girlfriend is reportedly in an 'open' marriage
Though Brad Pitt and Nicole Poturalski are keeping their relationship under wraps and out of the press as much as possible, Poturalski's husband has allegedly remained very much in the loop. Poturalski's husband, restaurant owner Roland Mary, is apparently well aware of his much younger wife's extramarital affairs. According to the Daily Mail, the spouses — who share a 7-year-old son — are in an open relationship, and Mary is apparently pretty chill about the Pitt situation. "There is no tension between Roland and Nicole," an insider said. "Everything is fine."
"Roland is a very philosophical guy," a source told the tab. "He has been married several times and has five children..." Apparently, three is not a crowd when the third wheel is the star of Se7en.
If you haven't raised an eyebrow yet, here's another sip of piping hot tea: Pitt and Mary have supposedly known each other for years. The two reportedly met in 2009 when Pitt was filming Inglorious Bastards in Germany. Pitt frequented Mary's restaurant, Borchardt, which coincidentally is where he also allegedly met Poturalski years later in August 2019. 
As of this writing, Angelina Jolie has not commented on her ex's new relationship.