The Real Reason Aubrey O'Day Dyes Her Dogs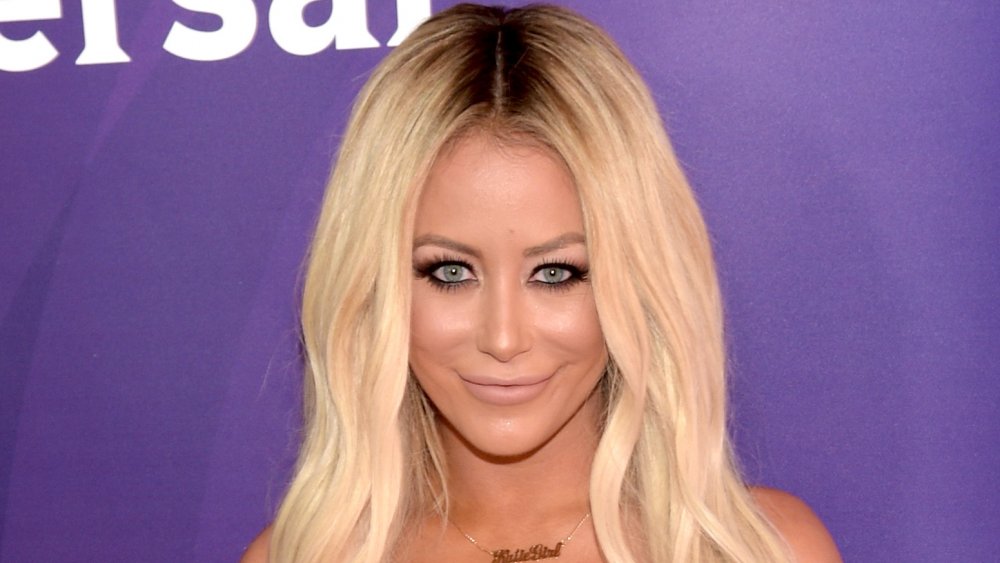 Jason Kempin/Getty Images
If there's one thing we know for sure, it's that Aubrey O'Day loves dogs. And on Aug. 30, 2020, the Danity Kane star was seen walking in Palm Springs, Calif., with her four-legged friends, according to the Daily Mail.
But it wasn't just the blonde beauty who garnered some attention — her little pooches were sporting some colorful hair in rainbow and pastel hues and were easy to spot. And although it's obvious O'Day enjoys dyeing her animals' fur, the performer's hobby has not always been well received, as Us Weekly reported. However, this isn't the first time O'Day has made headlines for controversial reasons. The singer, who has also appeared on numerous reality TV shows, dated Jersey Shore's Pauly D (real name Paul DelVecchio) for a time, with their dramatic romance regularly gracing the tabloids. She also made headlines for having an alleged affair with Donald Trump Jr. after she appeared on season 5 of Celebrity Apprentice.
We also know that O'Day isn't shy to defend herself and speak her mind (yas, queen!) when she faces scrutiny. As such, O'Day explained why she feels comfortable dyeing her dogs' hair. We reveal the real reason after the jump.
Aubrey O'Day says her dogs are like 'family'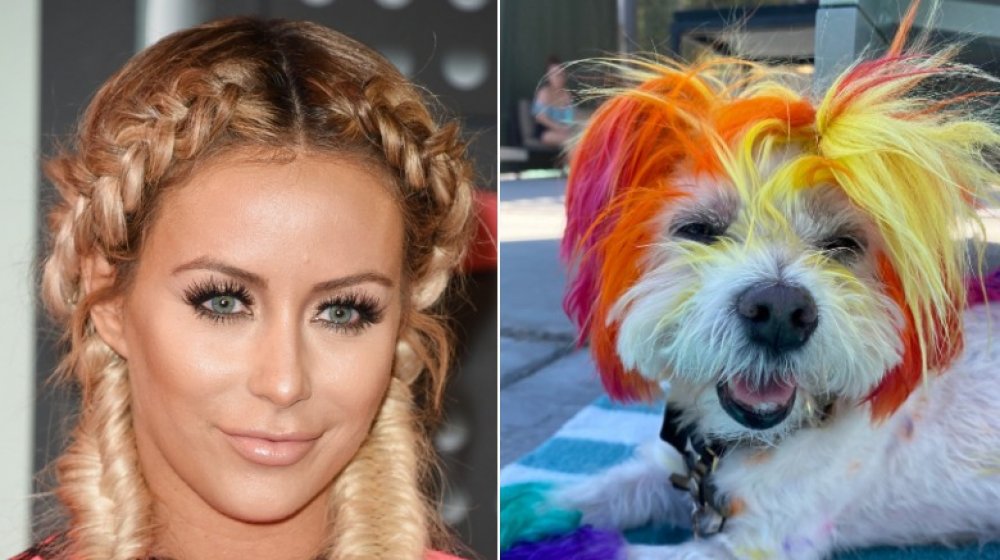 Jason Merritt/Getty Images, Twitter
Aubrey O'Day absolutely lives for her dogs, telling OK! magazine in 2011, "My dogs are my family. I can 100 percent, forever say I love them unconditionally." She added, "I think that dogs have this beautiful innocence. I think that they wake up every morning and they are excited about life and their day. And when you aren't excited, they make you feel it, too."
As for why she dyes her dogs' hair, O'Day stressed that her vet gives the OK to any dyeing products she uses, as she told Us Weekly in 2009. Speaking about her teacup Maltese named Ginger, O'Day said, "She likes to have looks." Cute! She continued, "It actually seems like such a taboo weird thing nowadays, but if you research online, you will see a whole underworld of dogs who are dyed." As the website The Dog People pointed out, there are safe and potentially dangerous ways to dye a pet's fur.
O'Day explained that her process is to dye Ginger while her little pooch is asleep to make the experience "hassle-free," noting that little Ginger doesn't even notice. "I do it like anyone would color hair," O'Day added. "She sits on my lap, and I have a brush, and I paint it on and use foils." The California native also pointed out that Ginger lives for attention (same, Ginger, same), and that with dyed hair, Ginger gets so much admiration from people. "She gets so much of it," O'Day explained.
So that's that, folks!