The Truth About 90 Day Fiance's Colt Johnson And Larissa Dos Santos Lima's Relationship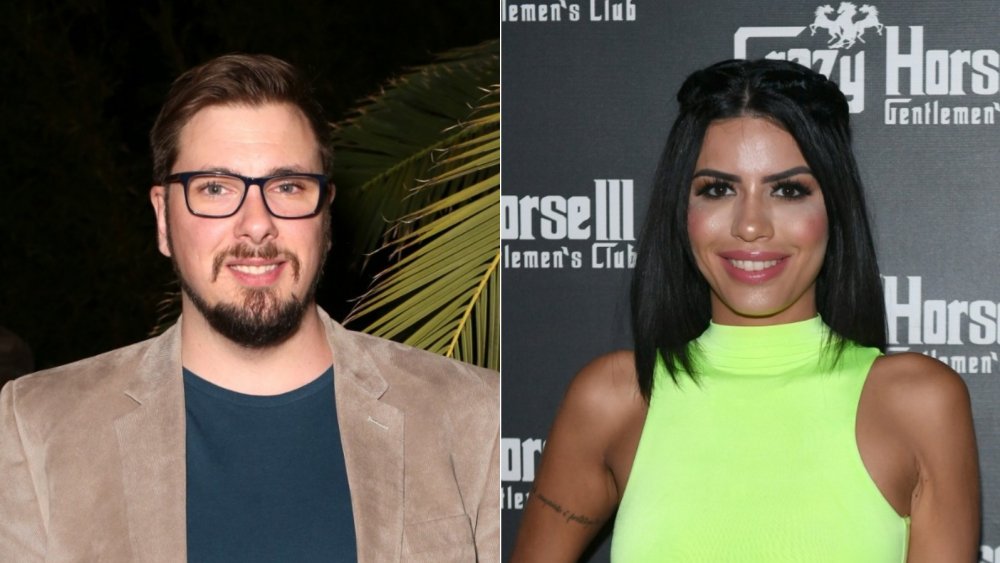 Gabe Ginsberg, Bryan Steffy/Getty Images
Colt Johnson and Larissa Dos Santos Lima might be the most disastrous couples to ever appear on 90 Day Fiancé. That says a lot, considering the track record of other cast members. The Brazil-born Larissa was not prepared for a quiet life in Nevada with Colt. That much was evident the second she stepped off the plane. "Larissa has only been in Los Vegas for three hours, and she literally has not stopped complaining," said Colt upon her arrival.
Larissa expected a life of luxury, but was less than pleased to learn that Colt lived with his mom. She was understandably annoyed (and maybe jet-lagged) that she left two children behind in Brazil to give it a go with an apparent man-child. Colt's mom was equally unimpressed with his bride-to-be, and Larissa's interactions with Colt's family are some of the most uncomfortable moments in 90 Day Fiancé history.
The lovers tried to work through their issues, though, and even made it down the aisle in 2018. They divorced less than a year later. These days Larissa and Colt are regulars on Season 5 of 90 Day Fiancé: Happily Ever After. Larissa is focusing on herself, and Colt is busy showcasing yet another ill-fated romance, per Entertainment Tonight. So, what really happened with Colt and Larissa? Let's find out.
Colt Johnson's family hated Larissa Dos Santos Lima
For Colt Johnson, trying to integrate Larissa Dos Santos Lima into his family was like mixing oil and water. The process was doomed from the start. Larissa did not get along with Colt's mother, Debbie, who just so happened to share their small Las Vegas home. Debbie and the rest of the family didn't like Larissa. They thought she was lazy, rude, and taking advantage of Colt. Larissa, who was well-aware of Colt's finances, found the whole thing laughable. "Colt's not a millionaire," she said. "Colt has a car with no air conditioners. So what kind of advantage am I taking?" Fair point.
Things took a turn for the worse when Larissa and Colt's cousin, John, nearly came to blows at a family barbecue. John did not mince words: "I don't think they're good for each other. I don't think they love each other," he told the cameras. John then proceeded to voice his concerns directly to Larissa. "He [Colt] deserves better," John screamed at one point. Larissa retaliated by uninviting John from the wedding. John called the relationship "garbage" and stormed out. Larissa stormed upstairs and slammed the door. Colt sat on the patio and seemingly reevaluated every decision he'd ever made.
Months later, Colt re-invited John to the wedding, and he reluctantly accepted. Larissa and Colt divorced not long after, and John was thrilled he could go to family barbecues again
Larissa Dos Santos Lima and Colt Johnson fought all the time
Dysfunction is a cornerstone of the 90 Day Fiancé franchise, but Colt Johnson and Larissa Dos Santos Lima took it to a whole new level. According to TMZ, Larissa landed in serious trouble in 2019 when her fights with Colt became violent. She allegedly punched Colt in the mouth, injuring him and herself in the process. Larissa claimed the fight started when she began to suspect Colt of having an affair. She then discovered he'd purchased porn, and things escalated quickly. Colt told officers that Larissa swallowed half a bottle of prescription anti-depressants and locked herself in the bathroom. When the police arrived, Larissa told them Colt attacked her and "touched her inappropriately."
Thankfully, this was the last in a long line of unhealthy conflicts between the two. Colt called the cops on Larissa in 2018 (just days before their wedding), and she was held in jail overnight. A few months later, the cops were called again when Larissa posted cryptic messages on her Instagram, suggesting Colt was allegedly abusing her and that he disabled her phone. Colt told cops he did disable her cell service, but that was only to diffuse the situation, per Screen Rant. Spoiler alert: It did not diffuse the situation.
Today, the couple is no longer in communication. TBH, that's probably for the best.
If you or someone you know is dealing with domestic abuse, you can call the National Domestic Violence Hotline at 1−800−799−7233 or TTY 1−800−787−3224. You can also find more information, resources, and support at www.thehotline.org.