Why Jameela Jamil And Kim Kardashian Don't See Eye-To-Eye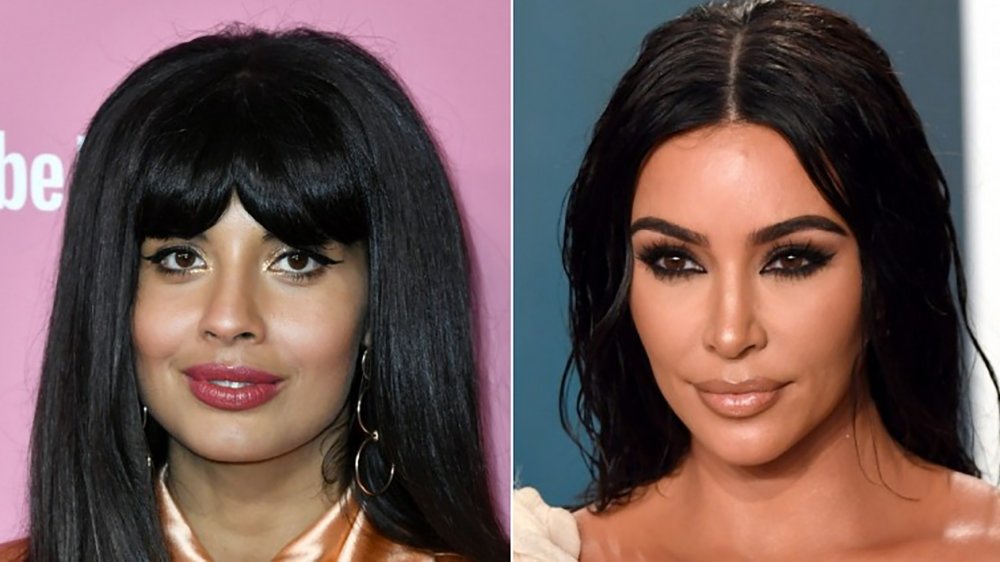 Frazer Harrison, Karwai Tang/Getty Images
Actor Jameela Jamil has been an outspoken proponent of the body positivity movement ever since she rose to prominence on The Good Place. And as a vocal critic of modern beauty standards, Jamil often goes toe-to-toe with the face of contemporary beauty, aka reality star Kim Kardashian.
Kardashian's cinched waist and curvy hips are the envy of many young women, but Jamil feels it is an unrealistic, even dangerous, standard to emulate. According to The Washington Post, Jamil first criticized Kardashian a 2018 interview with Channel 4, stating, "The same poison that made you clearly develop some sort of body dysmorphic or facial dysmorphic, you are now pouring back into the world." Jamil doubled down in a since-deleted tweet calling Kardashian a "terrible and toxic influence on young girls," for promoting Flat Tummy Tea, a product marketed to "reduce bloating," according to its website.
Cut to June 2020, when Jamil took to Instagram to say that she did not need to call out Kardashian anymore, explaining that "Kim, like many of us, has had decades of body image issues and obsession." Jamil added, "She isn't actively trying to harm you. She's just so harmed and deluded into thinking this is what SHE needs to look like to be special and beautiful and she's spilling it out onto her following. Is this wrong? YES. But I'm not sure she realizes that she's doing to others what her idols did to her."
The ladies' drama died down until September 2020 when Kardashian released her controversial SKIMS maternity line, a move that brought her reported issues with Jamil back in the spotlight.
Jameela Jamil wants out of the feud narrative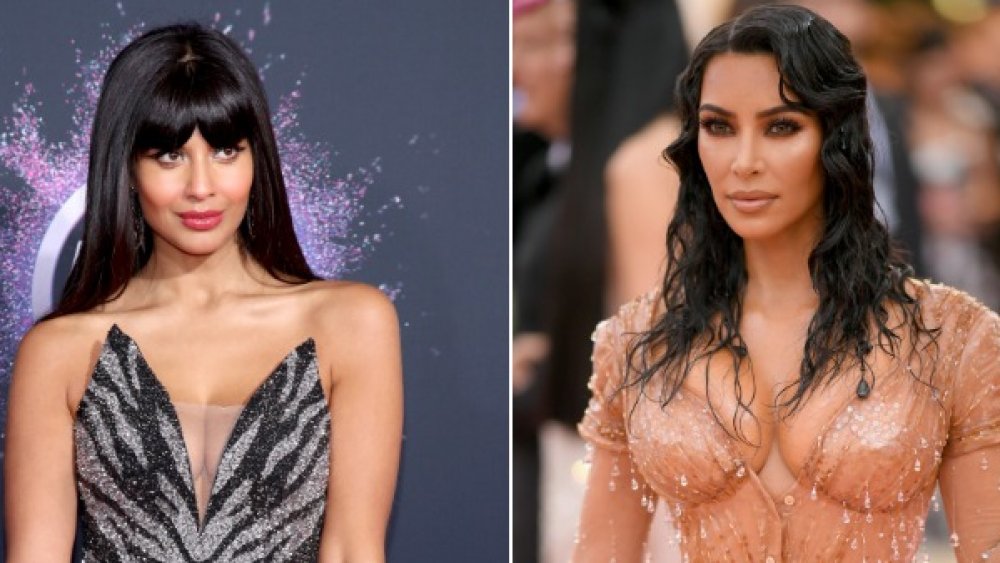 Rich Fury, Neilson Barnard/Getty Images
When Kim Kardashian released her line of SKIMS maternity wear in September 2020, she received a lot of backlash on social media. Jameela Jamil also spoke out against pregnancy shapewear, although she didn't address Kardashian directly. "I wish we could just Normalize just focusing on the inside of a pregnant body, not the outside," she said on Instagram. "You don't need your shape corrected or hidden."
Kardashian quickly responded to the critiques on Twitter, claiming the line was "not to slim but to support." She added that the fabric over the stomach supports the lower back, and the form-fitting leggings alleviate pain associated with swelling. "Based on the majority of positive feedback we have received so far from pregnant women around the world, I am incredibly proud to provide a solution that will provide comfort and support during the times that we all need it most, during pregnancy and after," she concluded. A few outlets then published headlines pitting Jamil and Kardashian against each other once again.
Jamil is over it, though. "Bored of my name being used to drag me into sh-t that I'm not trying to be involved in," she wrote on Instagram, "If I was calling her out, I would just call her out," she said, "I'm extremely direct." Ain't that the truth.