The Real Reason Why Tom Brady Lives In Derek Jeter's House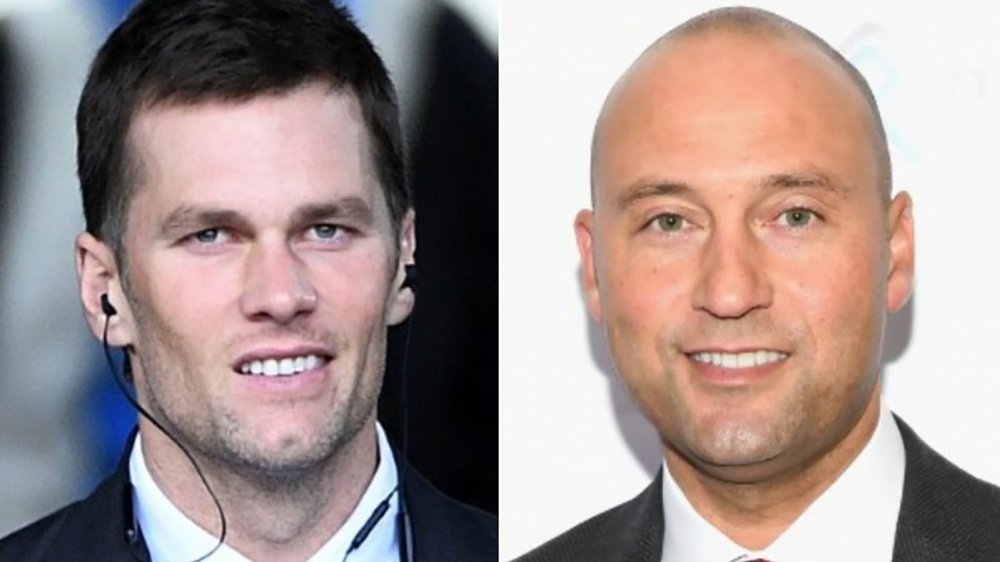 Justin Berl, Dave Kotinsky/Getty Images
After 19 years with the New England Patriots, in March 2020, Tom Brady announced his exit from the team and his intent to play for the Tampa Bay Buccaneers. He even got his former Patriots teammate Rob Gronkowski to come out of retirement so they could play for the same team again. Brady hit the ground running right away with the workouts in Tampa Bay, which meant he did not have a ton of time to look (or build) a new home for his wife Gisele Bundchen, as well as their kids.
Instead of house hunting, Brady and Bundchen started renting Derek Jeter's 30,000-square-foot mansion on Davis Islands. In April 2020, the Tampa Bay Times estimated that the monthly rent could total more than $75,000 based on its $14,020,436 value. Considering that Brady signed a $50 million two-year deal, he can certainly afford to buy a home instead of renting one.
So why did Brady decide to shack up in Jeter's abode? Although it might seem random, it's apparently a smart decision for a few different reasons.
Does Tom Brady feel secure in Derek Jeter's house?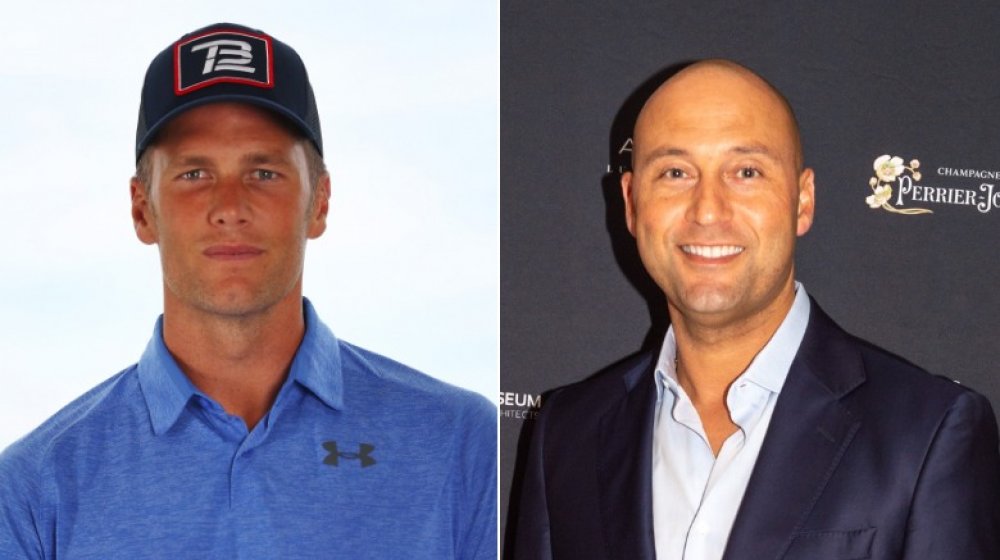 Mike Ehrmann, Romain Maurice/Getty Images
Real Estate agent Doug Waechter added insight about the move to Realtor.com, explaining that, "During the offseason, [athletes] are very busy training and preparing for the upcoming year. This leaves little time to get familiar with a new town, which is why it is very common to see a lot of professional athletes rent for the first year or two, until they know exactly what the city has to offer." And, considering that Tom Brady's deal is only for two years, that logic makes sense. Waechter added, "For high-profile athletes, two of the most important features you look for in a new residence are safety and privacy." Ironically, the latter is a major issue for Brady.
In an April 2020 interview with Howard Stern, Brady said, "Here they can pull right up to the back of the house." The quarterback admitted, "I am a little bit of an introvert. I feel like my house is my place I can relax." In contrast, the backyard of Jeter's house has "a lot of boats that have pulled up and people at the front."
Still, Brady told Stern, "I am going to stay here for a while," nothing that Jeter is a "friend" of his. Realtor.com reported that the home is only a 15-minute drive from the stadium, which sounds like a convenient commute. Real estate agent Cara Ameer told the website, "He wanted all the benefits of a trophy property that was well-suited for an elite athlete — without having to buy. This home accomplishes exactly that."
Tom Brady jokes about Derek Jeter's internet
Al Bello, Al Bello/Getty Images
Of course, Tom Brady is grateful that Derek Jeter was able to come through for him and the Brady family on such short notice. However, that did not stop him from cracking some jokes about his living arrangements in an April 2020 interview with Howard Stern. The New England Patriots alum said that it is "nice to rent" because he can "get all of the benefits with none of the responsibility." Brady even joked that if anything breaks at Jeter's house he can just "call and b***h to him and he gets it fixed." Specifically, there is one feature at the Florida mansion that Brady wants Jeter to improve, the Wi-Fi. Brady said that the New York Yankees legend needs "to upgrade the system here." Hopefully, the two of them will be able to work something out soon. In the meantime, living at a mansion nicknamed St. Petersburg is far from a bad situation.
What's more? Renting Jeter's home is probably a good call given the coronavirus pandemic. The Brady fam gets to skip house hunting, which is arguably tricky right now with social distancing guidelines and other precautions.
So although it's unclear how long Brady will be in Jeter's home, it's obvious the decision is what's best for his family at this moment.