Inside Meghan Markle's New Home In Santa Barbara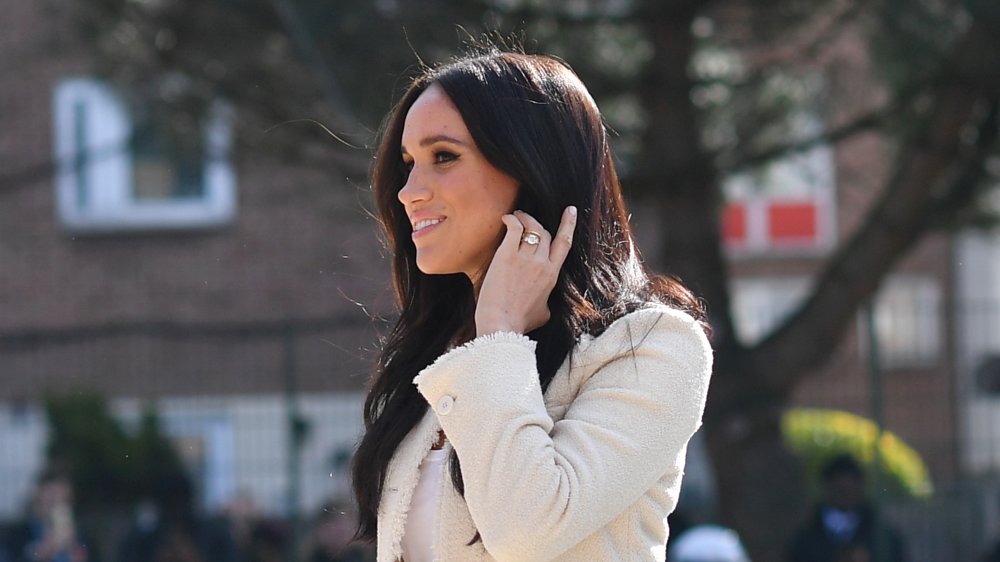 Wpa Pool/Getty Images
Lockdown has brought forth an unexpected benefit: as life goes virtual, fans have been able to take a peek inside celebrities' homes as they film everything from TV shows to virtual summits inside their cribs. Take Justin Bieber and Hailey Baldwin's home videos, or Ellen DeGeneres filming her show in front of her lush living room and yard, for example. In addition to maintaining a connection with fans and building a sense of community during difficult times, these moments have flashed fans with scenes from celebs' quarantining quarters. 
Now, fans finally know what the inside of Meghan Markle's mansion looks like. The settled-down life is new for Meghan — she, Prince Harry, and baby Archie previously hopped between places as they tied up loose strings in the United Kingdom. With the parents finally done with their royal duties, royal fans have been wondering about the upscale Santa Barbara, California mansion where the adored couple will reportedly be setting down roots. In two virtual engagements, Meghan gave fans a glimpse of the family-of-three's new California abode.
Meghan has unique wall art in her house
In August 2020, Meghan Markle attended a virtual summit for the new nonprofit The 19th. She shot her video from her house, giving fans a first-ever (and totally unexpected) glimpse of the home that she and her family reportedly moved into a month earlier. 
In the clip, the Duchess of Sussex rocked an elegant middle part and a light rust top. But even more eye-catching was the grand chair on which she was sitting, beautiful blooming orchids to her right, and a big window letting in plenty of daylight behind her. The theme of the room seemed to be dark wood and beige, with both the chair and walls a light cream color with dark mahogany window panels and chair details. The entire scene evokes sophistication and grace, with a touch of cozy.
Just one month later, in mid-September 2020, Meghan gave fans yet another glimpse into her new abode during a video call with the charity Smart Works. A tall window on her left, paired with a large indoor plant that appears to be a fiddle leaf fig, made it evident that the home is filled with plenty of natural light and greenery. 
Meghan also sat in front of a huge stone fireplace, accessorized with framed vintage wall art featuring a bear and the California state on the mantel. According to Harper's Bazaar, the print features the sheet music for the California state anthem. Also on the fireplace is a small, simple lamp that adds a warm glow of light.
The mansion is different from their first home
While fans have still only gotten a glimpse inside the new home, it's said to be quite an impressive mansion located in the Montecito neighborhood in Santa Barbara. It's approximately one hour and forty-five minutes outside of Los Angeles, according to Google Maps, which is where Meghan Markle is originally from. The $14.65 million property sprawls across seven acres and is much different from the vibe of their previous Los Angeles home, per Los Angeles Times.
The new mansion, which was was built in 2003, features nine bedrooms spread across 14,500 square feet. It includes a grand vine-covered entrance, a game room, a home theater, a spa, and a winding road paved with locally-sourced stone. Not to mention, an elevator and gym that will certainly come in handy during quarantine. 
In addition to the main house, the property includes a two-bedroom guesthouse, a teahouse (because you can take the Brit out of Britain but never Britain out of the Brit, right?), a tennis court, a swimming pool, and a jungle gym that'll be sure to entertain Archie. 
The new home is a stark difference from the couple's brief stay in Los Angeles, at a house that was slightly bigger yet crawling with paparazzi. Let's hope their new home offers the family the privacy that they have been searching for.