The Real Reason Michael Douglas Divorced His First Wife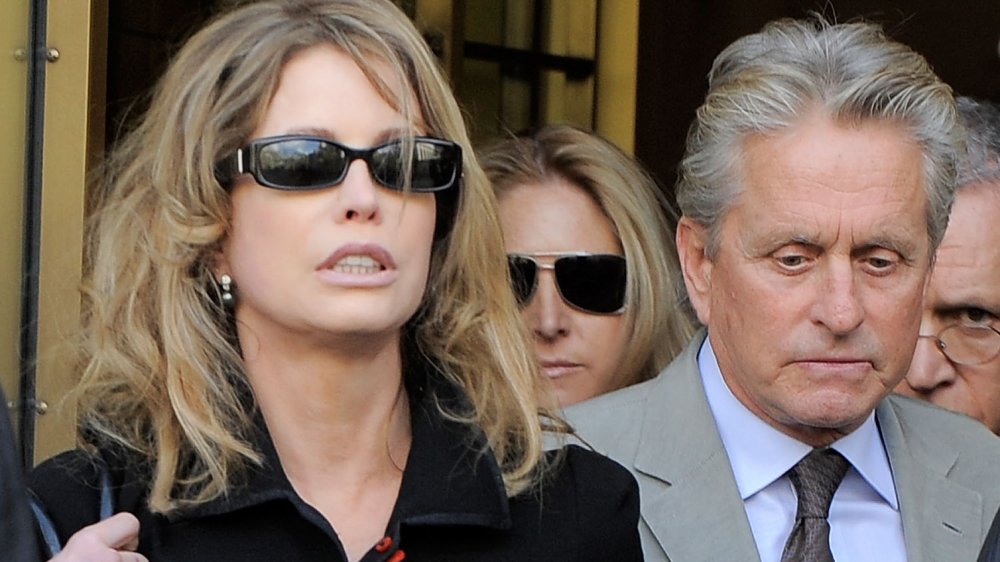 Jemal Countess/Getty Images
These days, Michael Douglas is arguably one of the biggest names in Hollywood. As the son of Kirk Douglas and Diana Dill, Douglas grew up in the movie industry and was involved in some of the most recognizable films of the 20th century. In addition to working as a producer on One Flew Over the Cuckoo's Nest and The China Syndrome, he also appeared in Fatal Attraction and Wall Street, winning the Academy Award for Best Actor for his performance in the latter.
Douglas' life hasn't been uniformly successful or easy, however. "At the peak of his career, Michael succumbed to alcohol addiction," per Vanity Fair, and in 2011, he "beat [throat] cancer," per People. Since 2000, Douglas has been married to actress Catherine Zeta-Jones. Over the years, the pair have seemingly had their fair share of issues, separating for a while in 2013, per People, before eventually reconciling. Given Douglas' long life and career and all the ups and downs that have come with it, the actor has admitted that he has one regret, and it has to do with the divorce of his first wife.
Michael Douglas wanted a divorce years before he got one
Kypros/Getty Images
Before Michael Douglas was married to Catherine Zeta-Jones, he was married to Diandra Douglas (née Luker). The two — who tied the knot in 1977 — had one son, Cameron Douglas. According to the New York Daily News, Luker and Douglas separated in 1995 before finalizing their divorce in 2000. At the time, the divorce was one of the most expensive in celebrity history, reportedly costing around $45 million, per Forbes. While the exact reason for their split is unclear, in 1995, People magazine reported that Douglas' substance abuse and infedility had strained the relationship.
Speaking to the New York Daily News in 2013, Douglas spoke very candidly about his first marriage. "It took me too long to realize that if you go to a marriage counselor to resolve problems, it's in his interest to keep the marriage going," Douglas said, adding, "Because if I end the marriage he's got no business... I think Diandra would probably say the same thing. That's the only clear regret that I have."
While he made it clear that he had no lingering feelings of ill will towards Luker, Douglas did say, "... [W]e should have ended that marriage eight or ten years earlier."
Despite the strong words from Douglas, the ex-spouses seemingly maintain an amicable relationship, and have both moved on and had children with other people. According to a 2011 Harper's Bazaar interview, Luker has never met Zeta-Jones. However, apparently she shares a vacation home in Majorca with the actress per her and Douglas' divorce agreement.