Keith Urban's Most Awkward Moments At The ACM Awards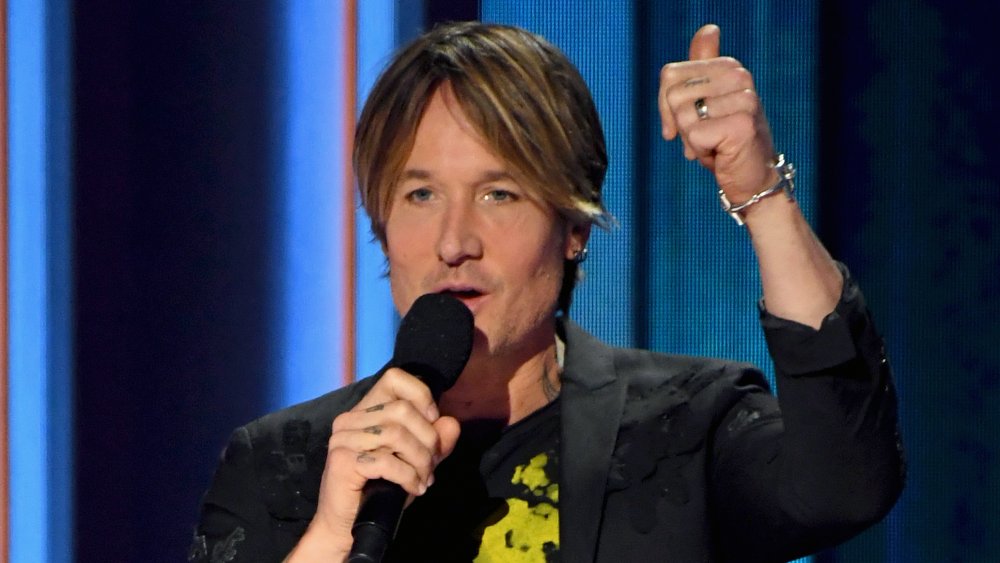 Kevin Mazur/acma2020/Getty Images
When you're hosting an awards show in an empty venue, it's pretty much impossible for things not to be awkward. That was the case for Keith Urban, who hosted the 55th Academy of Country Music Awards to an empty auditorium at Nashville's Grand Ole Opry. The awards show was originally scheduled to take place in April in Las Vegas, but thanks to the pandemic, it was broadcast from Music City in September, with strict social distancing rules in place.
The ACM Awards shuttled viewers among three venues in Nashville and even made a brief stop in Los Angeles, where Blake Shelton and Gwen Stefani performed in front of a green screen. It's not Urban's fault that the cumulative effect sometimes felt a bit off — no one could have predicted the way 2020 has played out thus far — but even so, it's worth taking a closer look at some of Urban's most awkward moments from the 2020 ACM Awards.
Keith Urban encouraged Blake Shelton and Gwen Stefani to "stay safe"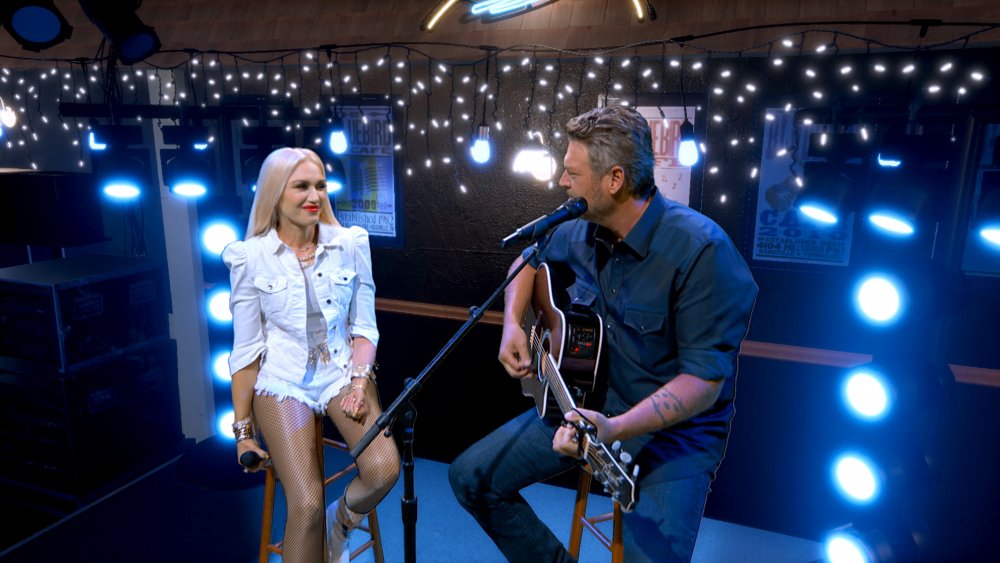 Acma2020/Getty Images
Of course, hoping that other artists stay safe during a pandemic is great, but Keith Urban's well-meaning message to Blake Shelton and Gwen Stefani was all sorts of awkward. 
"Hi Gwen, hope you guys stay safe out there," Urban said, waving his hand, ostensibly to no one. The lesson here: When awards shows are forced to use transitions that are essentially the "over to you" situation from TV news, there's just no way to make things seem totally natural. Watching Urban wave to a bunch of empty seats was downright painful.
In a similar vein, Urban tried to keep things lively at the end of the awards show by letting out a whoop after Florida Georgia Line's performance. If that had been accompanied by cheers from a live audience, it would have been totally natural, but watching Urban cheer alone as he tried to elevate the energy in the room made us feel more uncomfortable than excited. 
Keith Urban had to announce Blanco Brown's ACM Awards absence because of an accident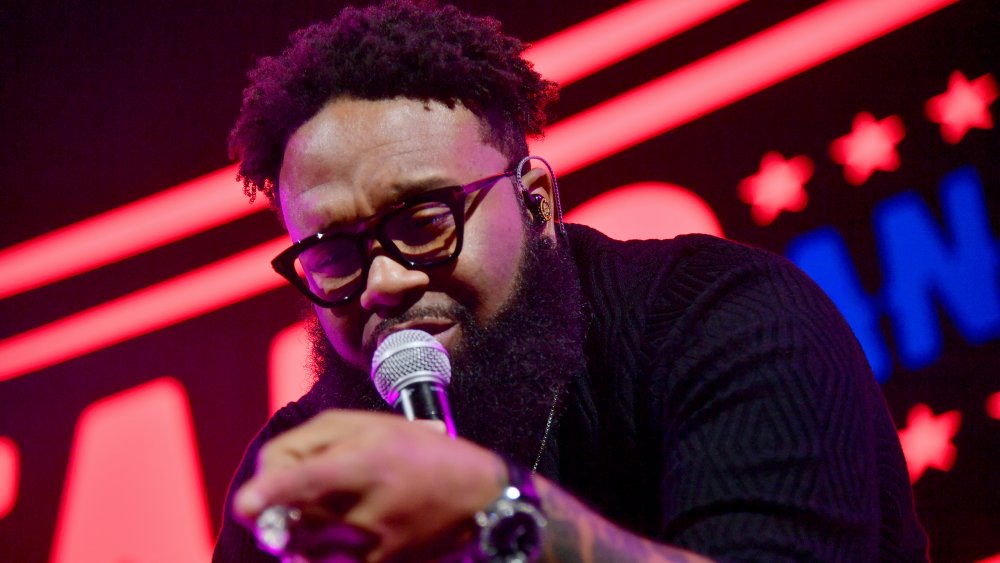 Michael Loccisano/Getty Images
This next uncomfortable moment was certainly not Keith Urban's fault. Let's blame 2020, as a whole, instead. Urban arguably took just the right tone when addressing a car accident that involved country star Blanco Brown.
"Tonight, our thoughts are with Blanco Brown," Urban said at the ACM Awards. "Blanco was supposed to be here with us, but as some of you may or may not know, he was involved in a very serious accident. But we hear that he is on the way to recovery, and that is really good news. Our hearts are with you tonight, Blanco."
Brown suffered "significant injuries" stemming from a car crash on Aug. 31, 2020, per a statement his rep provided to Billboard. The singer reportedly had to undergo a 12-hour surgery, and while he's expected to fully recover, he was in no state to appear at an awards show.
Keith Urban performed with Mickey Guyton to an empty auditorium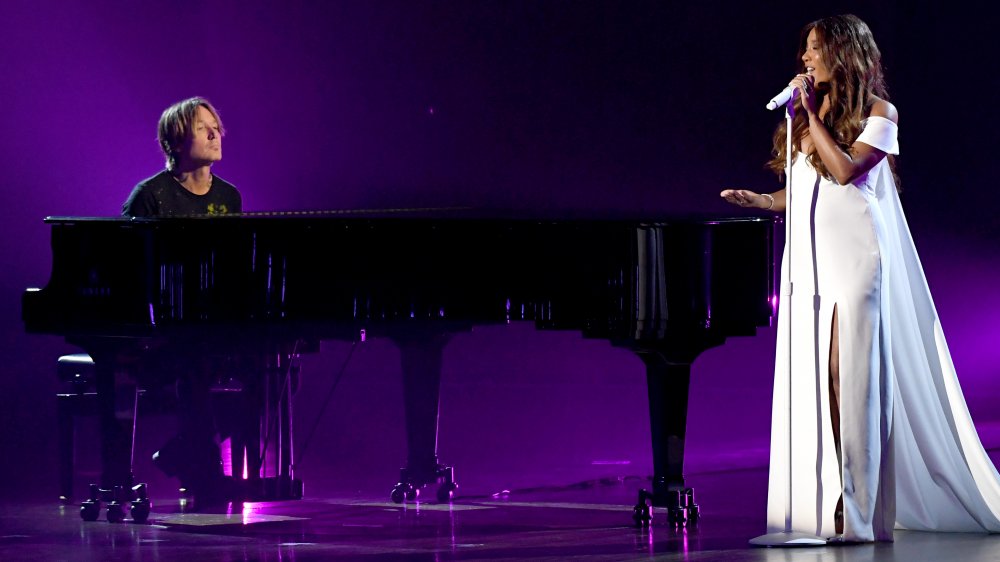 Kevin Mazur/acma2020/Getty Images
At Nashville's Grand Ole Opry house for the Academy of Country Music Awards, Mickey Guyton and Keith Urban gave a moving performance of Guyton's song "What Are You Gonna Tell Her?" Urban played the piano as Guyton sang, but instead of being met with a round of applause (or any applause), their performance concluded with silence. Thanks to social distancing procedures to stop the spread of COVID-19, there was no one to watch the emotional ACM moment.
Guyton delivering a difficult song about sexism, racism, and sexual assault would have moved the audience to tears if there had been an audience to witness it. While some viewers likely choked up at home, it would have been nice to see audience members' reactions to the gut-wrenching performance in real time.
"There's not a single woman that I know that hasn't gone through something, and I just hope that this song and people hearing me sing it inspires change," Guyton told Entertainment Tonight. "I hope this song gives everybody that fire within them to change to help make change for our future."
Keith Urban and Pink sang 'One Too Many' from two different places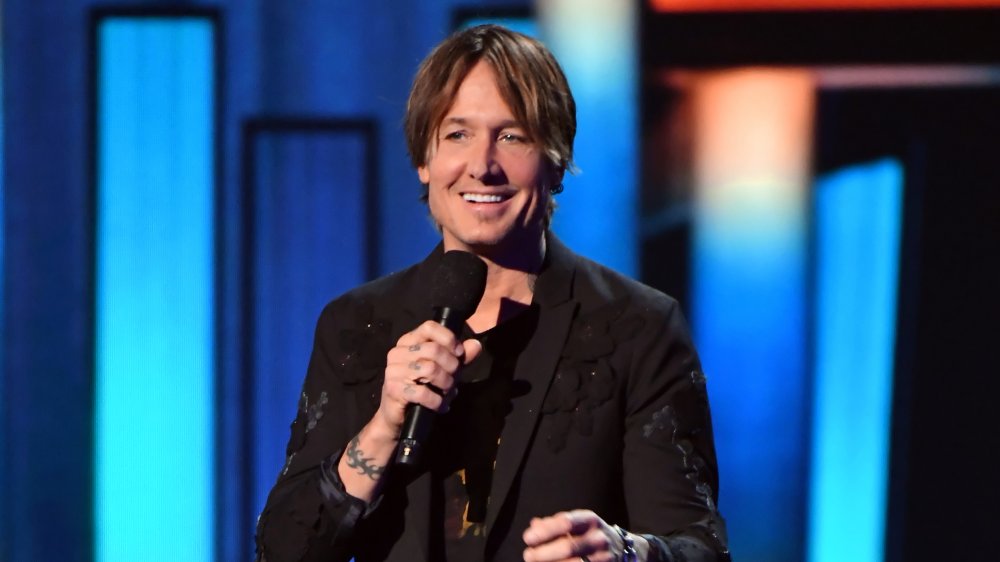 Kevin Mazur/acma2020/Getty Images
It's one thing to play on stage to an empty theater, but bridging the gap between time zones to perform a duet from two different places entirely? Now, that's definitely a ACM first, and that groundbreaking title goes to Keith Urban and P!nk. They performed their song "One Too Many" from Urban's album, The Speed of Now Part 1, together but apart at the 55th Academy of Country Music Awards.
The holographic green screen background behind the two stars didn't make things any less awkward, either. The two singers are immensely talented, but a tie-dye greenscreen performance just isn't the way anyone imagined awards shows happening. Despite the less-than-ideal performance setup, the singers gave a lively rendition of "One Too Many."
Socially-distanced awards shows aren't what anyone had in mind, but not much about 2020 has gone according to plan. Keith Urban did the best he could while hosting the ACM Awards, even if things did get a bit awkward at times.