Why Florida Georgia Line's Tyler Hubbard Was In A Cast At The ACM Awards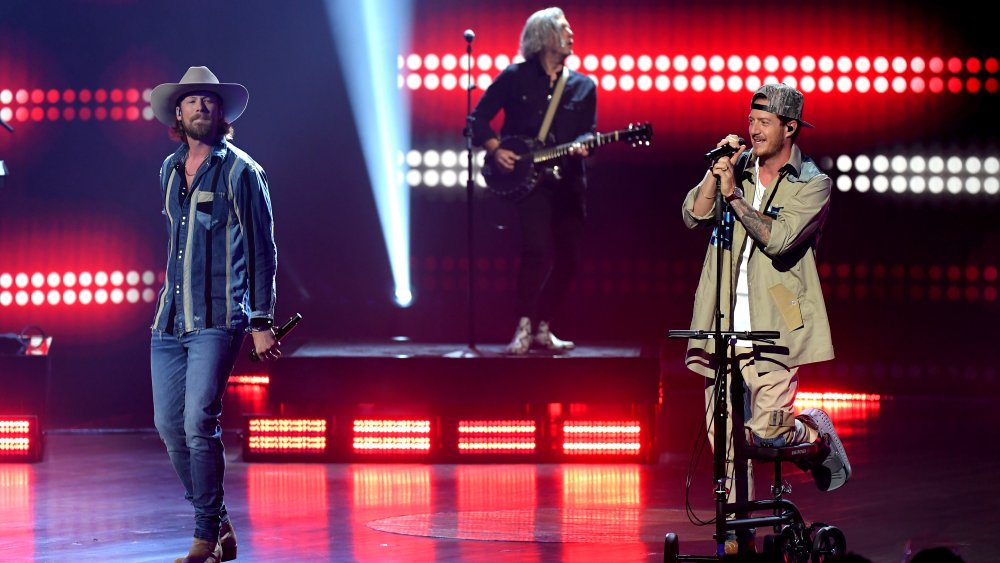 Jason Kempin/acma2020/Getty Images
Florida Georgia Line duo Tyler Hubbard and Brian Kelley rocked our worlds when they performed their hit "I Love My Country" at the 2020 ACM Awards in Nashville, Tenn. on Sept. 16, 2020. According to Taste of Country, the performance was even more moving for audiences because fans haven't been able to hear the new single live. "I Love My Country" was released in March 2020, right around the same time the coronavirus pandemic hit, so live performances were out of the question.
The ACM Awards performance was even more impressive, considering the fact that Hubbard came out on stage in a cast and supported himself during the performance on a scooter with a microphone attached. Did that slow him down? Not a bit.
According to The Tennessean, Hubbard went dirt biking in late August 2020 and took a spill. The singer jumped on Instagram shortly after the accident and gave fans the low-down. "I was at the track riding my dirt bike a couple of days ago, over jumped a jump, landed flat and blew out my ankle," Hubbard said, adding that he needed surgery to fully recover. "I have a ruptured Achilles tendon and I broke the bone right there on the inside of my ankle." Ouch!
Hubbard noted in the caption that the doctor expects he'll walk in five weeks, but his wife, Hayley Hubbard, said it had to be four weeks. Here's why.
Tyler and Hayley Hubbard are getting ready for baby #3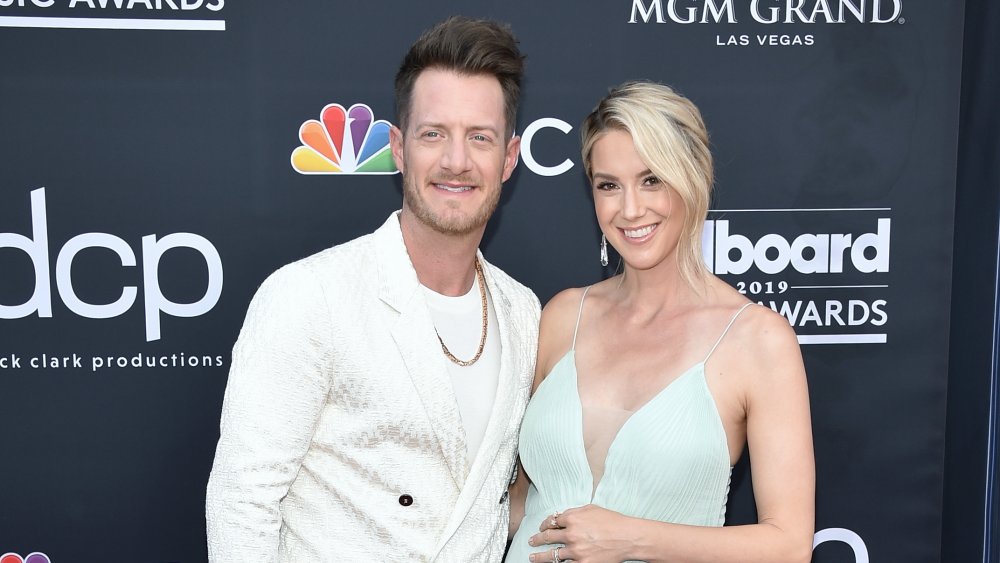 John Shearer/Getty Images
Tyler Hubbard of Florida Georgia Line had a dirt biking accident that has left him in a cast, something he had to sport to his 2020 ACM Awards performance, according to Taste of Country. The musician has been really positive about his injury, all things considered, and has kept fans in the loop through frequent updates on Instagram. In one post, he noted that he and his wife, Hayley, told their doctor to speed up his recovery date, regarding how soon he'd be able to walk, for one very special reason.
They're expecting baby number three and Hubbard wrote what he told his doc: "Hayley and I said 'make it 4 weeks [of recovery] because that's when baby number 3 gets here.'" According to iHeartRadio, the couple shares daughter Olivia Rose and son Luca Reed. Now they're preparing for a new little one. Despite the hurdle, Hubbard has been sharing the cutest updates on Instagram of himself painting Olivia's nails while she rests her hands on his scooter. Hey, work with what you have!
We have no doubt the Hubbard family will get through this with lots of humor and love.