Who Carrie Underwood Left Out Of Her ACM Acceptance Speech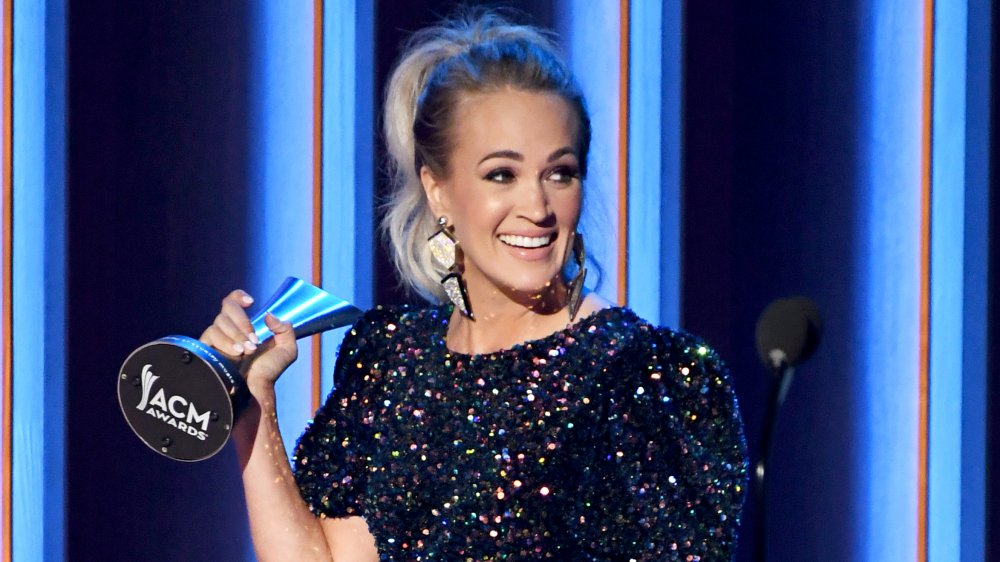 Kevin Mazur/acma2020/Getty Images
The 55th ACM Awards were held in Nashville, Tenn. on Sept. 16, 2020, satisfying many fans' collective cravings for fun, entertainment, and some killer performances. And boy, did the country artists deliver. Florida Georgia Line's Tyler Hubbard performed on stage in a cast, yet he still slayed while using a makeshift scooter/microphone contraption. It was impressive stuff. Luke Combs continued to impress fans, and Gwen Stefani and Blake Shelton were the cutest.
With the coronavirus pandemic forcing the ACM Awards to adapt and get creative, performers utilized several different venues including, the Grand Ole Opry, Ryman Auditorium, and Bluebird Cafe, according to The Washington Post. And the greatest moment of the night might have been watching Miranda Lambert sing "Bluebird" from the Bluebird Cafe.
One of the more unexpected turns in the evening came when the Entertainer of the Year award was a tie! Carrie Underwood and Thomas Rhett shared the crown, and some fans were fuming over this decision. But the two stars had fun with it. Rhett began his acceptance speech by saying, "What is happening right now?" according to The Washington Post. Meanwhile, Underwood began her speech by saying, "2020 man!" per E! Online. But she forgot to mention some important people in her acceptance speech — keep reading to find out who she (accidentally, of course) left out.
Carrie Underwood had a lot to juggle at the ACMs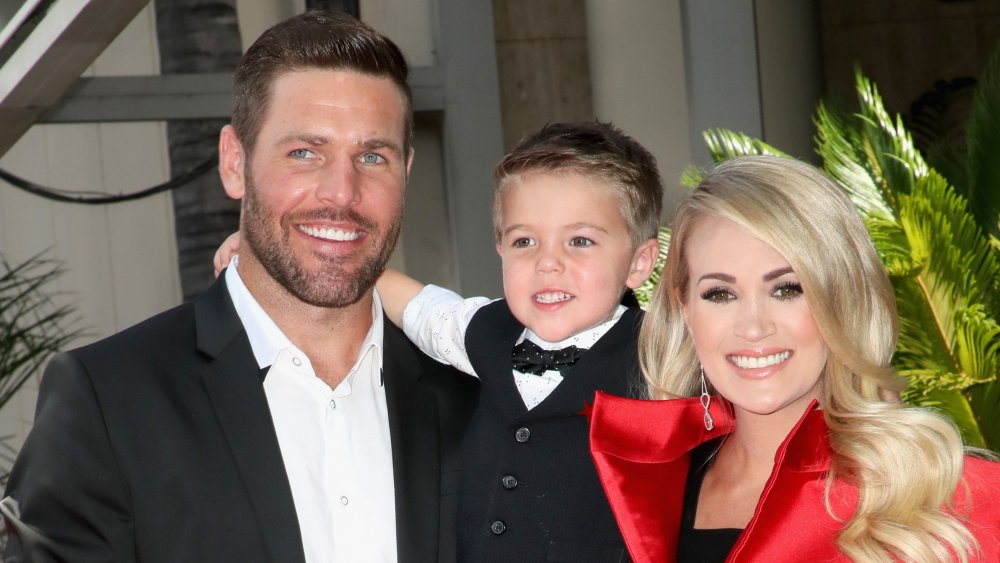 David Livingston/Getty Images
In her 2020 ACM Awards acceptance speech for Entertainer of the Year, Carrie Underwood began by addressing the fact that she tied with musician Thomas Rhett. "Thank you to the ACM for putting me in such incredible company. I am more than happy to share this with Thomas Rhett," Underwood said, according to E! Online. Underwood went on to congratulate the other nominees in the category, including Luke Bryan, Luke Combs, and Eric Church, according to Us Weekly. She thanked her management, her record label, the team who put on the awards ceremony, and others, but she forgot to mention her husband, Mike Fisher, and their kids, Isaiah (pictured above) and Jacob.
Despite this mishap, Underwood made up for it backstage at the virtual ACM Awards press room, sharing, per E! Online, "First I want to say that I'm a dummy for not mentioning my husband or my children in my acceptance speech." Underwood added, "You would think after this many years of seeing other people do speeches and give some of my own, I would think of people that are important to me, so I'm sorry! But I do love my children and my husband."
See? It was an honest mistake! And honestly, the country queen had a lot to juggle at once. Not only was the award ceremony different from years past, but Underwood also made history by winning in a tie with Thomas Rhett! So we think it's safe to give the singer a break here.