Inside Jimmy Kimmel And Jennifer Aniston's Friendship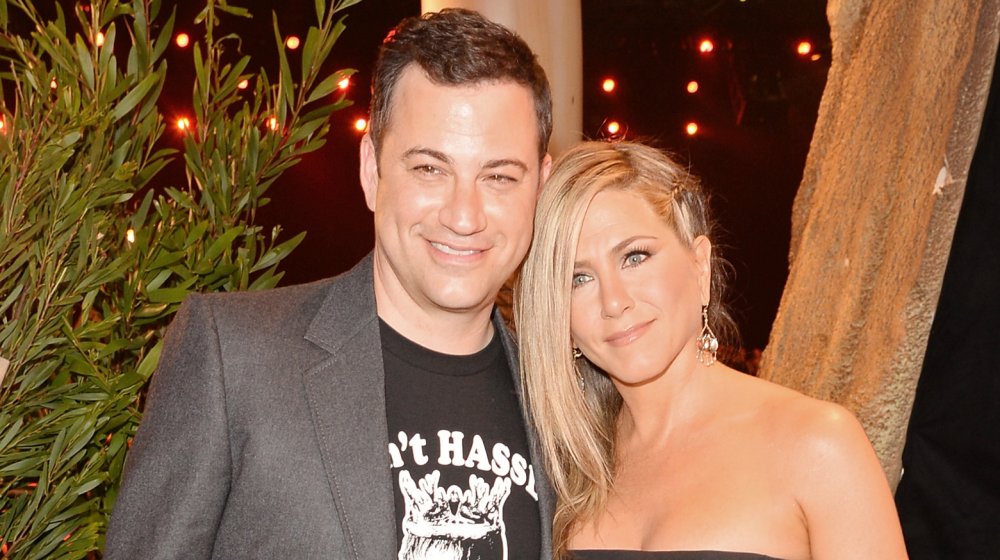 Jason Merritt/term/Getty Images
Jennifer Aniston has a lot of famous friends — both on-screen and off. Fans have seen bits and pieces of her friendship with Jimmy Kimmel throughout the years via social media, paparazzi photos, and interviews on his talk show Jimmy Kimmel Live. Despite the public nature of this pairing, it's not exactly clear how or when these two became such close pals, but considering how many times their paths have crossed, it was only inevitable that they would end up forming a friendship at some point.
Aniston and Kimmel's bond is so tight that they go on vacations together. Jimmy Fallon admitted that he was "jealous" of her trips with another "Jimmy" when she appeared on The Tonight Show in 2015. The Friends star is also close friends with Kimmel's wife, Molly McNearney, and the two of them have gone on girls' trips together, which has provided plenty of good content for Kimmel and Aniston to talk about during their televised interviews.
Aniston was the first person to present an award with Kimmel during the 2020 Emmy Awards, which Kimmel hosted. In addition to providing entertainment on live television, the two have also teamed up to give back. In April 2020, they gave a $10,000 Postmates gift card to a cardiovascular nurse in Utah named Kimball Fairbanks, who tested positive for the coronavirus. They also sent gift cards to some of Fairbanks' coworkers. 
Aniston and Kimmel's friendship is one that just keeps on giving: philanthropically, comedically, and everything else in between.
Jennifer Aniston and Jimmy Kimmel celebrate Thanksgiving every year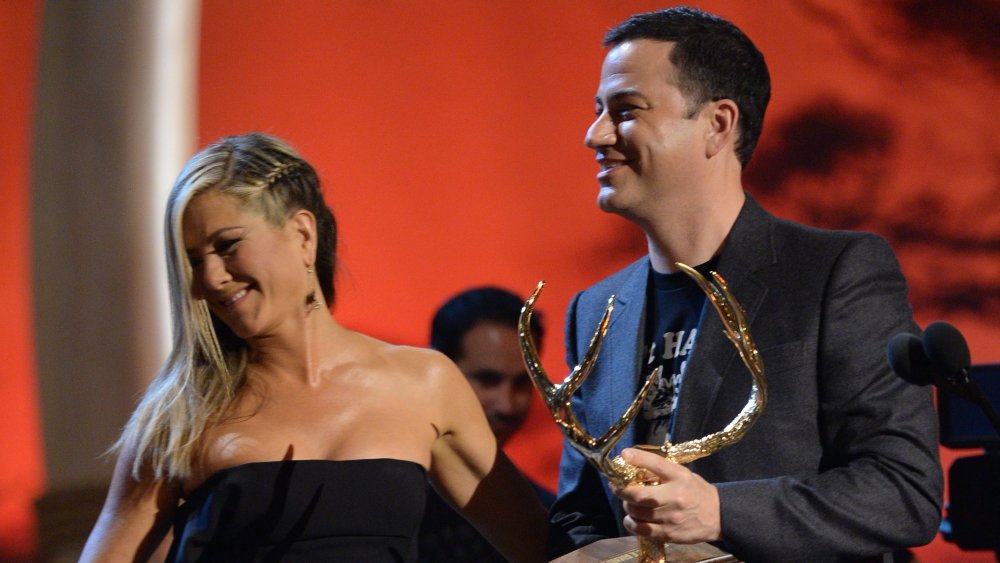 Jason Kempin/Getty Images
Jimmy Kimmel ragged on Jennifer Aniston's Friendsgiving menu during a 2018 interview. She typically hosts a Thanksgiving dinner the day before the actual holiday every year for her closest friends, which includes Kimmel. He argued that she should serve food outside of the typical Thanksgiving selection, telling her, "So, then I'm making the same thing everyone had the night before, again. So in essence, you turned my meal into leftovers."
In addition to not wanting to eat the same foods two days in a row, Kimmel hated on Thanksgiving food in general, declaring, "The reason we don't have turkey the rest of the year is because it's not that great." Aniston gave that very public critique a very public response a year later when she posted a photo of her holding a tray of enchiladas by the oven with the caption, "Ok, @jimmykimmel... here are your f*%king Friendsgiving enchiladas."
In December 2019, Kimmel dished on the addition to the menu during an interview with Ellen DeGeneres. "And I got to tell you something, everyone wanted the enchiladas," Kimmel said (according to Daily Mail). He claimed, "I only got one enchilada because everyone else ate my enchiladas this Friendsgiving."
He may have only got one enchilada at Thanksgiving dinner, but he did get to stretch out that joke for over a year with potential to drag it out for many years to come, thanks to social media posts and talk show interviews.
Jimmy Kimmel 'surprised' Jennifer Aniston with a 'Friends' reunion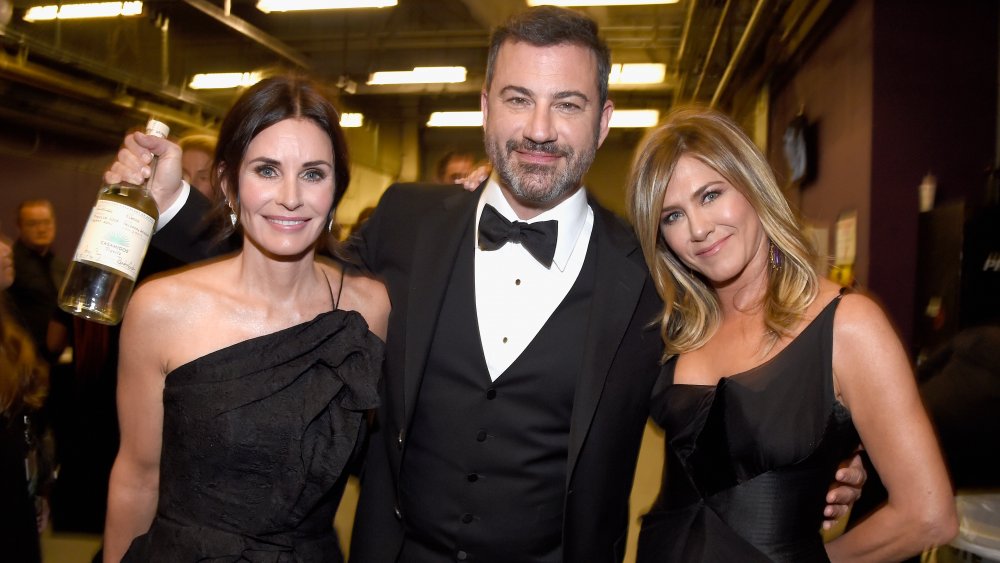 Kevin Mazur/Getty Images
In 2014, Jimmy Kimmel "surprised" Jennifer Aniston with a mini Friends reunion during an episode of Jimmy Kimmel Live. Obviously, it was a pre-planned skit, but Aniston played along. Kimmel had an exact replica of Rachel and Monica's apartment on Friends. He even tried to get Aniston to put on a wig so she could revisit that infamous Rachel haircut, which she refused to do. Courtney Cox and Lisa Kudrow appeared to reprise their roles as Monica and Phoebe. Aniston played Rachel obviously, and Kimmel played Ross. 
During the skit, Aniston got annoyed and walked out, which was all a part of the script. However, some fans didn't realize that and Kimmel received some backlash for seemingly offending Aniston. Kimmel addressed this on his show, saying, "Of course, we were acting," according to Us Weekly. He promised, "It was acting. Everybody knew it was gonna happen, we rehearsed it backstage, it was scripted out. The idea was that I would force Jennifer into this mini Friends reunion, and she pretended to be annoyed by it."
"For some reason, maybe half, if not more, of the people commenting online seemed to think that was real," the host shared. "I'm not kidding. There are thousands of comments." Kimmel joked, "She should probably get an Emmy for that acting."
Whether Aniston is pretending to be annoyed during a skit or if she's really annoyed by Kimmel's Thanksgiving menu objections, their friendship constantly provides entertainment.