The Surprise Friends Reunion No One Expected At The Emmys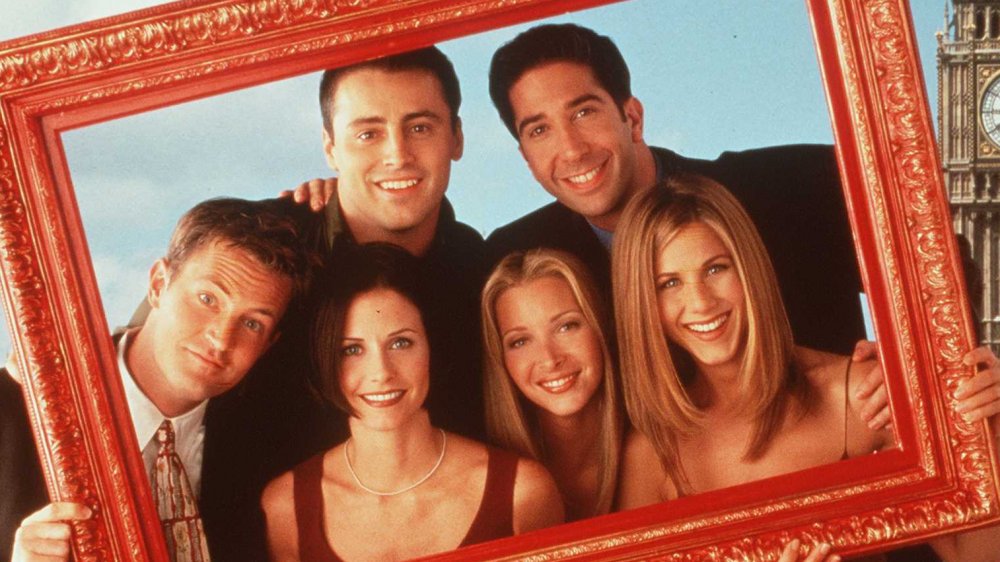 Getty Images/Getty Images
The 72nd Primetime Emmy Awards kicked off virtually on Sept. 20, 2020, with television's biggest stars accepting their awards from the comfort of their own homes.
Hosted by late night pro Jimmy Kimmel, the 2020 Emmys began with a typical monologue filled with jokes, political mentions, and an awkward laugh track. Celebrity award presenters joined Kimmel on stage — from 6 feet away to comply with COVID-19 precautions — while awards were delivered to stars' homes via people in tuxedo hazmat suits.
The first award of the night for lead actress in a comedy series brought out The Morning Show's Jennifer Aniston, who joined Kimmel and helped put the envelope through a series of sanitation measures — and then put out a small fire – before presenting the award to Catherine O'Hara of Schitt's Creek. 
After that debacle, Kimmel encouraged Aniston to run home so she'd be available to answer the door if she were to win the Emmy for lead actress in a drama series. Although Aniston lost to Zendaya, who won for her role as Rue in Euphoria, her trip home wasn't a lost cause because, as it turns out, Aniston had a few "friends" over. 
Lisa Kudrow & Courtney Cox reunite with Jennifer Aniston
Longtime fans of Friends have been begging for a reunion since the hit sitcom's finale in 2004. In 2018, Jennifer Aniston told The Ellen DeGeneres Show that when it came to getting Rachel Green and the rest of the crew together again at The Daily Perk, "anything is a possibility." We've been crossing our fingers ever since. 
In February 2020, the series announced an "exclusive unscripted special" on HBO Max, per the Today show, but that reunion was delayed thanks to the coronavirus. But lucky for us, the 2020 Emmy Awards gave fans a surprise mini-reunion of sorts when Courtney Cox (Monica Geller) and Lisa Kudrow (Phoebe Buffay) joined Aniston for a surprise reunion at her home. 
"We live together," Cox joked to Kimmel. Aniston quipped, "We've been roommates since 1994, Jimmy," alluding to the year the hit series began.
Unfortunately, noticeably missing from the reunion were Friends co-stars Matthew Perry (Chandler Bing), David Schwimmer (Ross Geller), and Matt LeBlanc (Joey Tribbiani.) We will just have to wait until after the pandemic for the guys to join our favorite Friends.