The Biggest Mistakes That Happened At The 2020 Emmys
When you're broadcasting hours and hours of live television, there's a good chance something is bound to go wrong. And considering that the 2020 Emmys on Sept. 20 were an entirely new, virtual format, with celebs at home in the "crowd," interns delivering awards to people, and Jimmy Kimmel alone in an arena delivering his schtick to an empty room due to coronavirus, there actually weren't a ton of mistakes all things considered. Seriously, a lot could have gone awry that didn't.
Kimmel said in his monologue, according to The New York Times, "What is happening tonight is not important. It's not going to stop COVID. It's not going to put out the [California wildifres], but it's fun. And right now, we need fun. My God, do we need fun." He added, "This has been a miserable year. This has been a year of division, injustice, disease, zoom school, disaster and death. We've been quarantined and locked down. We've been confined to our homes like prisoners in a dark and lonely tunnel, and what did we find in that dark and lonely tunnel? I'll tell you what we found: a friend who is there for us 24 hours a day. Our old pal, television." 
And the show really was fun. But in the name of being picky, here are a few of the things that went wrong throughout the night.
Jennifer Anniston put out a literal fire
To present the first Emmy of the night, Jimmy Kimmel brought out his friend, Jennifer Aniston, to help him out. While maintaining a social distance, Kimmel and Anniston did a bit in which they took the envelope with the winner's name on it and sanitized it, wiped it down, and then threw it in a trash basket to set on fire for a couple of minutes to really ensure it was sterile. "You don't know where that accountant's hands have been," Kimmel joked, according to People. To finish off the joke, Aniston had a fire extinguisher, and while she sprayed it once to stop the paper envelope from burning up, the flame kept coming back! In fact, someone off-camera had to shout, "put it out."
As Kimmel tried to read off the nominees, Aniston continued to play firefighter, spraying the flame that just wouldn't go out two more times before the fire was truly gone. Ouch, that could have ended very, very differently.  One person tweeted about the snafu, "The hero of the Emmys is the person offstage who said 'Put it out!' to Jennifer Aniston when the fire was still not out and they were just leaving it ablaze." Someone else said, "Zoom emmys are weird and dystopian but jimmy kimmel & jennifer aniston coating an envelope in lysol, setting it on fire & not being able to put it out at first was pretty good."
As the old saying goes, all's well that ends well.
The award snafu involving Jason Bateman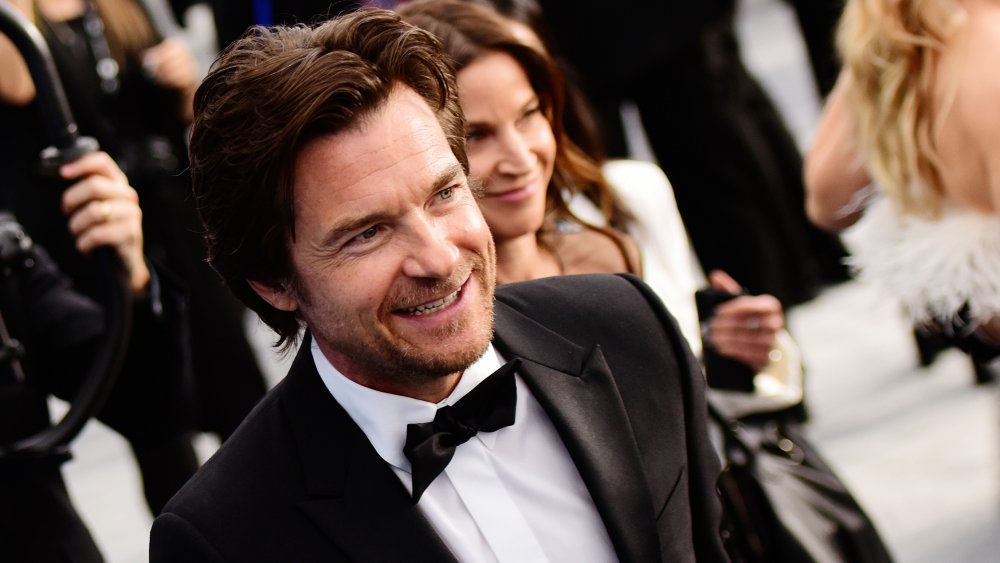 Chelsea Guglielmino/Getty Images
With the nominees all at home on a video call, some miscommunication was bound to happen at the 2020 Emmys. And unfortunately, after helping out during the monologue, Jason Bateman was incorrectly awarded an Emmy. That had to hurt. 
So how did this mixup go down? Per BuzzFeed, Bateman was nominated in the Best Guest Actor category for his work on The Outsider, alongside Ron Cephas Jones (This Is Us), James Cromwell (Succession), Giancarlo Esposito (The Mandalorian), Andrew Scott (Black Mirror), and Martin Short (The Morning Show). Sadly, Bateman's name got called out by a narrator while Ron Cephas Jones' name was on the screen. Jones was the real winner, and just after, the Emmys put up a title card that read, "Our apologies, an incorrect winner has been announced. We're fixing it now. Please don't go away."
Although that might have been rough for Bateman (and whoever the faceless announcer was), one literal fire and a mistaken winner isn't too shabby for a show that relied on so many moving parts. Maybe 2020 isn't so bad after all (if you're the silver lining type, of course).