What Ellen DeGeneres Has To Say About Those Troubling Accusations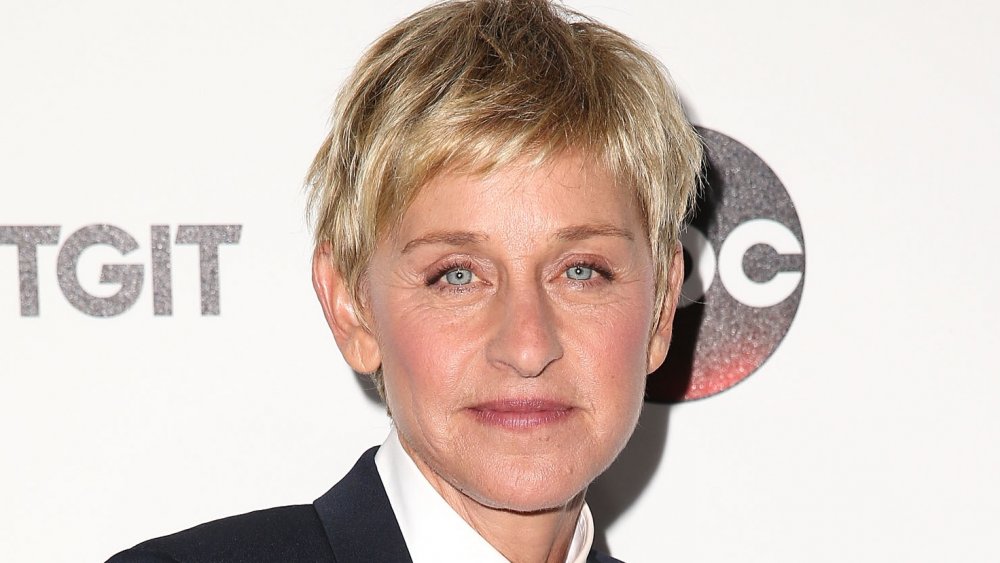 Imeh Akpanudosen/Getty Images
For years, Ellen DeGeneres presented herself as one of the friendliest people in Hollywood (after all, her motto was "be kind"). She was an outspoken animal rights activist who frequently promoted talented young people on her eponymous daytime talk show. That all came to an abrupt halt in 2020 when news began to spread about the nightmarish working conditions behind the scenes.
In July 2020, Buzzfeed News published an explosive report with first-hand accounts from current and former staffers. Some claimed they were fired for taking personal days to attend funerals or for calling out sick. A former Black employee claimed she quit after suffering through a year and a half of "racist comments, actions, and 'microaggressions.'" The Buzzfeed exclusive came on the heels of an article published in Variety just months earlier, which detailed top producers' lack of transparency about payment and job security issues amid the coronavirus pandemic. While producers told staffers "to brace for a 60% reduction in pay," DeGeneres continued to film the show from the safety of her home in California, per Variety.
In September 2020, after a couple public apologies, an ever-growing list of celebrity haters, and an internal investigation by Warner Bros., DeGeneres finally returned for Season 18 of The Ellen DeGeneres Show and addressed the controversy head-on.
Ellen DeGeneres says she is 'a work in progress'
In a bizarre sign of the times, in September 2020, Ellen Degeneres began her first monologue of Season 18 speaking to a room full of monitors instead of a room full of guests."If you're watching because you love me, thank you, if you're watching because you don't love me, welcome!"
"As you may have heard, this summer, there were allegations of a toxic work environment at our show. And then there was an investigation. I learned that things happened here that never should have happened," Degeneres said. "I take responsibility for what happens at my show. This is The Ellen DeGeneres Show, I am Ellen DeGeneres," the comedian said, assuring her fans, "we have made the necessary changes, and today, we are starting a new chapter."
"The truth is, I am that person that you see on TV," she continued, "I am also a lot of other things. Sometimes I get sad, I get mad, I get anxious, I get frustrated, I get impatient, and I am working on all of that. I am a work in progress."
The talk show host concluded the monologue by touching on the tumultuous events of 2020, including Covid-19 and the California wildfires, "I still want to be the one hour a day that people can go to escape and laugh," she said, adding, "I'm committed to making this the best season that we have ever had."