How Simon Cowell And Susan Boyle Really Feel About Each Other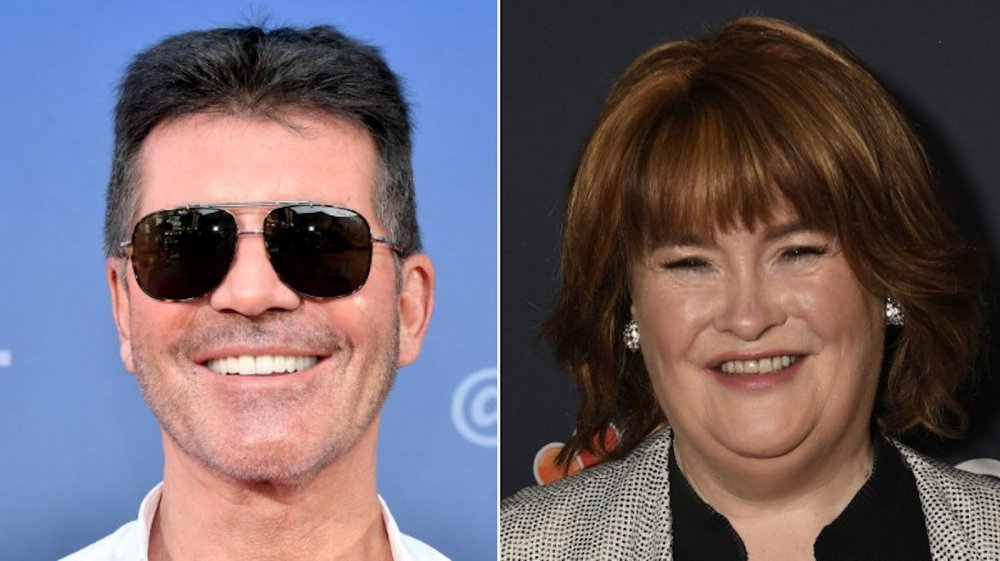 Amy Sussman, Frazer Harrison/Getty Images
Ever wonder how Simon Cowell really feels about Susan Boyle? To jog your memory, it all started in 2009, when an unassuming Scottish woman walked onto the Britain's Got Talent stage (according to BBC). What happened next was soon heard around the world. It was Boyle, of course, who opened her mouth and proceeded to blow everyone away — even Cowell — with her breathtaking rendition of "I Dreamed a Dream" from Les Misérables. And, as they say, the rest is history! 
According to The Sun, Boyle's 2009 debut LP I Dreamed A Dream became the UK's best-selling debut album of all time and, to date, she's put out seven successful albums and sold more than than 25 million records worldwide. She's also earned two Grammy nominations over the years. Per Good Housekeeping, Boyle returned to the reality show stage for America's Got Talent: The Champions in February 2019.
"I've been proposed to in Japan, met inspirational people along the way, and gone on a date with a doctor I met in Florida," she told People in 2019 while discussing some of her most notable fan encounters. "I really didn't comprehend just how far the audition clip had gone! I'm not computer savvy." Well, clearly it's gone quite far. But before Boyle even began to sing, Cowell famously scoffed and made faces. Clearly he'd already made assumptions about Boyle from her appearance alone. Here's how Simon Cowell feels about that moment now and the truth about his and Susan Boyle's relationship.
Simon Cowell regrets his 'disgusting' faces
Frazer Harrison/Getty Images
How do Simon Cowell and Susan Boyle feel about each other today? They share a mutual admiration, of course! According to People, Boyle is signed to Cowell's record label, SYCO, and he's helped mentor the singer in a big way. "I'm thrilled for Susan," Cowell gushed in 2010 (per TIME). "She is my superwoman." Meanwhile, in 2019, Boyle told People that, after years of working together, she feels the same way about their long-term partnership. "Simon is the biggest inspiration in my career. He's been my boss for almost 10 years, and I strive to make him proud. He inspires me to continue and strive for perfection," she said, adding that he's the "best boss in the world." Yay! 
As for that moment when Boyle first walked onto Britain's Got Talent stage and Cowell seemed to write her off, he regrets his reaction deeply. And said as much when she returned to the competition in 2019, too (per Good Housekeeping).
"I can remember vividly how disgusting I was on the day before you sang — and then what you did, and what happened afterwards," Cowell admitted to Boyle on the show. The famously harsh judge added, "I mean seriously, [your performance] was fantastic. You're a champion." Well, why shouldn't he think so, he signed her to his label and they have enjoyed a hugely successful run thus far. Moral of the story? Never judge a book by its cover!