What Jason Priestley And Shannen Doherty's Relationship Is Like Today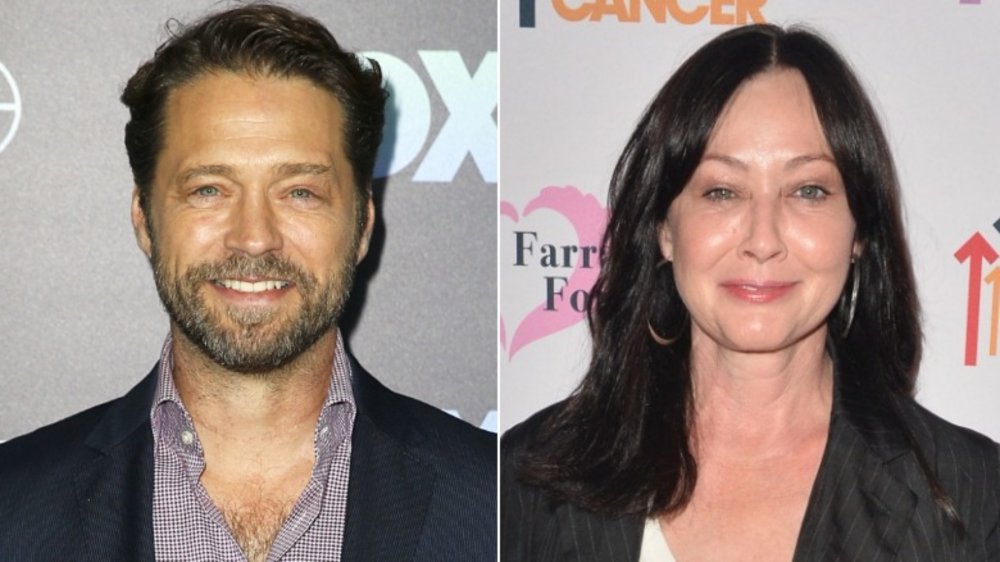 Dominik Bindl, Jerod Harris/Getty Images
For actress Shannen Doherty, the 2010s haven't been easy. In February 2020, she revealed that her breast cancer returned following her 2017 remission. Thankfully, however, Doherty's former co-stars continue to support her fight. In September 2020, her Beverly Hills, 90210 co-star Jason Priestley told Us Weekly, "Last time I heard from her, she was in pretty good spirits. I reach out to Shannen every few months, just to check in on her and say hi." He described her as a "real tough girl" and said, "Shannen's a fighter and she's always been a fighter. And I know that she will continue to fight as hard as she can."
Priestley also told People he "reached out to her" after news broke about her cancer's return and that, although Doherty didn't respond to him immediately, he wasn't bothered. "Shannen and I will always have a bond that is very meaningful," he explained. "I'm very heartbroken about the news and I wish her and her family the best in this very difficult time."
When The Hollywood Reporter asked Priestley about Doherty's cancer diagnosis in 2016, the actor said he hadn't spoken to her yet, "but I've been following her like everybody else." He added, "I send her nothing but love and light because I have nothing but love for Shannen." He also praised Doherty for using her celebrity to "shine a light and help other people" during an interview with Entertainment Tonight in 2016. Yet, while the onscreen siblings will always have love for each other, that doesn't mean their relationship has always been drama-free.
Jason Priestley and Shannen Doherty faced drama on the 90210 set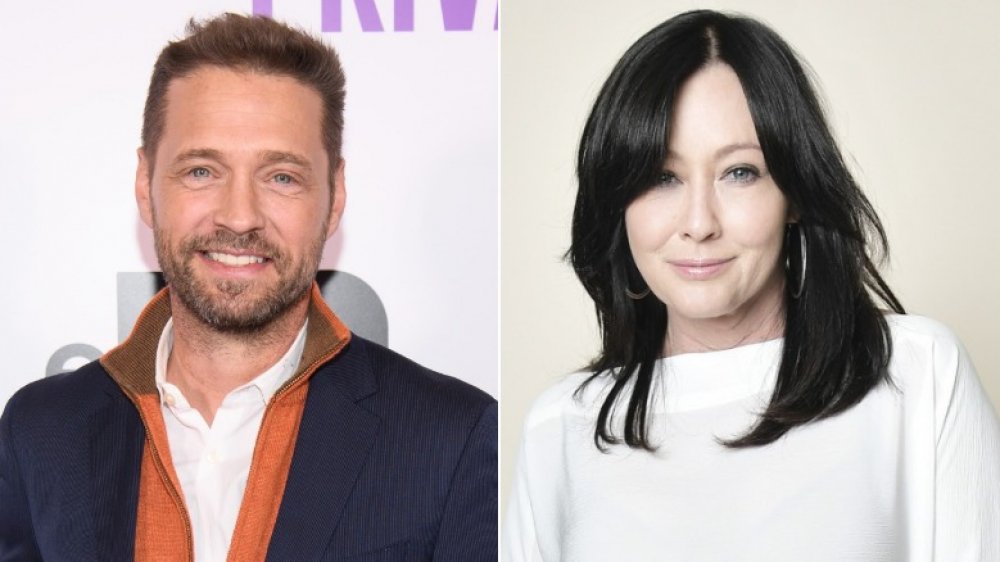 Dave Kotinsky, Neilson Barnard/Getty Images
In 2015, Beverly Hills, 90210 alum Ian Ziering revealed that Shannen Doherty and Jason Priestley weren't on the friendliest terms at first. "So, very early on in the filming, no one knew how old Jason Priestley was and he wouldn't tell anybody his age; he was keeping that a secret," Ziering told Page Six. Doherty took it upon herself to solve the mystery by going into Priestley's dressing room and sneaking a peak at his driver's license. "Smoke came out of Jason's ears, and he grabbed her and said, 'If you ever go into my dressing room again, I swear to God!'" Ziering added. "It was some serious drama!" Sure, that doesn't sound too bad — but Priestley wasn't always Doherty's biggest fan back in the day.
In 2014, he released Jason Priestley: A Memoir, which included some anecdotes about Doherty. According to The Hollywood Reporter, he claimed that Doherty was upset with a publicist for getting her a town car instead of a limo, writing, "It was a very cool attitude, until it wasn't." Doherty didn't exactly deny the claim, instead remarking, "It was so long ago and obviously I would have to refer to the hundreds and hundreds and hundreds of journals I have of every single day taking account of everything that happened" (per the New York Daily News). A year later, she told E! News, "Supposedly I wanted a limo, and I've always hated limos my entire life. I find them embarrassing and grotesque." Agree to disagree?
Shannen Doherty said Jason Priestley's memory was 'altered' after a car accident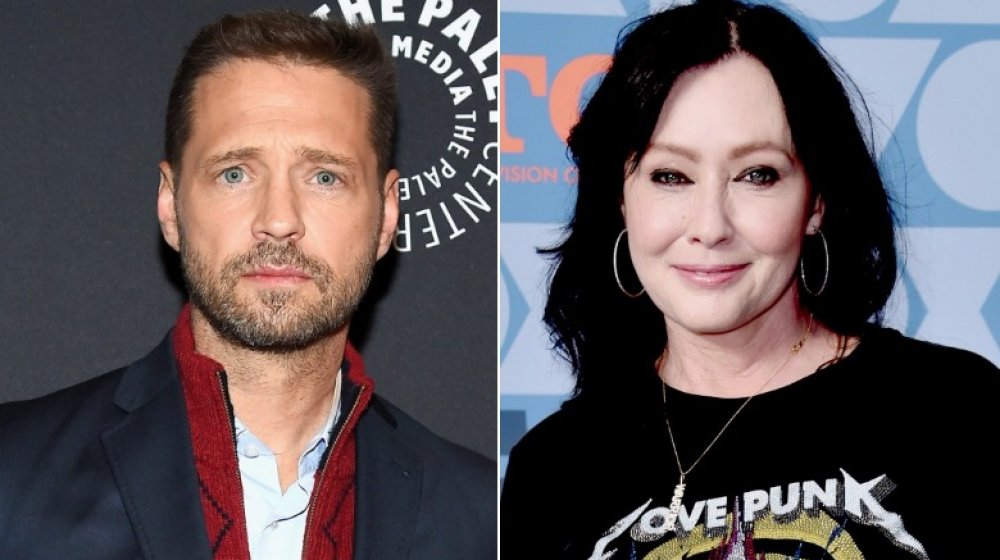 Ben Gabbe, Alberto E. Rodriguez/Getty Images
In 2015, Shannen Doherty attributed the claims in Jason Priestley's memoir to memory loss from his 2002 car accident. "I love Jason, but you know he had a car accident, a racing accident, and I think maybe parts of his memory got altered from that," Doherty told People in 2015. In response, Priestley tweeted, "PS. Love you Shannen ... I had nothing but love for you in my book...had u read it u would have seen." Doherty replied, "nothing but love for you too Jason. #misunderstood #history #90210 #allgood #greatmemories."
Doherty also told People that she didn't intentionally insult Priestley. "I didn't diss [Jason] or put him down, we just have a different memory of the past." Even though she insisted that they were friends on good terms, she added,"To keep rehashing stuff from when we were 18 years old it's like, man, who's stuck in the '90s? It's not me! I'd like to move past it." Doherty's Charmed co-star Holly Marie Combs had her back during that interview, telling the outlet, "I've seen Jason with her ... wax poetically about her and tell her how great she is. So, maybe he should have talked about that memory instead." 
Thankfully, it seems like Doherty and Priestley moved past their very public miscommunications, as they both appeared in the 2019 BH90210 reboot. Doherty also shared a photo of the twosome on the set, declaring, "And just like that, the twins are back." And better than ever!