The Truth About Kelly Dodd And Rick Leventhal's Relationship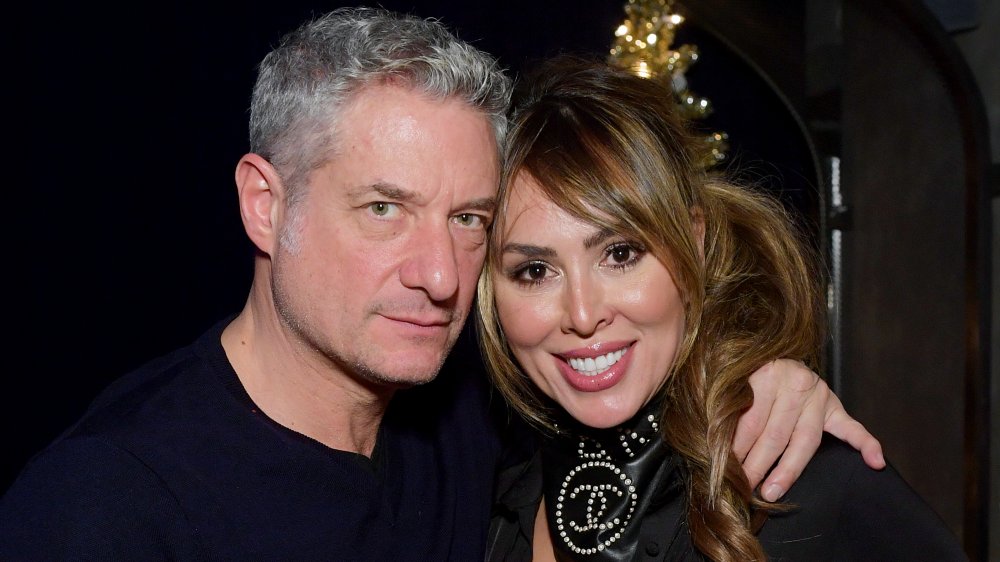 Ben Gabbe/Getty Images
After a rocky relationship — and we mean rocky — with her ex-husband, The Real Housewives of Orange County star Kelly Dodd found love again with Fox News correspondent, Rick Leventhal. "Rick is my best friend," the controversial housewife told People in 2019, "I'm so in love. I can't believe this happened to me. I feel like I just won the lottery." This new romance is truly a far cry from her previous relationship with Micheal Dodd, the father of her only child, Jolie.
Micheal and Kelly split in 2017, after 11 years of marriage. For many viewers, it was a long time coming. Kelly and Michael previously separated but got back together without finalizing the divorce. Most of Kelly's storyline during her first few seasons of RHOC was dedicated to her difficult marriage. She actually compared Michael to Adolf Hitler and alleged he suffered from untreated narcissistic personality disorder (via the Daily Mail). The good news: Their eventual divorce wasn't quite as painful as the marriage. Kelly and Micheal quickly began dating other people and amicably sharing custody of Jolie. It seems these exes have found positive rebound relationships, and for Kelly, that better half is Leventhal. 
Though Kelly often lamented about the large age gap between her and Michael, Leventhal is also nearly two decades her senior, per Page Six. Despite the age difference, Kelly swears she's finally found her one and only. Here's the scoop on the O.C.'s newest power couple.
Kelly Dodd and Rick Leventhal moved fast
Kelly Dodd met the new love of her life, Rick Leventhal, in a very Bravo way — through long-time The Real Housewives of New York star Ramona Singer. Ramona brought Kelly along to a party at Rick's house in the Hamptons back in 2019, and the two hit it off right away, per Bravo. By November of that year, they were engaged.
Leventhal, who had yet to meet Kelly's daughter, proposed on the rooftop of his Manhattan apartment with a four-carat pear-shaped ring, reported Page Six. Within days of getting engaged, Kelly was already busy planning her dream wedding. "I want to get married in Napa so a wine theme," she told E!. "Ramona Singer wants to be a bridesmaid because she introduced me to my fiancé." To make that Napa dream a reality, Leventhal reportedly listed his Manhattan apartment and announced he'd be transferring to Fox's West Coast office to be closer to his bride (via The Sun).
While many couple's wedding plans have been thrown into chaos by Covid-19, Kelly and Leventhal seem undeterred. On Sept. 22, 2020, they shared dual Instagram posts celebrating their newly obtained marriage license. "We got our marriage license today!!! I'm so excited to marry my ride or die," Kelly captioned her photo. "License in hand! Thank you my love for making me so happy," wrote Leventhal. The happy couple also revealed that the wedding would take place Oct. 10, 2020. Pandemic be damned, apparently.